Temperatures
All temperature charts are sorted with lowest load temperatures at the top.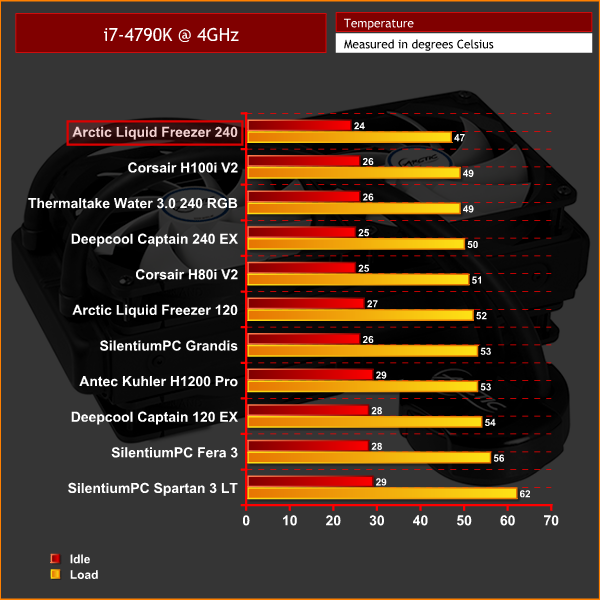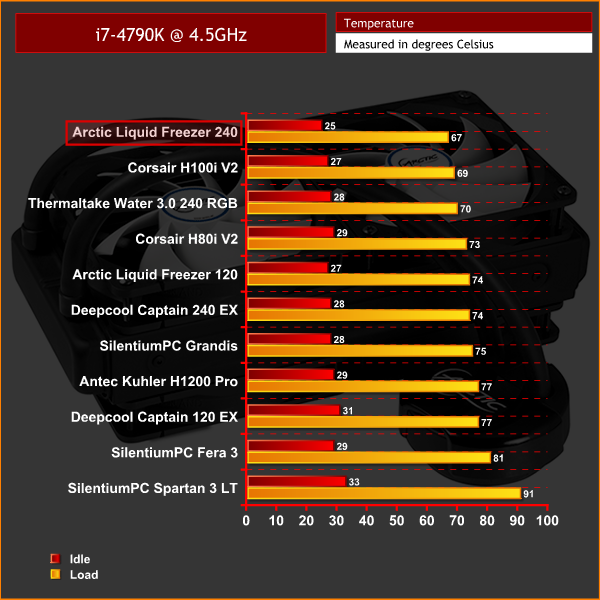 As you can see, the Arctic Liquid Freezer shot to the top of both our cooling charts. That's right – it out-performs both the Corsair H100i V2 and the Thermaltake Water 3.0 240 RGB units, despite it costing over £30 less than both those coolers.
Clearly, having a thicker radiator pays dividends. I also think, though I could not find official specifications online, the Liquid Freezer has a high fins-per-inch (FPI) density. This means it needs extra fan-power to push air through, but there is extra surface area to maximise cooling performance.
Four fans configured in push/pull is more than enough to get air through the radiator, too. The bottom line is, though, the Liquid Freezer 240 is an exceptional performer for the money.
Noise output
Like nearly all the coolers I have tested, the fans spin at a very low rpm when the system is idling, meaning it is not audible above ambient noise. The pump does whine a little bit, but I test using an open-air test bench which is right next to me. I am certain the pump noise would be eliminated when positioned inside a chassis, as it is hardly noisy in the first place.
Thanks to the four fans, even under load, the Liquid Freezer does not get too loud. This is because having two fans pushing air, and another two fans pulling air out of the radiator, means the four fans do not have to spin very fast to achieve the same results that two fans would. It seems contradictory and almost illogical, but having four fans makes the cooler quieter than if it only had two fans.
That said, the fans are still audible, but they are by no means intrusive. They also ramp up reasonably slowly, meaning they do not suddenly become very loud. This helps the noise from catching your attention and becoming a distraction.