Here I will walk you through the installation process. It is worth noting we test using a Z97 motherboard – socket LGA 1150. The process below reflects that.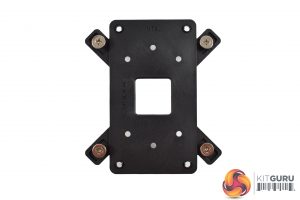 The first thing to do with the H7 cooler is to get the backplate ready: for a Z97 motherboard, push the screws into the correct '115x' slot.

Once you've done that, go ahead and slot the backplate into place – the screws will come through the motherboard's holes (as you can see in the image above, left.)
Next, four plastic spacers need to be placed over the screws, ready for the cooler to be mounted.
After that, the cooler can be mounted. The screws coming through the motherboard should line up perfectly with an x-shaped bracket on the base of the H7.
The next step is slightly unconventional as the cooler gets secured to the motherboard by tightening the screws on the underside of the motherboard. This is a bit tricky in practice as you have to flip the motherboard over and then tighten the screws while holding the cooler in-place. However, Cryorig do recommend tightening the screws a little bit by hand first, as you are then able to lay the cooler down on a flat surface and finish tightening the screws with a screwdriver.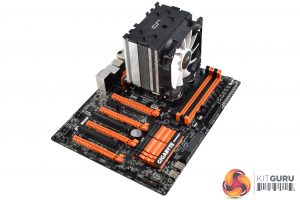 Once you have fully tightened the screws, the H7 is installation process is complete.
All-in-all, the process is simple because there are so few steps to complete, but the hardest thing is tightening the screws while holding the cooler in-place. That being said, if you follow Cryorig's advice and tighten by hand first, instead of trying to do everything while holding the cooler up-side down, it is not that difficult.