All-in-all, the Cryorig H7 is a mightily impressive cooler.
For starters, it looks great – the top of the cooler is covered by some svelte black plastic which keeps the H7 looking sleek, while it is also very compact at just 145mm tall.
Installation is straightforward, though at one point you do have to hold the cooler in-place upside-down while tightening the four screws. It sounds harder than it is, but if Cryorig tweaked the process to mean you didn't have to flip the motherboard on its head, that would be a plus.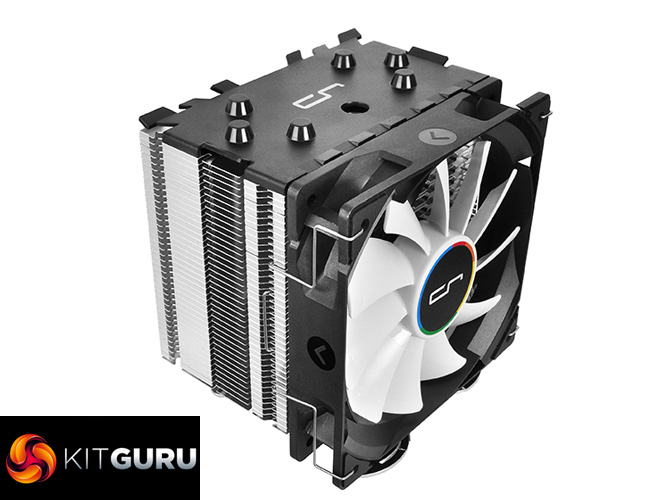 However, the H7's performance more than makes up for the slightly fiddly installation. Simply put, for a £37 air cooler, the Cryorig H7 is fantastic. We saw it go toe-to-toe with much more expensive air and liquid coolers, even coming out on-top when compared with the MasterAir Maker 8 from Cooler Master. It also beat the Hyper 212 LED by 5 degrees.
Acoustically, it is just as impressive. The fan is simply not audible when the system is idling, while under load, the noise is far from intrusive.
As such, I feel obliged to give the Cryorig H7 our highest, 'Must Have' award. If you are looking for a simple, compact and affordable air cooler, you won't find one better than this.

You can buy the whole Cryorig range from Overclockers UK, and you can find the H7 for £36.95 inc. VAT over HERE.
Discuss on our Facebook page, over HERE.
Pros
Looks great.
Nice and compact.
Beats out similarly-priced competitors by a significant margin.
It even challenges much more expensive liquid coolers.
Very affordable.
Cons
Installation process requires you to hold the cooler in-place while tightening 4 screws.
KitGuru says: For such a small, and affordable, air cooler, the Cryorig H7 is mightily impressive. If you are in the market for a new air cooler, this one is seriously competitive.