Temperatures
All temperature charts are sorted with lowest load temperatures at the top.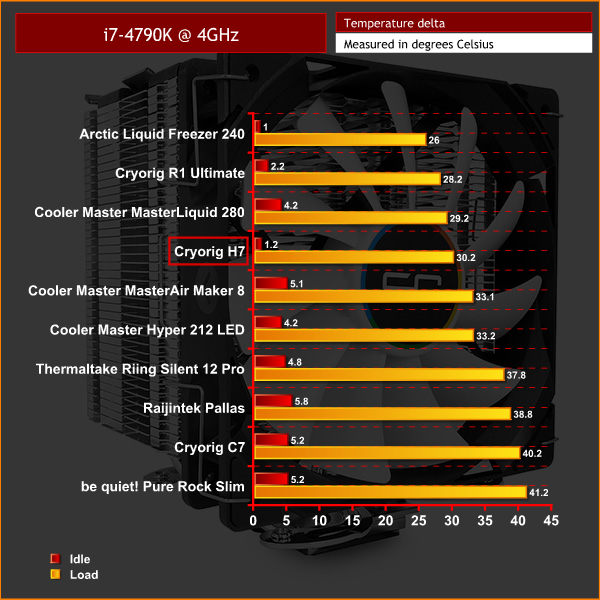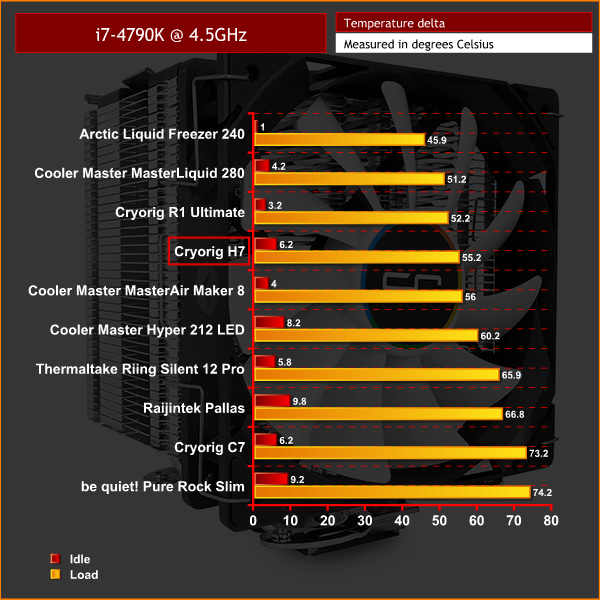 Thermal performance of the H7 is incredible – at stock clocks, it is just 1 degree Celsius hotter than a 280mm liquid cooler from Cooler Master, and only 4 degrees away from the chart-topping Arctic Liquid Freezer 240.
When the CPU is overclocked, its performance is still very strong – it beats out the much larger (and more expensive) Cooler Master MasterAir Maker 8, while it also cools significantly better (5 degrees better) than the Hyper 212 LED.
Considering its size and price, these are some amazing performance results.
Acoustics
Noise levels are another strength of the H7. When idling, it is simply not audible – I put this down the the QF120's fan, which is rated to go as low as 330RPM, give or take 10%. Needless to say, a high-quality fan like this spinning at 330RPM is essentially 'off'.
It does, of course, ramp up once we overclock the CPU, but even then, the noise is not more than a quiet, steady hum. The fan also benefits from the fact that its speed increases very slowly – it does not suddenly roar into life at high speed. This slow and steady increase of speed tricks you into thinking that the fan is barely any louder, as the noise increases gradually.
Be sure to check out our sponsors store EKWB here