Temperatures
All temperature charts are sorted with lowest load temperatures at the top.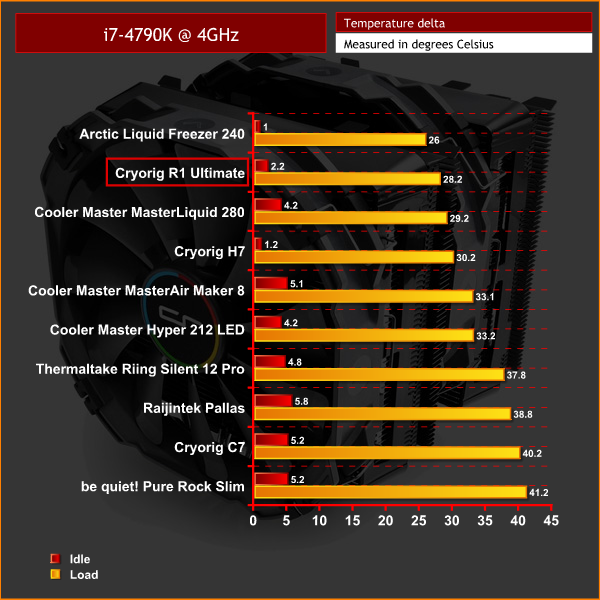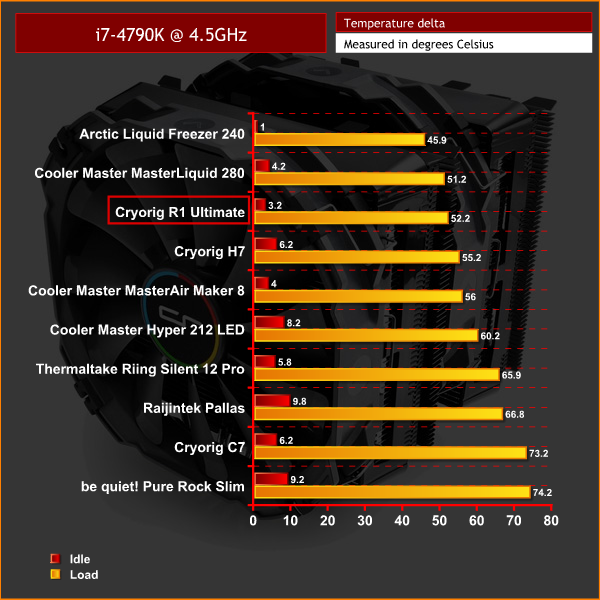 As you can see, the Cryorig R1 Ultimate is a very competent air cooler. When our CPU was left at stock clocks, it came second in that test – just 2.2 degrees shy of first place. Once we applied the CPU overclock, it was slightly bettered by the Cooler Master MasterLiquid 280, but still provides very strong performance for an air cooler, comfortably beating the MasterAir Maker 8.
For those not wishing to put a liquid cooler in their system, for whatever reason, choosing the Cryorig R1 Ultimate means you barely lose out in-terms of thermal performance.
Acoustics
Considering the H7 was a near-silent air cooler, I must admit to being slightly disappointed with the R1 Ultimate in this regard. It is not exactly loud – the fans peak at 1300 rpm, give or take 10% – but it is louder than I would've liked. When pushing the system to 100% load, the fans ramped up very quickly and emitted a strong hum. Compared to the MasterAir Maker 8, another huge air cooler, the noise was was definitely more noticeable.