Temperatures
All temperature charts are sorted with lowest load temperatures at the top.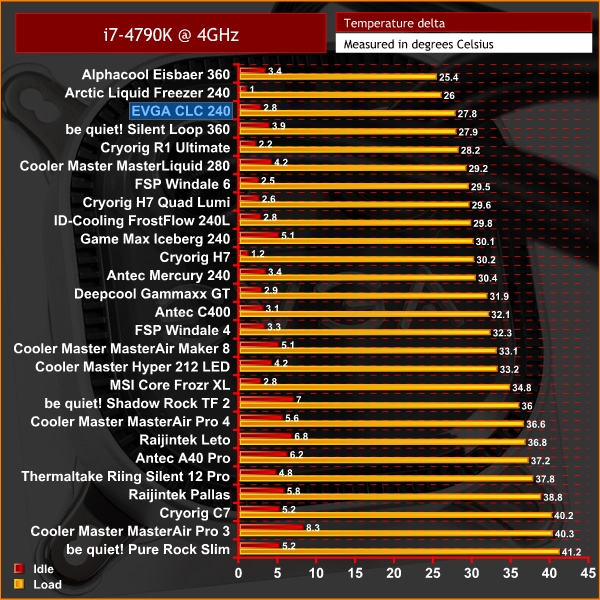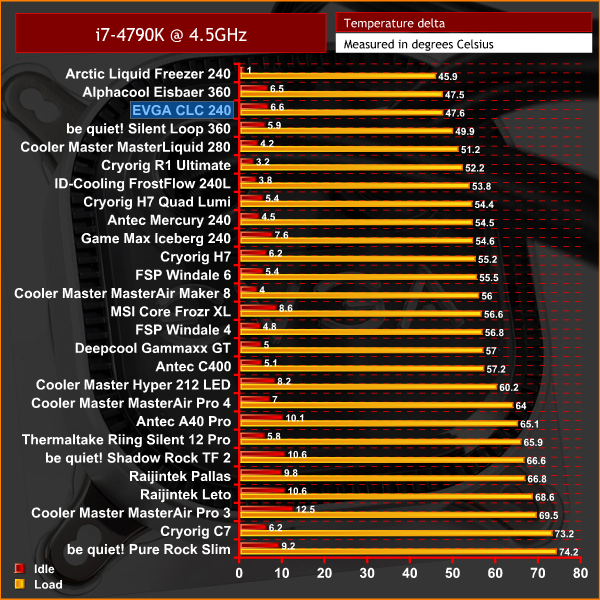 For a 240mm liquid cooler, the performance of the CLC 240 is actually mightily impressive. It may not do enough to claim the top spots in our tests, but Asetek 5th gen technology is clearly quite sophisticated. The CLC 240 actually beats the be quiet! Silent Loop 360 – and yes, that is a 360mm liquid cooler!
Acoustics
The CLC 240's thermal performance is, however, tempered its the noise levels. In short, the EVGA CLC 240 is one of the louder liquid coolers I have reviewed, and this is down to its fans – they have huge range of speed and can reach up to 2200rpm. Thus, when the CPU is overclocked and running hot, those fans really kick in and make a big racket.
It is not quite at the jet-engine noise levels of the ID-Cooling FrostFlow 240L but it is certainly pretty irritating. I am sure with a custom fan curve the noise could be tamed at the expense of some thermal performance, but for our testing we use the same fan curve every time to keep things consistent, so in this case, the CLC 240 has to be regarded as a loud cooler.