On the whole, the EVGA CLC 240 is a very good liquid cooler.
For starters, it comes very well packaged and that gives a great first impression. Installation is also dead easy, and given that EVGA actually pre-installed the radiator fans, you will be up and running in mere minutes.
There is also the RGB lighting to talk about – it is very subtle and understated, but looks very good with accurate and vibrant colours. If you want something bombastic and unmissable, it might not be for you, but if you like your RGB lighting to be smooth and tasteful then you will love the CLC 240.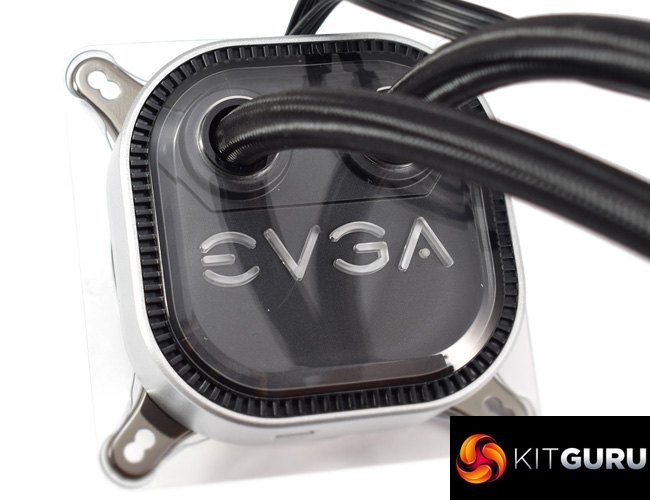 Now, that's all well and good – but how is performance? In short, excellent. Across our testing, the CLC 240 actually outperformed the 360mm Silent Loop from be quiet! – no mean feat considering the EVGA has 120mm less of radiator space.
That excellent performance does come at a cost, though, and that is acoustics. Simply put, the two radiator fans can reach a max speed of 2200rpm and that does create quite an irritating racket.
However, I am still more than happy to recommend the EVGA CLC 240. It looks great, is very easy to install and performs very well. It is quite loud, yes, but with a custom fan curve – and slightly lessened cooling performance – that issue will quickly go away. Overall, it's a very good cooler that I'd be happy to use myself.
In terms of pricing and availability, the CLC 240 is yet to hit the UK channel. The EU price is set at 129.99 Euros, but given the CLC 280 is £129.95 at Overclockers UK right now, we can only assume the CLC 240 will be slightly less than that.
Pros
Looks good.
Very easy to install.
Radiators fans come pre-installed.
Very good performance.
Effective RGB lighting.
Cons
Very loud using our standard fan curve.
KitGuru says: The EVGA CLC 240 is a very effective cooler. It is capable of producing quite a racket, which holds it back from our highest award, but with a bit of tuning you will have a cooler that you are more than happy with.