All-in-all, the ThermalTake Riing Silent 12 Pro is a decent, if not class-leading, air cooler.
I do think it looks very good, thanks to its black heatsink and nickel-plate heatpipes, while the Riing LED fans are always popular with consumers.
The installation process is mostly pain-free, and my only gripe is that it can be hard to secure the heatsink to the mounting plate, as you need a pretty thin screwdriver for it to fit through the heatsink cut-out. If ThermalTake provided the right size of screwdriver – a basic model would cost pennies – that would have saved me some hassle.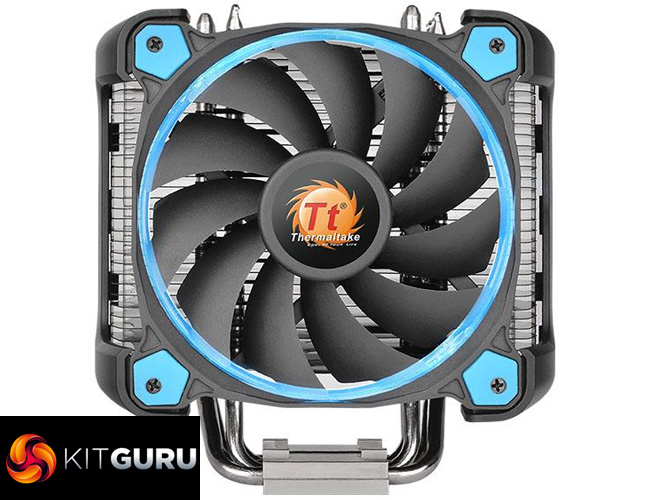 Thermal performance of the Riing Silent 12 Pro is perhaps the biggest disappointment as it is quite average in this regard, and I saw the cheaper Cryorig H7 out-perform it by a significant margin. It still performs absolutely fine – not even coming close to TJMax – so performance is not a worry, it is just not the best performance available in this price bracket.
The cooler's acoustics are very good, however, as the 120mm Riing is relatively slow-spinning compared to the competition. This means that noise levels were never a concern for me, which is more than can be said for some coolers.
As such, we must conclude our review. For those looking for the best raw-performance, or the best bang-for-the-buck cooler, the ThermalTake Riing Silent 12 Pro is not for you – we saw it bettered by cheaper coolers like the Cooler Master Hyper 212 LED and Cryorig H7.
What this cooler does offer, though, are good-looks and a quiet LED fan, so if you are looking for a quiet yet attractive air cooler, perhaps to compliment your PC's colour scheme,  we are happy to recommend the Riing Silent 12 Pro.

You can buy one from Overclockers UK for £44.99 inc. VAT HERE.
Discuss on our Facebook page, over HERE.
Pros
Good-looking.
Riing LED fan adds some visual 'bling'.
Very quiet.
Straightforward installation.
Cons
Thermal performance is not the best in its price bracket.
ThermalTake could do with supplying a cheap screwdriver to help installation.
KitGuru says: The Riing Silent 12 Pro may not offer 'best-in-class' performance, but it is a good-looking and quiet cooler that is deserving of making any final shortlist.