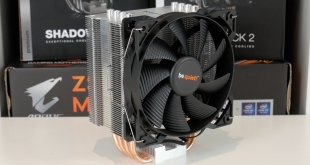 be quiet! launched its original Pure Rock Slim CPU tower cooler back in 2017 with an aim to provide an affordable cooling solution for low to mid-range mainstream desktop processors. The Pure Rock Slim is now set to be replaced with this new model – the Pure Rock 2. The core design of the Pure Rock 2 resembles the previous version but how does the thermal performance stack up? Let's find out.
Watch via our Vimeo Channel (Below) or over on YouTube at 2160p HERE
Unsurprisingly, both the Pure Rock 2 and the Pure Rock Slim look extremely similar, an untrained eye may find it difficult to tell them apart by just looking at online images. However, the new Pure Rock 2 that we have for review today is naturally larger than the Slim. If you think of it as a Slim on steroids, then you won't be far from the mark.
Just like the older Slim version, the Pure Rock 2 is equipped with four 6mm direct touch heat pipes with "HDT Technology", and these are set in an aluminium base plate with heatsink fins and a pre-applied thermal compound coating on the base. The Pure Rock 2 heatsink fin stack includes a total of 55 aluminium fins that are much more densely arranged compared with the be quiet! Shadow Rock 3 that launched earlier this year.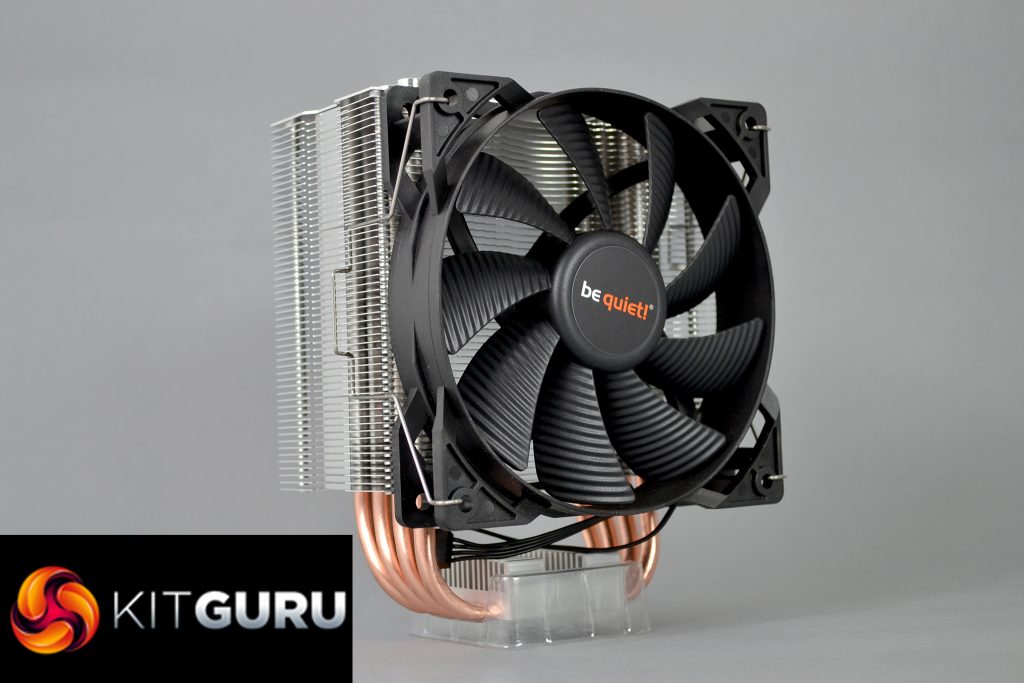 The top of the heatsink sports a thicker aluminium top plate which is probably added more for aesthetic reasons than for thermal performance, as it feels much more sturdy and has a bit of detailing as well as the be quiet! logo printed centrally to add a bit of style. The top of the heat pipes are also covered with aluminium caps which are integrated into this top cover and look far more attractive than soldered heat pipe ends.
be quiet! has also equipped the Pure Rock 2 with one of its ultra-low noise Pure Wings fans. Pure Rock 2 comes with a Pure Wings 2 120mm fan featuring a maximum PWM speed of 1500 RPM, 80,000-hour lifespan and 26.8 dbA noise level at 100% RPM.
All this extra bulk of added materials comes at a slight increase in cost; however, the Pure Rock 2 is still a very affordable option. Pure Rock 2 is available in two styles, either the bare copper and aluminium version which is the one we are looking at during this review, or as a stealthy looking all-black version. The aluminium and copper version has an RRP of £33.99 and the all-black version carries a slight premium at £38.99.
Key Features
Four direct touch heat pipes
120mm Pure Wings 2 fan
Asymmetric design for maximum RAM compatibility
Low operating noise
Available in two colour schemes
Specifications
Socket compatibility
Intel: 1200 / 2066 / 1150 / 1151 / 1155 / 2011(-3) square ILM;

AMD: AM4 / AM3(+)

TDP (W)
150
Dimensions (L x W x H), (mm)
62 x 121 x 155
Total weight (kg)
0.575
Overall noise level (dB(A)) @ 50/75/100% (rpm)
19.1 / 22.1 / 26.8
Heatsink
Base material
Aluminium / copper
CPU contact surface
Heat pipe direct touch
Heatpipe number / Diameter (mm)
4 / 6
Fan dimensions (mm)
120 x 120 x 25
Fan speed @ 100% PWM /12V (rpm)
1,500
Fan bearing technology
Rifle
Fan motor technology
4-pole fan motor
Fan Connector
4-pin PWM
Fan fable length (mm)
220
Fan rated Voltage (V)
12
Fan input current (A)
0.12
Fan input power (W)
1.44
Fan lifespan (h / 25°C)
80,000
Be sure to check out our sponsors store EKWB here