Cooler Master has packaged the MasterAir MA620M in a cardboard box that follows the company's traditional black and purple design. On the front of the box is a large image of the cooler along with its name and Cooler Master branding. On the rear is an exploded diagram of the cooler and a short description in various languages.

Inside the box, the cooler is covered with thick foam padding to offer a high level of protection during transit. An additional smaller box contains mounting hardware and accessories.
Once completely removed from the packaging, we can clearly see what is included. The cooler itself is supplied with a comprehensive range of accessories, including mounting hardware for both Intel and AMD platforms, an additional RGB controller with extra cables for a range of motherboard manufacturers, thermal compound, installation manual and warranty card.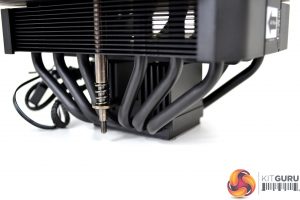 Due to the design, the MasterAir MA620M arrives fully assembled with the 120mm fan and mounting hardware, meaning no additional preparation for installation of the cooler is necessary, which should save time later when fitting.
On the top of the cooler is a black plastic shroud which contains the RGB Cooler Master logo and frame. Also visible on the top are the two cooler retaining screws for installation. This is a very similar design and installation system to the current Cooler Master Wraith Ripper, which is very straightforward.
Below the plastic shroud is the dual cooling towers, featuring 55 individual aluminium fins each, which are covered in a black coating to match the aesthetics of the rest of the cooler. The coating seems to be evenly applied and provides a minimalist appearance.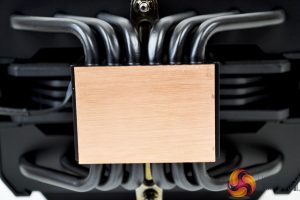 On the underside of the cooler is a copper base plate with heat pipes running directly through. The copper base looks to be accurately machined with what seems to be a very flat surface. Notice the two mounting screws are visible too.
Just above the base plate is a rather chunky heatsink with large fins covered in the same black coating as the rest of the cooler. This could provide additional heat dissipation directly from the CPU which in turn could help keep temperature under control.
Overall, the Cooler Master MasterAir MA620M has a weighty and sturdy feel to its design with a high-quality feel to the materials used. The all back design with a hint of RGB lighting provides a pleasing, minimalist aesthetic.