Test System:
Processor: AMD Ryzen 9 5950X
Overclocked Settings: 4.45GHz all-core @ 1.30V LLC Level 5
Motherboard: Gigabyte X570 Aorus Elite
Memory: 32GB (4x8GB) Corsair Vengeance RGB RPO SL 3600MHz
Graphics Card: MSI Radeon RX 6600XT Gaming X (zero dBA mode)
Chassis: Open Test Bench
Power Supply: Seasonic Prime TX-850
Operating System: Windows 10 Pro 64-bit
Testing Methodology:
For testing, we use a 30-minute looped run of Cinebench R23 and record the steady-state CPU temperature at the end of the test. This ensures that the CPU has had ample time to warm up and reach steady-state under all of the coolers.
The ambient is maintained at around 19-21 degrees Celsius. Where there is variation beyond this temperature range, we add in extra repeated tests to ensure consistency.
We also test each cooler with at least two fresh installs (typically three) to mitigate the likelihood of a dodgy mount spoiling results.
Test Results:
Noise Output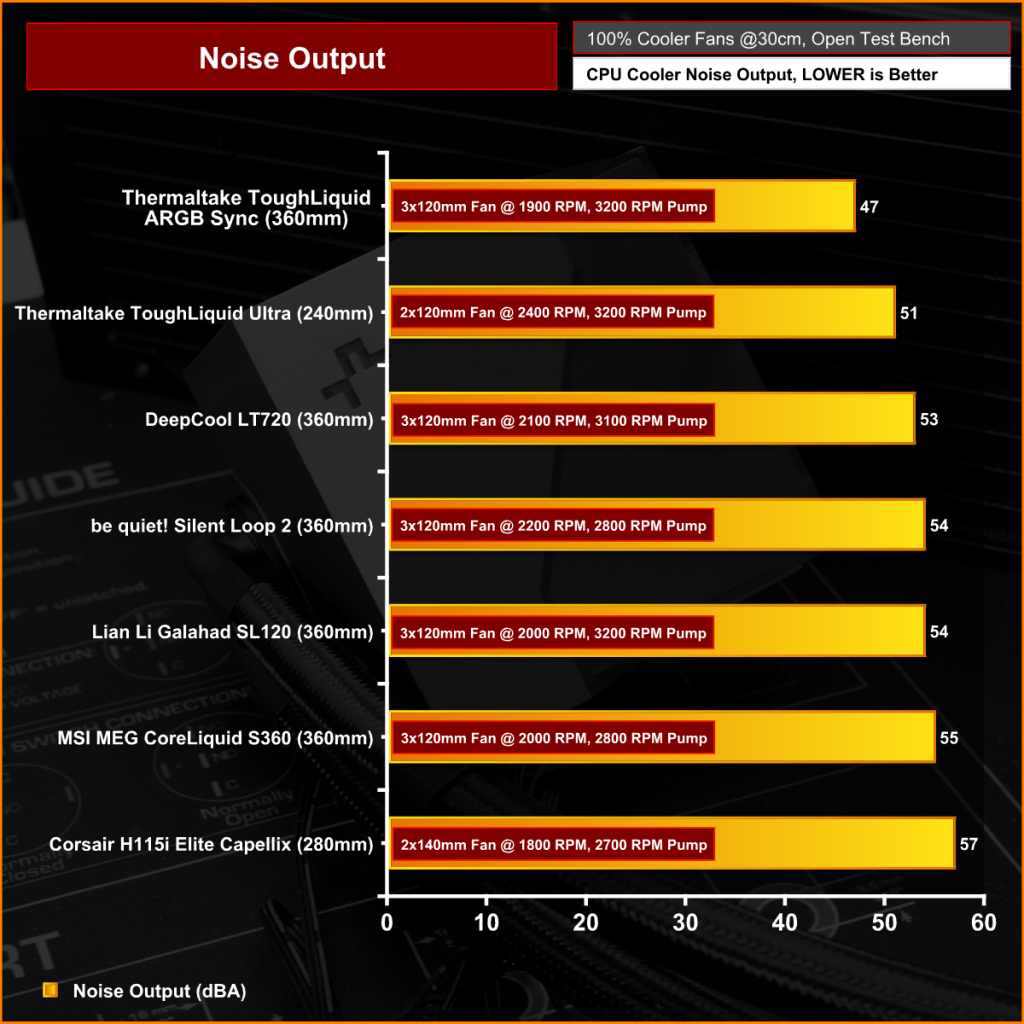 Let's begin with noise output as this will give us a good indication of what to expect from thermal performance based on noise.
With fans running at their maximum RPM, the DeepCool LT720 sits somewhere in the middle of our results at 53dBA noise output. As far as 360mm coolers go it's relatively loud but not too distracting. Compared with other units from the likes of be quiet!, Lian Li and MSI, the LT720 it is marginally quieter but Thermaltake's Toughliquid ARGB Sync is significantly quieter at maximum RPM.
Thermal Performance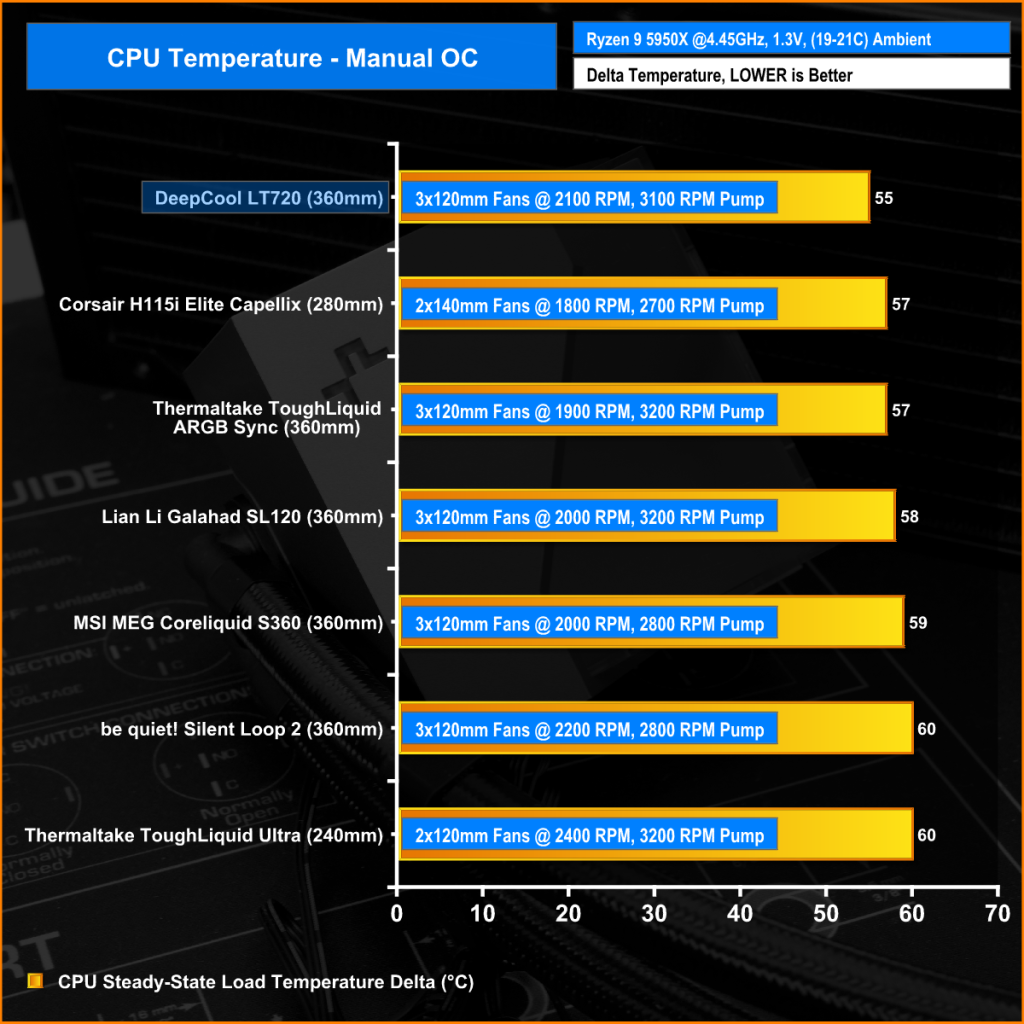 DeepCool has tuned its fans to offer high raw thermal performance levels, with fans at maximum RPM the DeepCool LT720 cooled our manually overclocked 5950X to a delta of 55 degrees which is an outstanding result and beats off competition from the likes of MSI, Thermaltake and be quiet! 360mm coolers.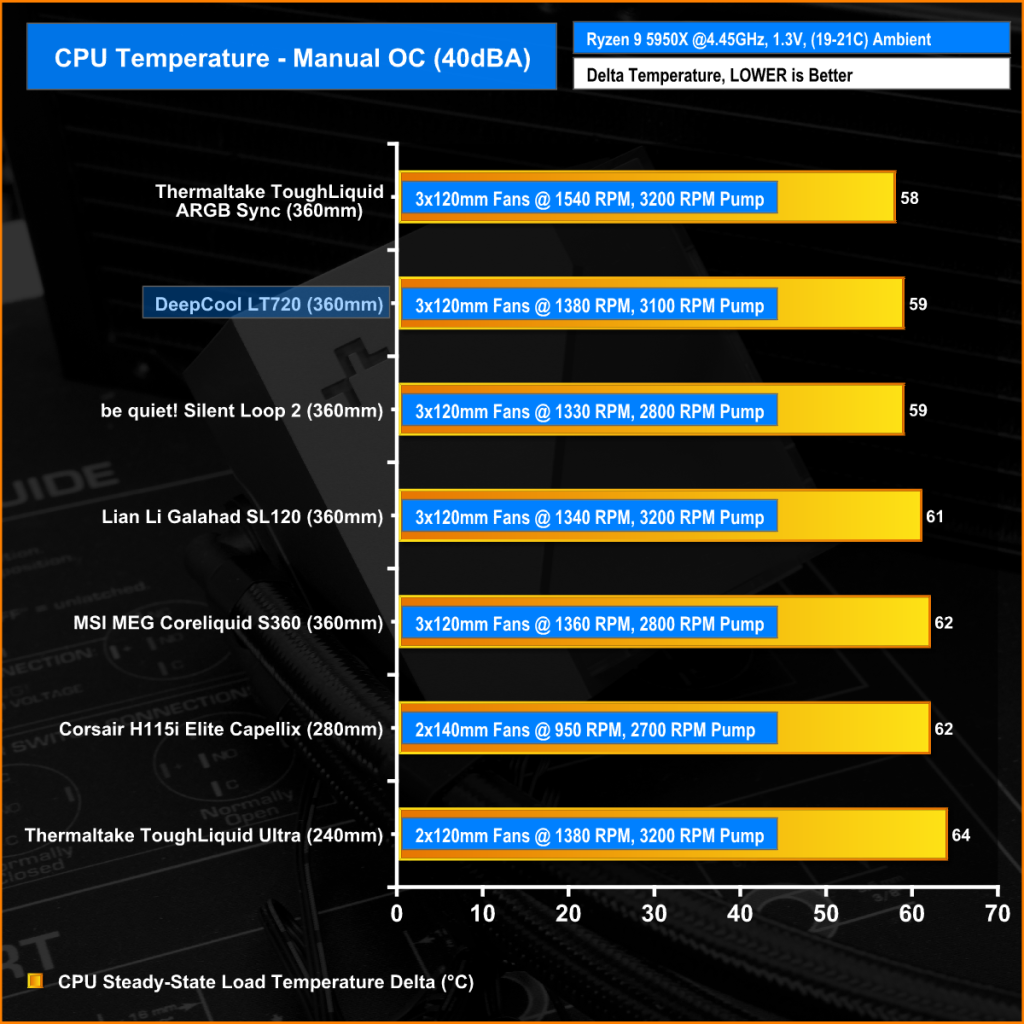 Tuning the cooler's fans to 40dBA meant reducing the speed to 1380 RPM or 66% duty cycle. Even at 40dBA the LT720 manages to produce almost chart-topping performance, which is impressive given how much fan speed had to be reduced to meet the 40dBA target.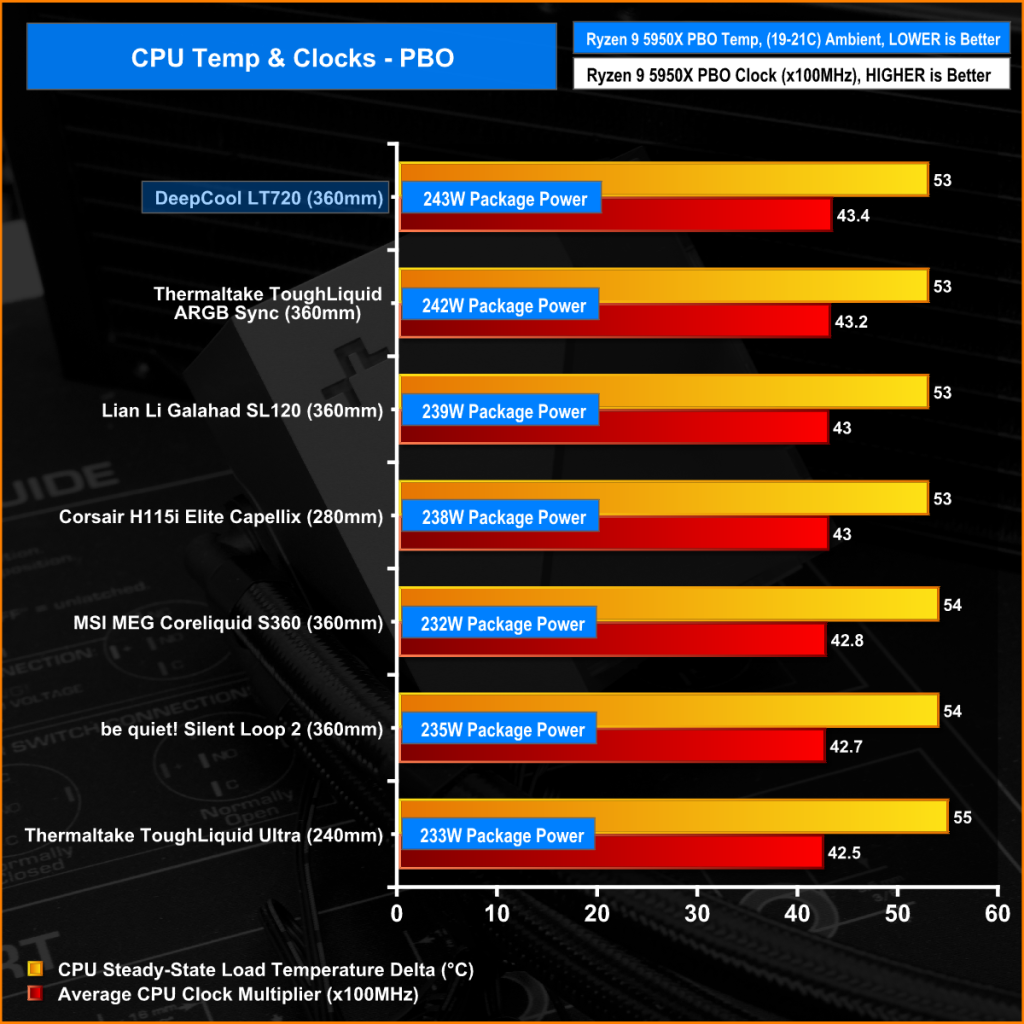 In the PBO test, the most important metric here is clock speed and cooling power as the difference in temperature delta is small between coolers.
With fans back at 100% during the PBO test, this puts the LT720 back at the top of our chart by maintaining the highest average CPU clock frequency.
With the DeepCool LT720 handling almost 245W of package power, it's an excellent result.
Be sure to check out our sponsors store EKWB here