Often in the past, we have seen DeepCool bring out products with great performance and amazing value for money – and they have done it again with the LT720. It simply offers class-leading thermal performance at an affordable price. With markets being all over the place at the moment, the cost of products especially in the UK seems to be skyrocketing, but DeepCool has stuck to its guns with this one, providing PC enthusiasts with another great AIO CPU cooler that's not going to break the bank.
Not only does the cooler perform exceptionally well, but it is also backed by a 5-year manufacturer's warranty, it has great build quality, features everything you need from a closed-loop liquid cooler and doesn't look bad either. The infinity mirror top cover design might not be everyone's cup of tea but it's not offensive to look at in any way.
The decision from DeepCool not to include a standalone fan/RGB hub or proprietary cable connections is an excellent choice, in my opinion. This ensures that the installation time is short and the process is simple even for the novice user. Installation takes approximately 15 minutes, it's so simple that more technical users could do it without even looking at the manual.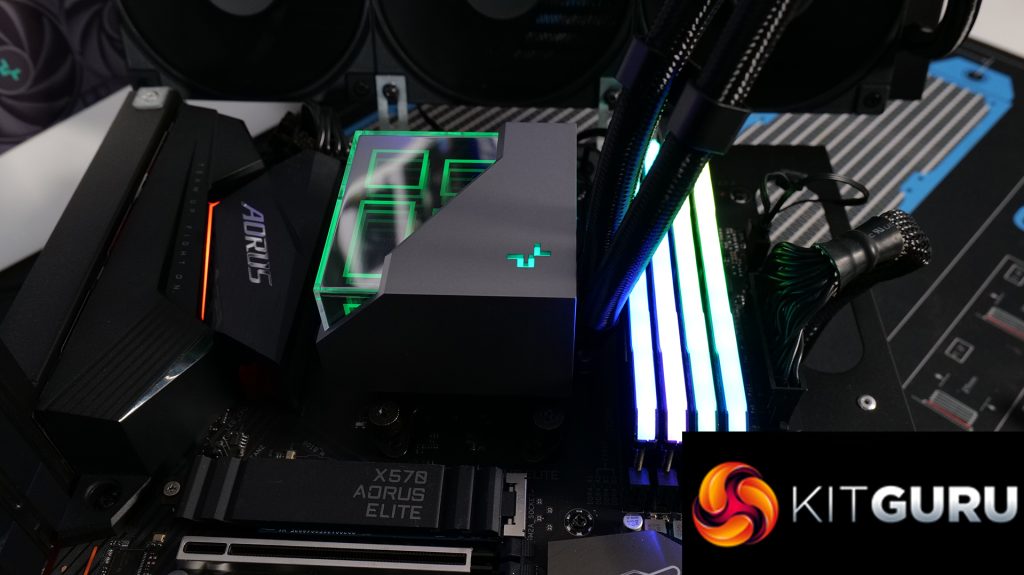 DeepCool has gone quite aggressive with the fan speed to give the best absolute raw thermal performance with the fans cranked up, which does mean that the cooler is quite loud but not too irritating. However, turning the fans down does not impact thermal performance adversely which means that the LT720 should be a perfect balance between noise and cooling power for everyone.
There's very little not to like about the DeepCool LT720. The only minor niggles to note are the fact that the top cover cannot be rotated to change orientation depending on how the CPU block is installed and there is no additional tube of thermal compound supplied for re-installation/maintenance, but there is a factory pre-applied thermal paste on the cold plate.
Other than those two very minor grumbles, I really cannot fault this cooler at all. As far as 360mm All-in-One CPU coolers go this provides great value and outstanding thermal performance. The lack of RGB on the fans may not be to everyone's taste but DeepCool offers the LS series as an RGB lover's alternative. The only thing DeepCool is missing in its AIO lineup right now is a cooler with an LCD screen, which is the current trend.
The DeepCool LT720 has an MSRP of £119.99. It is available to purchase from Scan HERE. You will also be able to buy one from Amazon, starting 23rd November, HERE.
Discuss on our Facebook page HERE.
Pros
Outstanding thermal performance.
Great value for money.
Simple and quick installation.
Standard motherboard fan/ARGB connections.
No additional hubs or software needed.
Very easy to cable manage.
Cons
No RGB on the fans might put some users off.
CPU block cover cant be rotated.
KitGuru says: DeepCool has a knack for providing amazing value products at affordable prices and they have done it again with the LT720 360mm AIO CPU cooler. It's a must-buy for anyone looking for class-leading thermal performance, easy installation and low cost.
Be sure to check out our sponsors store EKWB here