This week brings the release of a new high-end CPU air cooler from Deepcool. We first got a look at the Assassin III back at CES 2019 and the cooler is marketed as the direct competitor to the legendary Noctua NH-D15, which has been the best in class for what seems an eternity.
The Assassin III is a dual tower cooler featuring seven heat pipes, which are said to be sintered and grooved internally, with a nickel-plated copper thermal transfer plate. Deepcool have rated the Assassin III with a 280W TDP, meaning it should be capable of cooling even the hottest of CPUs. A total of forty-one aluminium cooling fins per tower are cooled by two all black 140mm high flow PWM fans with fluid dynamic bearings.
Deepcool have told us they expect great cooling performance from the Assassin III and that it should even provide better temperatures than the Noctua NH-D15. According to Deepcool, the Assassin III can offer an improvement of at least 1°C at 200W TDP over the NH-D15.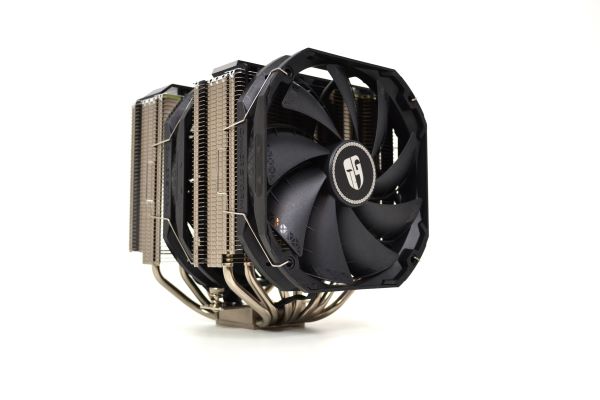 The Deepcool Assassin III will cover a wide variety of CPU sockets, including all major AMD and Intel desktop platforms. However, there are currently no plans for the Assassin III to cover large HEDT CPUs like AMD's Ryzen Threadripper, which does seem a shame since the third generation of Threadripper CPUs have just been officially announced by AMD.
With pricing of the Assassin III likely to be in the region of £80, it will not only compete with the Noctua NH-D15 in terms of performance, but on price too. Deepcool recently announced, through its official Facebook page, that the Assassin III will be available to purchase from the 24th of September and users in the UK will be able to buy one from Amazon. We will have a full review of the Assassin III coming soon.
KitGuru says: With CPU manufacturers targeting higher core counts with increased TDPs, a high-end air cooler is likely to be on many people's shopping lists.