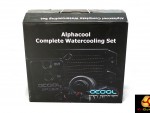 Alphacool, the long-established German liquid cooling company, knows exactly how tough it can be to select the correct components to build a custom loop for a PC. Their answer lies in a selection of 18 different kits in a product line called Cool Answer that offer radiators ranging from 120mm to 480mm in a variety of sizes along with a choice of different pumps.
The specific kit we have on review here is the Alphacool NexXoS Cool Answer 240 DDC XT which employs a 240mm copper radiator that is 45mm thick (that's the XT part of the name) along with a Laing DDC pump (yup, also in the name), a NexXoS XP3 CPU block and a 5.25-inch bay reservoir.
These components are all available from the Alphacool store so the idea of this kit is not to supply something new but instead to simply package all the parts together and avoid you ending up with incompatible fittings or the wrong number of parts.
Watch via our Vimeo Channel (below) or over on YouTube at 1080p60 HERE
Specification:
Hose dimensions: 13/10mm
Prefilled: No
Radiator Dimension: 277 x 124 x 46mm
Radiator Thickness: 45mm
Radiator size: 2x120mm
Socket: AMD 604/771/G34, AMD 939/AM2/AM2 /AM3/AM3 /FM1/FM2, Intel 1150/1151/1155/1156, Intel 1366, Intel 2011, Intel 775
Contents of kit
1x Alphacool NexXxoS XP3 Light – Intel/AMD
1x Alphacool Repack – Laing DDC – 5,25 Bay Station
1x Laing DDC-Pump 12V DDC-1T
1x Alphacool NexXxoS XT45 Full Copper
3 metres Alphacool tubing AlphaTube HF 13/10 (3/8"ID) – clear
6x Alphacool HF 13/10 compression fitting G1/4 – Deep Black
2x Alphacool Coolmove – 1600rpm (120x120x25mm)
1x Alphacool CKC Cape Kelvin Catcher Clear 1000ml
1x ATX-bridging plug (24 Pin) – black
As you will see in our video the only thing missing from the kit is a cutter for the coolant tube, however Alphacool's chosen 13mm OD tube can easily be cut with a pair of quality sharp scissors. In the past we have noted some larger cooling kits are not supplied with enough coolant but Alphacool has done a proper job and you get more than enough coolant in the package, so once you have received the kit you are ready for action.
Installing a kit with a CPU block, 240mm radiator and combined pump/reservoir unit is a quick job although it takes a certain amount of effort to insert the pump in the rear of the Alphacool reservoir before you nut-and-bolt it safely in place. Pretty much the only hitch in the process for our installation is that the optical drive bay in our chosen be quiet! Dark Base 900 case sits beneath an extensive I/O panel.
The fluid fill port is centrally located on top of the reservoir so we were obliged to slide the reservoir forward about 50mm and then it back in place once the filling and bleeding process was complete. This required us to leave a certain amount of slack on the hose that connects the radiator to the reservoir which doesn't look especially neat or tidy. Happily the feed hose from the pump to the CPU block was fine so we only suffered that one overly-long hose.
Bleeding the system only took a few minutes after we had laid the system on its side and moved it around a certain amount. After the initial rush and gurgle we were able to refill the reservoir which reduced the noise levels significantly. The DDC pump is powered by a four pin Molex connector and runs at a constant speed close to 4,000rpm which means the fluid flow can be incredibly noisy when the level in the reservoir is low as you basically have a waterfall inside the reservoir.
Once the system is bled and refilled this ceases to be a concern and you might consider it to be a handy feature as you get an audible warning should the fluid level drop while the PC is running.
Testing
Test System:
Processor: Intel Core i7-5820K
Motherboard: Gigabyte X99-UD4
Case: be quiet! Dark Base 900
Memory: 32GB Corsair Vengeance LED DDR4-3200Hz RAM
Graphics card: Sapphire Tri-X Radeon Fury X 4GB
Power supply: Seasonic Prime Titanium 750W
Storage drives: OCZ Vector 180 SSD
OS: 64-bit Windows 10
We tested the coolers during the middle of a rather intense heatwave in the United Kingdom. Ambient temperatures were 29c throughout the testing of both systems.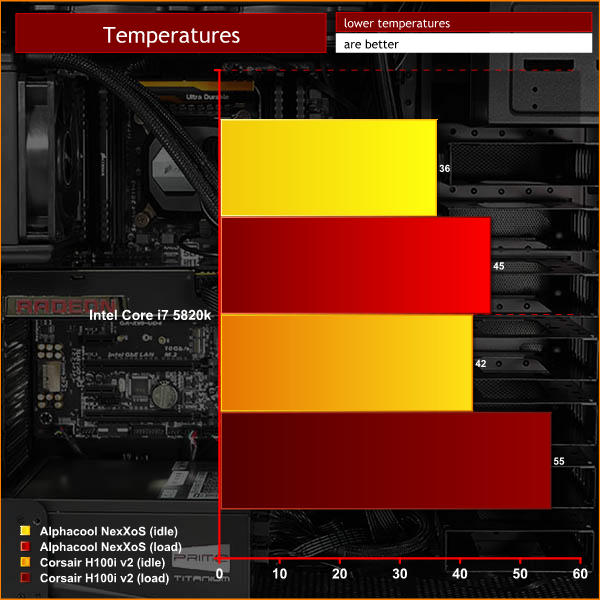 It was impressive to see our LGA2011-3 set-up running ten degrees cooler with the Alphacool hardware compared to a decent Corsair All-in-One however the fact is that we would have expected nothing less from a high speed pump, chunky copper radiator and larger volume of coolant. It is only fair to point out the Alphacool hardware costs twice as much as the H100i v2.
Acoustics performance.
Once the coolant is topped off the pump noise is fairly minimal and fan noise is entirely dependent on your BIOS settings or chosen fan controller. After a couple of minutes of adjustment we had the Alphacool hardware running very quietly and while it wasn't exactly silent we were perfectly happy with the result.
Closing Thoughts
Alphacool NexXoS Cool Answer 240 DDC XT gives you everything you require to step up from an air cooler or All-in-One to a proper custom loop with copper radiator with the minimum of fuss and bother. There is no need to worry about the number of fittings you need to order or the compatibility of your hose as everything in the package is guaranteed to plug together correctly.
We would have preferred to have added a T-piece and drain valve to make life easier when it comes to maintenance however the configuration we chose with the radiator in the roof of the case meant this wasn't really practical. If you install the radiator vertically in the front of the case you should certainly consider a drain valve at the bottom of the system.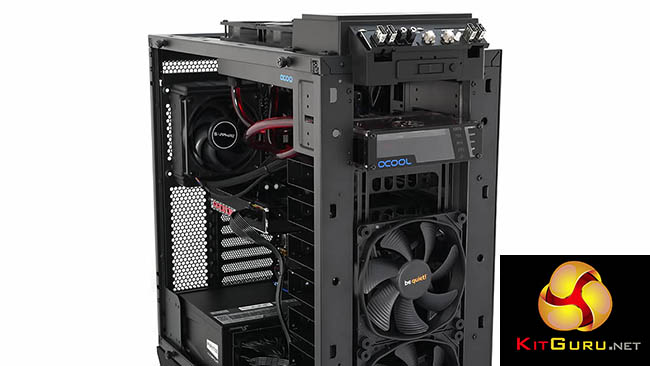 Another thing we would recommend is to lay out a small amount of cash for a bottle of dye for the coolant. Colour transforms the appearance of the Alphacool loop and also helps you spot air bubbles when you are bleeding the system.
We were impressed by the quality of the hardware and the way this kit has been thought out. The fact that the kit centres around a combined pump/bay reservoir is a bit of a double edged sword as it means you don't have to faff about with mounts for these components but also have no choice about where you locate them in your chassis. It is stating the obvious to note that you require a spare optical drive bay otherwise the whole thing is moot.
It may come as a bit of a shock to anyone upgrading from an All-in-One cooler that Alphacool doesn't provide any control software and you instead have to rely on settings within the BIOS to juggle fan speeds and temperatures. This is standard practice with custom loop hardware and is just one of those things you have to accept. Better yet you can embrace this fact and recognise that with Alphacool you are stepping up from the junior leagues and entering the world of proper hardware.
Price Euros 219.95 inc VAT. £188 inc VAT in the UK. Buy HERE.
Discuss on our Facebook page, over HERE.
Pros:
Excellent cooling.
Copper radiator is top quality.
Laing DDC pump is very good.
Six G1/4 unions in the radiator give you loads of options.
Bay reservoir looks superb.
Cons:
Alphacool obliges you to mount the fans in pull when you might want to use push.
Reservoir fill point requires access directly above the optical drive.
Attaching the pump to the reservoir is a bit fiddly.
13mm hose feels quite flimsy.
Mounts for the bay reservoir may not line up with your case.
No PWM control of the pump.
KitGuru says: Alphacool has packaged up some nifty hardware at a very fair price.