To test the Aerocool DS Dead Silence 120mm fan today, we are using the Corsair H60 (2013 version) which we reviewed previously.
Test System
Processor: Intel Core i7-4770K
Motherboard: MSI Z87-G43
Memory: 8 GB Kingston 2133 MHz
Thermal Paste: Arctic Cooling MX-2
Case: NZXT Phantom 530
Graphics Card: AMD Radeon 280x
Graphics Card (noise tests): HIS Radeon HD 5550 Silence
The fan included with the Corsair H60 is very similar to those included with the H80i and H100i and is loosely based on the design of the new Corsair Air Series SP120 fans.  It doesn't spin quite as fast though, topping out at 2,000 RPM.  At this speed it can push 54 CFM of air and can generate a static pressure of 2.36 mm H20.
As we discussed earlier, the 12cm AEROCOOL DS fan spins at only 1,200 RPM at 12V, but it still manages to push 54.8 CFM at close to half the maximum rated speed of the Corsair unit.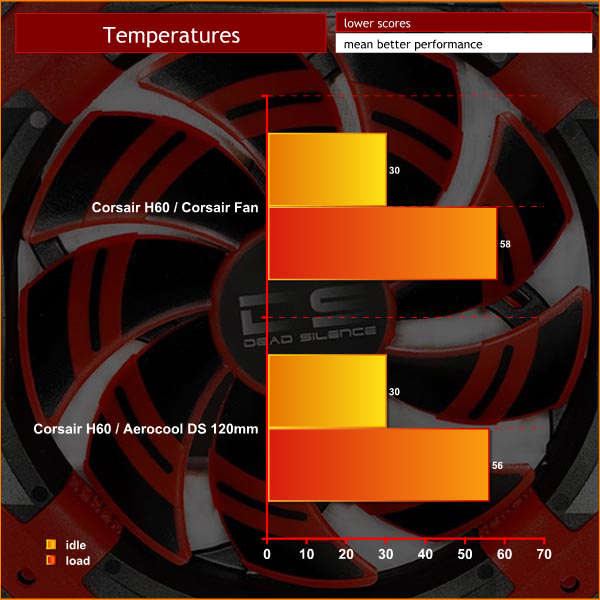 The temperature differences are slightly in favour of the Aerocool DS 120MM fan (56c v 58c). Importantly however, we need to factor in the noise levels.
KitGuru noise guide
10dBA – Normal Breathing/Rustling Leaves
20-25dBA – Whisper
30dBA – High Quality Computer fan
40dBA – A Bubbling Brook, or a Refrigerator
50dBA – Normal Conversation
60dBA – Laughter
70dBA – Vacuum Cleaner or Hairdryer
80dBA – City Traffic or a Garbage Disposal
90dBA – Motorcycle or Lawnmower
100dBA – MP3 player at maximum output
110dBA – Orchestra
120dBA – Front row rock concert/Jet Engine
130dBA – Threshold of Pain
140dBA – Military Jet takeoff/Gunshot (close range)
160dBA – Instant Perforation of eardrum
We can only accurately measure down to 28dBa with the noise meter in our environment, so anything better than 28dBa cannot be accurately recorded in our tests. That said – anything rating at 28dBa in our graphs is going to be realistically 'almost silent' in the real world.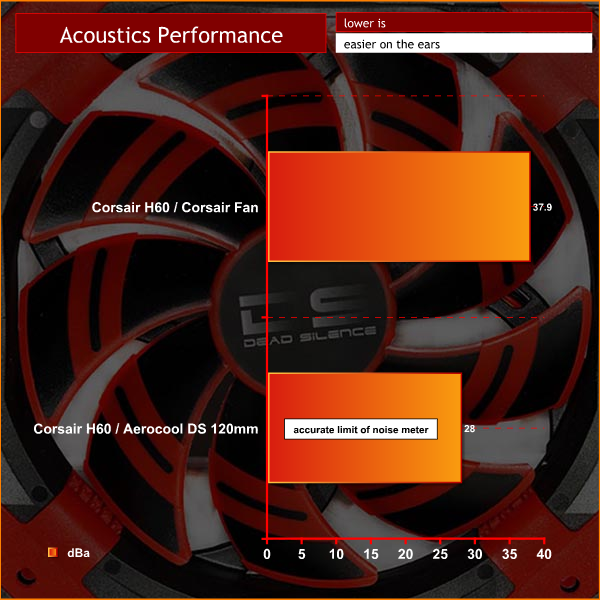 The Corsair fan is quite loud, spinning up to 37.9dBa – clearly audible and moderately intrusive. The Aerocool DS Dead Silence Fan by comparison is extremely quiet. The AeroCool DS 120mm is rating right at the accurate limits of our noise meter, meaning it is probably well below the 28dBa rating we can present today.
Our findings show that while cooling performance between the 120mm Corsair fan and the 120mm AeroCool DS Dead Silence fan is very closely matched, the noise differences paint the whole picture. The 120mm Aerocool DS Dead Silence fan trounces the 120mm Corsair fan.
AeroCool rate the 120mm unit @ 15.8dBa at 12V and 12.1dBa at 7V. Without a specialised designed acoustic chamber we really are not in a position to verify either of these claims, but we can say the DS Dead Silence Fan is almost silent, even with our ear 3 inches away from the blades during operation (be careful if you do this yourself!).