Allwinner, a Chinese maker of application processors for mobile devices and consumer electronics, recently introduced the world's cheapest 64-bit application processor. The system-on-chip, which costs just $5, will power high-performance tablets and CE devices with 4K ultra-high-definition displays.
The Allwinner A64 SoC integrates four ARM Cortex-A53 general-purpose cores, an unknown graphics engine (Allwinner uses both ARM Mali and ImgTec PowerVR graphics cores inside its APs), a multimedia engine that supports decoding of 4K (3840*2160) ultra-high-definition H.265/H.264 video streams as well as 4K HDMI video output. Besides, like other SoCs from Allwinner, this one features the company's SmartColor display technology, which post-processes images to adjust for skin tone and color saturation. The new chip also supports various types of DRAM, including LPDDR2, LPDDR3, DDR3 and DDR3L; as well as NAND flash, including MLC, TLC, eMMC and so on.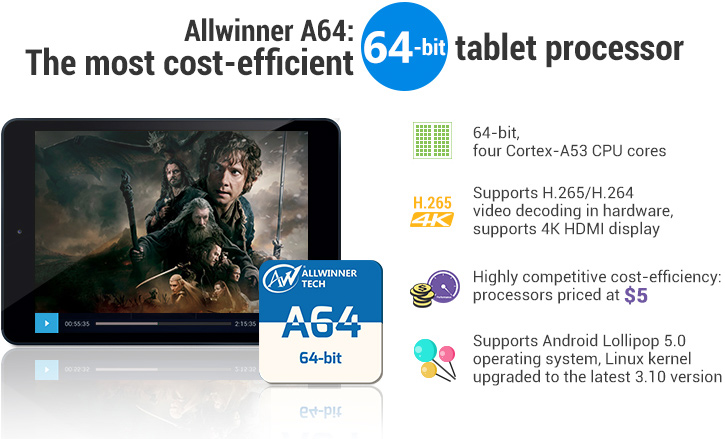 While technology wise the Allwinner A64 is hardly a breakthrough, its $5 price is the lowest in the industry. The chip, which is compatible with Google Android 5.0 and Linux, is expected to trigger transition to 64-bit computing among low-end tablets and CE devices.
"The A64 will bolster the company's position in the white-box tablet market, where its rock-bottom price will quickly drive the transition to 64-bit processors," wrote Mike Demler, an analyst with the Lineley Group, in a new issue of ProcessorWatch.
Discuss on our Facebook page, HERE.
KitGuru Says: Allwinner is well known for its ultra-low-cost mobile system-on-chips for smartphones and tablets. Thanks to the A64, the company will catalyse whitebox tablet makers to use ultra-high-definition displays as well as sophisticated 64-bit software.