Advanced Micro Devices on Wednesday said that it will delay high-volume shipments of microprocessors powered by its custom ARMv8-compatible "K12" cores to 2017. The company did not reveal any reasons behind the postponement.
AMD's "K12" core is the company's first 64-bit ARMv8-A-compatible microprocessor engine designed entirely in-house. Development of the core is led by Jim Keller, who also heads development of "Zen" micro-architecture. Mr. Keller is a legendary CPU architect, who is best known for such high-performance designs as DEC's Alpha 21164 and 21264, AMD's K8 (Athlon 64/Opteron), Apple's "Swift" and "Cyclone" as well as multiple successful PowerPC- and MIPS-based system-on-chips.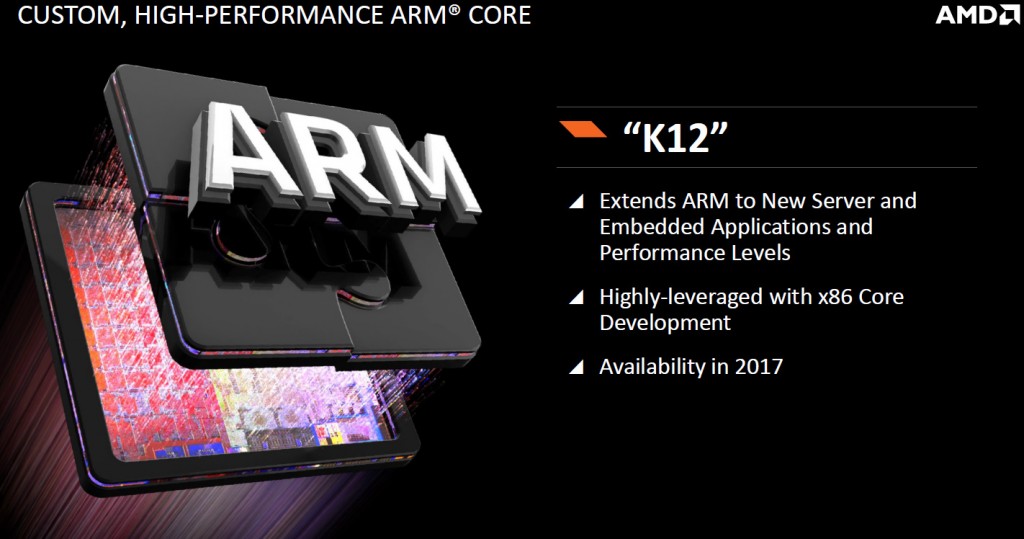 While not a lot of information is known about the "K12" architecture, since it is developed alongside with "Zen" x86 general-purpose cores, it is clear that it is designed to offer very high performance. Many of Zen's peculiarities (e.g., high-bandwidth, low-latency cache sub-system; uncore; some other parts) are expected to be a part of "K12" cores. In fact, AMD is confident that server processors based on its "K12" will be the highest-performing ARM-based enterprise-class CPUs, which may indicate that "K12" will be the fastest 64-bit ARM cores on the planet two years from now.
AMD is working on several "K12"-based products, including one server-class Opteron system-on-chip for enterprise, "Styx" accelerated processing unit for mobile client devices. According to unofficial information, the "Styx" APU is expected to have up to two "K12" cores, a Radeon graphics processing unit powered by next-generation GCN architecture, full HSA 1.0 implementation, built-in input/output capabilities as well as Secure Processor technology. Thermal design power of the chip is projected to be around 2W. The SoC will reportedly use FT4 BGA form-factor.
While AMD did not reveal exact reasons why it decided to push back introduction of "K12"-powered products to 2017, it looks like the company decided to focus its resources on "Zen"-based x86 products for various market segments in 2015 – 2016 timeframe. Given increased design costs of FinFET chips, it looks like the company just had to delay the "K12" products in order to release its new high-performance x86 offerings in time.
Discuss on our Facebook page, HERE.
KitGuru Says: Although AMD's "K12"-powered designs got delayed to 2017, it is clear that ARM is definitely a part of AMD's future and the company continues to believe in ARM-based servers and client computer platforms.