Advanced Micro Devices is working on two new A8 and A10 accelerated processing units for desktop systems. The new chips will be based on the code-named "Kaveri" design and will not bring tangible performance improvements compared to existing APUs. Nonetheless, the new processors will help AMD to maintain average selling prices of its highly-integrated offerings for desktops.
The new quad-core AMD A8-7690K and AMD A10-7890K will feature slightly higher clock-rates than existing A8 and A10 accelerated processing units. For example, the A10-7890K accelerated processing unit will have default frequency of 4.10GHz, which is 200MHz higher compared to existing flagship APU. The A8-7690K will be around 100MHz faster than its predecessor, reports CPU-World. Unfortunately, it is unknown whether the new chips will also sport higher GPU frequency.
From micro-architecture point of view, the new APUs from AMD are similar to their predecessors: they feature four "Steamroller" cores, DirectX 12-class integrated graphics processor featuring GCN 1.1 architecture, second-generation video coding engine (VCE) and fourth-generation unified video decoder (VCE) units that ensure high quality video playback and support all modern encoding formats (MPEG 2, MPEG 4, H.264, VC-1, etc.) except H.265/HEVC, VC-9 and some other.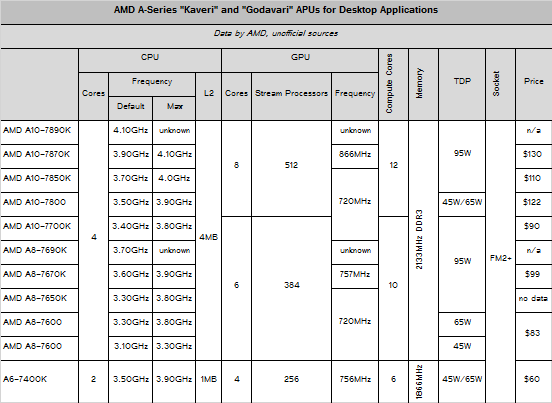 AMD's latest accelerated processing units that belong to the "Kaveri Refresh" family feature a reworked power supply circuitry, which gives cleaner and higher volume power delivery to the die. This lets AMD to increase "official" frequencies of its highly-integrated desktop chips and which also provides overclockers a significantly better headroom for further tweaking. In addition, AMD is able to bolster clock-rates of its chips thanks to the fact that GlobalFoundries' 28nm super high performance (SHP) process technology has got significantly better than it was early in its lifecycle.
In addition to high-performance AMD A8-7690K and AMD A10-7890K, Advanced Micro Devices is also working on AMD A6-7470K as well as Athlon X4 850 and Athlon X4 870K.
The new microprocessors are expected to hit the market in the coming weeks and months.
AMD did not comment on the news-story.
Discuss on our Facebook page, HERE.
KitGuru Says: While it is nice to see that AMD is gradually increasing performance of its APUs, the chips are still behind their competitors from Intel Corp. when it comes to general-purpose computing performance. Moreover, relatively high thermal design power of 95W does not allow to build ultra-small systems based on the new AMD A8 and A10 "Kaveri" accelerated processing units.