Advanced Micro Devices on Thursday formally introduced new accelerated processing units for desktop computers based on the "Kaveri" architecture. The new chips belong to the A10/A8-series 7000-sequence family and have slightly increased performance compared to APUs introduced a year ago. While the new chips have exactly the same design as their predecessors, they feature improved power supply circuitry, which may enable considerably higher overclocking potential. A little later, AMD plans to start shipments of A-series 8000-sequence hybrid processors based on the same design to OEMs.
AMD's APU family gets new models
The new APUs from AMD code-named "Kaveri Refresh" (also known as Godavari) feature exactly the same configurations as the original "Kaveri" chips, but have slightly higher clock-rates to improve both general-purpose as well as graphics processing performance. The new A10/A8 accelerated processing units feature two dual-core "Steamroller" modules (four cores in total), 4MB level two cache (1MB cache per x86 core), AMD Radeon graphics engine with six or eight GCN compute units (384 or 512 stream processors in total) operating at up to 866MHz, a dual-channel DDR3 memory controller with hUMA [heterogeneous unified memory architecture] technology, up to 95W thermal design power and so on. The processors are compatible with all existing FM2+ mainboards based on AMD's A88X, A78, 68H and A58 chipsets and featuring the latest BIOS versions.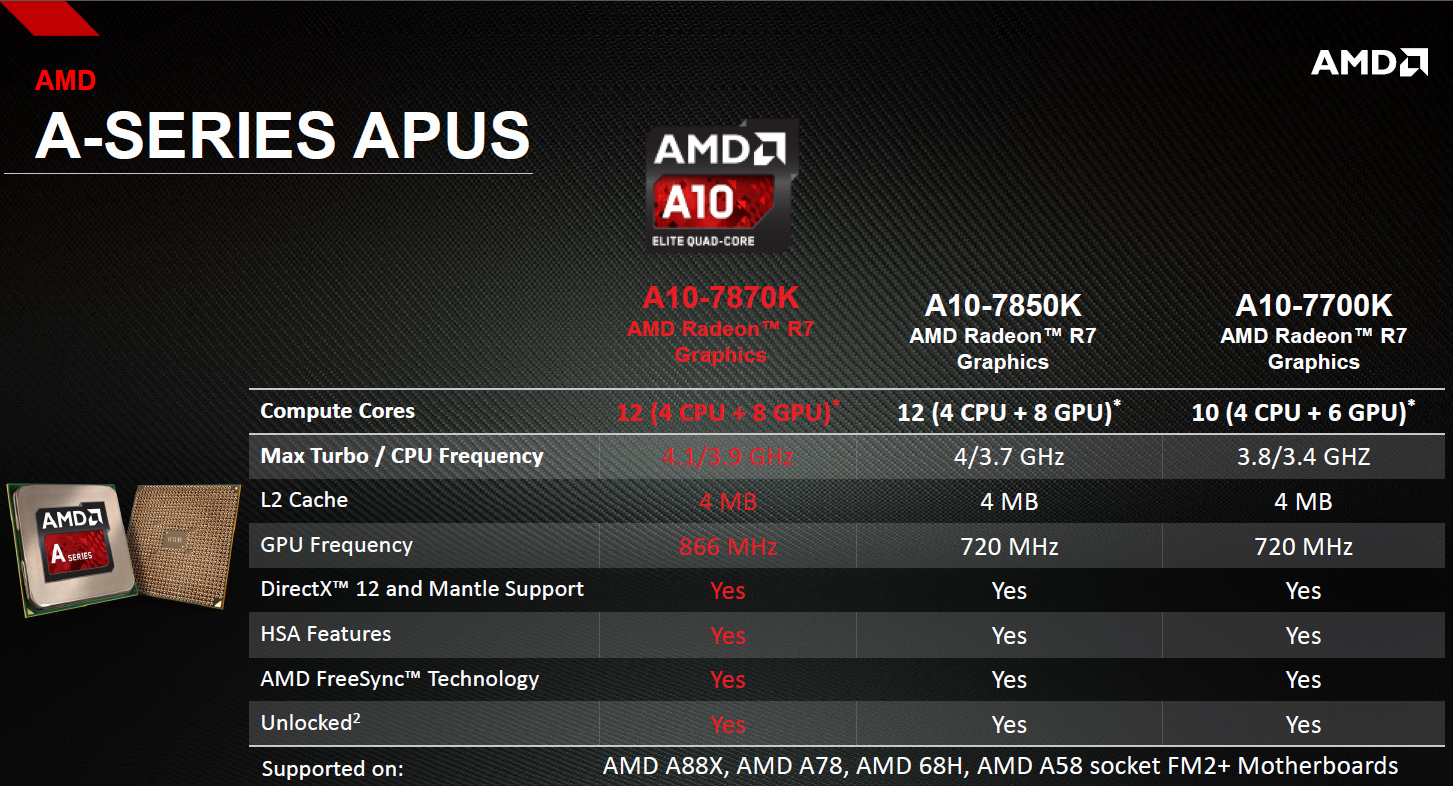 The Radeon graphics cores inside the "Kaveri" family APUs are based on the GCN 1.1 architecture and are compatible with all modern application programming interfaces like DirectX 12 (feature level 11_2), OpenGL 4.3, OpenCL 1.1, Vulkan and Mantle. Besides, the chips support AMD's proprietary technologies like Eyefinity, TrueAudio, FreeSync, virtual screen resolution (VSR) and other. AMD "Kaveri" features second-generation video coding engine (VCE) and fourth-generation unified video decoder (VCE) units that ensure high quality video playback and support all modern encoding formats (MPEG 2, MPEG 4, H.264, VC-1, etc.) except H.265/HEVC, VC-9 and some other.
Better overclocking, 5GHz CPU and 1GHz GPU with air-cooling possible
The main difference between the original "Kaveri" and the "Kaveri Refresh" APUs is the new power supply circuitry on the latter. According to AMD, the reworked power supply gives cleaner and higher volume power delivery to the die, which enables AMD to slightly increase "official" frequencies and which provides overclockers a significantly better headroom for further tweaking.
According to AMD, GlobalFoundries' 28nm super high performance (SHP) process technology has also got significantly better than it was in early 2014. As a result, the company believes that the new A10-7870K chips will actually have significantly higher overclocking potential than their predecessors.
"It should overclock a little bit better because you have more voltage stability through the chip, you may get 200MHz – 300MHz – 400MHz more," said James Prior, a product manager at AMD. "This [AMD A10-7870K] may be able to hit 5GHz on air or with a liquid cooler on the CPU side. On the GPU side, you should [be able to] push to well over 1GHz. On the memory side, if you get the timings right, then you should be able to push to over 2600MHz."
Keeping in mind that overclocking results greatly depend on exact processor, cooling system's performance, mainboard and other factors, do not expect all AMD A10-7870K chips to be excellent overclockers. However, it is still nice to see that AMD decided to enable better overclocking potential for new chips.
"As always, AMD does not guarantee overclocking, we enable it to for your fun so you can enjoy playing with those clocks for your own amusement," said Mr. Prior.
AMD 10-7870K : The 'best' processor for online gaming
AMD positions its new A10-7870K and derivatives as solutions for multimedia and online gaming. The A10-7870K chip will compete against Intel Corp.'s Core i3-4370 and will naturally leave the dual-core chip with mediocre graphics core behind in a lot of applications, at least, according to AMD's slides.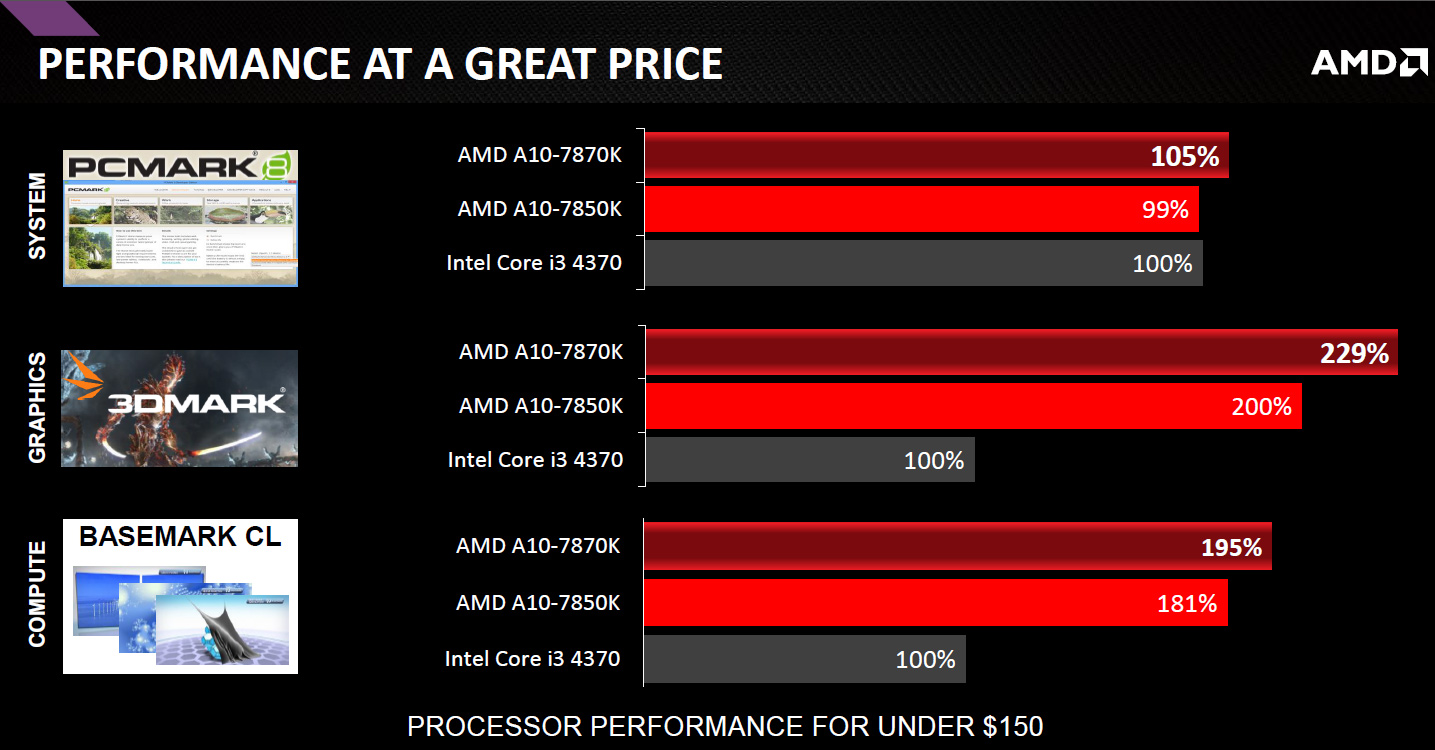 "AMD takes a major step forward today by unveiling the world's most advanced eSports and online gaming processor technology in the A10-7870K APU, giving players the ability to game like a pro without spending like one," said Matt Skynner, corporate VP and general manager of computing and graphics business unit at AMD. "eSports is one of the fastest-growing pastimes in the world with hundreds of millions of gamers worldwide playing games like StarCraft II, League of Legends, DOTA 2 and Counter-Strike: Global Offensive. With the new A10-7870K APU, gamers can play the most popular online and eSports games right out of the box with features to make that experience even better."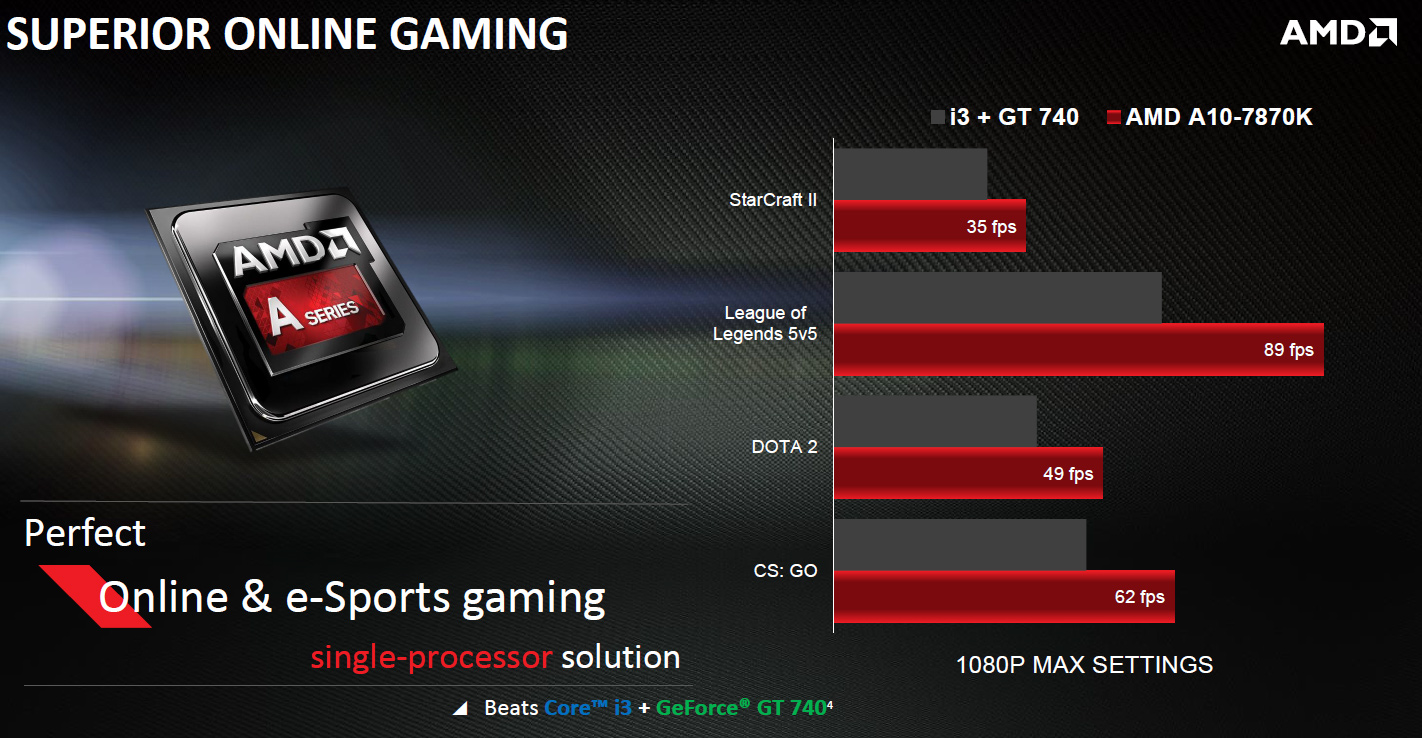 The top-of-the-range AMD A10-7870K APU with unlocked multiplier costs $137 in the U.S. and £149.99 in the U.K. AMD plans to release A8-7670K APU in the coming weeks and some other "Kaveri Refresh" products in the future. The AMD A4/A6/A8/A10 8000-series APUs based on the "Kaveri Refresh" design will be available only to OEMs and will begin to ship in June.
Discuss on our Facebook page, HERE.
KitGuru Says: AMD's new APUs are clearly not revolutionary, so do not expect any performance breakthroughs from them. However, if you are building a PC for multimedia playback and simple online gaming that does not need a lot of compute horsepower, the AMD A10-7870K is a thing to consider. Obviously, the main drawback of such processor for small form-factor desktops is its thermal design power of 95W, which means that it requires an advanced cooler and chassis with good airflow.