Advanced Micro Devices plans to lower prices of its A-series "Kaveri" accelerated processing units, according to a media report. The company wants to fight back some market share from Intel Corp. before the end of the year and will lower prices of popular APUs so that to make them more competitive. In addition, AMD will discontinue the A10-7700K chip in order to boost demand for more expensive products.
AMD plans to slash prices of its A10-7850K, A10-7800, A8-7600 and A6-7400K accelerated processing units on the 28th of November, 2014, reports Hermitage Akihabara web-site citing sources in Japanese retail. Exact details about the price-cuts are unknown, but it is unlikely that the prices will be reduced radically: the chips are not completely outdated and AMD does not need huge price-cuts to sell them.
Keeping in mind that Advanced Micro Devices unofficially cut prices on select central processing units and accelerated processing units in early September, it is about time for AMD to reconsider its prices ahead of the holiday season. It is noteworthy that AMD in many cases does not make formal announcements regarding its price reductions and even does not update its official price list on its web-site. As a result, in many cases retailers sell AMD's chips at prices below official quotes from AMD.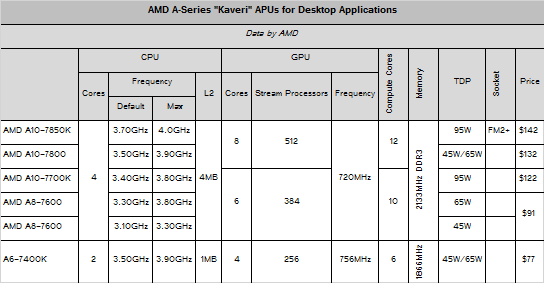 In addition, the company will discontinue its A10-7700K "Black Edition" (four Steamroller cores, Radeon R7 graphics engine with 384 stream processors (GCN 1.1), 3.40/3.80GHz, 95W, 4MB total dedicated L2 cache, socket FM2+) APU in order to make enthusiasts buy more expensive A10-7850K "Black Edition" APU with unlocked multiplier. Considering the fact that AMD is going to slash price of the A10-7850K, ceasing to supply its cheaper rival is a right idea as it will help to maintain desktop average selling prices at around current levels.
AMD did not comment on the news-story.
Discuss on our Facebook page, HERE.
KitGuru Says: AMD's price-cuts will make PCs based on its chips slightly more affordable. Unfortunately, since Intel Corp. is rumoured to be flooding the market with its processors these days, it is unlikely that AMD will manage to fight back any significant amount of market share even in the low-end.