As reported several months ago, Intel planned to significantly boost performance of integrated graphics cores inside that belong to the code-named Skylake family. Based on the preliminary specifications published today, it looks like the chipmaker only plans to improve integrated graphics in the premium products, but not in all Skylake products.
The most powerful versions of the Skylake processors – the Skylake-S (LGA1151) and the Skylake-H (BGA) – will feature all-new GT4e class graphics engines with 72 execution units (each execution unit [EU] features two SIMD floating-point units) presumably based on the eighth-generation Intel processor graphics (Gen8) architecture, which is also used in the code-named Broadwell microprocessors. The GT4e-class graphics engines will also feature 128MB embedded DRAM cache for additional performance boost.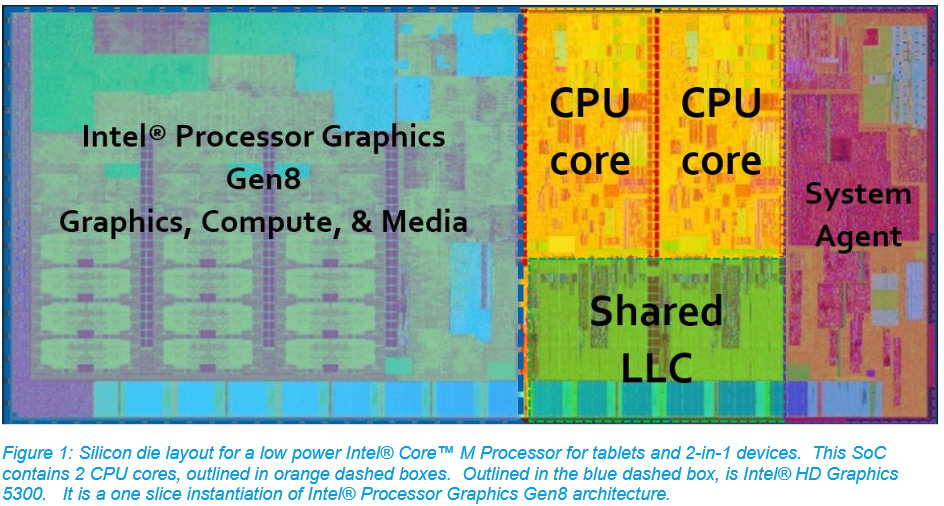 Configurations of all other graphics cores of Skylake microprocessors will be similar with presumable configurations of the Broadwell chips, according to a report from CPU-World:
GT3e – 48 execution units + 64MB eDRAM cache. The GT3e graphics adapter will be used by higher-end 15W mobile system-on-chips (Skylake-U).
GT2 – 24 execution units. The GT2 graphics adapter will be used by all Skylake chips, including mainstream desktop microprocessors (dual-core and quad-core Skylake-S in LGA1151 packaging), 15W mobile SoCs (Skylake-U), 4W mobile SoCs (Skylake-Y) as well as advanced mobile processors (Skylake-H).
GT1.5 – 18 execution units. The GT1.5 graphics adapter will be used by dual-core LGA1151 microprocessors (Skylake-S).
GT1 – 12 execution units. The GT1 graphics adapter will be used by dual-core LGA1151 microprocessors (Skylake-S) as well select 15W mobile SoCs (Skylake-U).

As previously reported, the Skylake central processing units will also come with improved multimedia engine, which is expected to include hardware video decoding/encoding engines with support for the HEVC/H.265 codec (VP9 support is rumoured) in order to provide hardware-accelerated playback of ultra-high-definition video. The company is also projected to further improve quality of media playback by adding new filters. The next-generation Intel processor graphics will support 4096*2304 at 60Hz resolution with 24-bits per pixel over DisplayPort/eDP interfaces as well as 4096*2160 at 60Hz resolution over HDMI.
While it is not exactly clear how Intel calls Skylake processor graphics, the new-generation Gen 8 processor graphics (found inside Broadwell processors) fully supports DirectX 11.2, the OpenGL 5.0 and the OpenCL 2.1 application programming interfaces.
Intel did not comment on the news-story.
Discuss on our Facebook page, HERE.
KitGuru Says: While feature-wise Intel's Gen 8 processor graphics cores already match graphics adapters from AMD or Nvidia, it is noteworthy that Intel decided not to boost graphics processing horsepower of all Skylake chips. Perhaps, this was done to keep down costs, perhaps, the company did not want large die sizes to maintain yields of its mainstream offerings.