Intel Corp.'s next-generation high-end desktop microprocessors called "Haswell-E" are still a couple of months away from their launch, but select enthusiasts have already managed to obtain them. While unfortunately we do not have a lot of ideas about performance of the upcoming chips, the first discoveries about the Core i7-5960X processor seem to be quite interesting.
OCDrift web-site has posted a picture of a "Haswell-E" processor with removed heat-spreader. While the removal clearly damaged the chip, it helped to make two important discoveries. Firstly, the Core i7-5960X processor uses a special alloy to solder the die to the heat-spreader, which is good for overclocking potential of the chip. Secondly, the die itself contains 12 cores with only eight activated.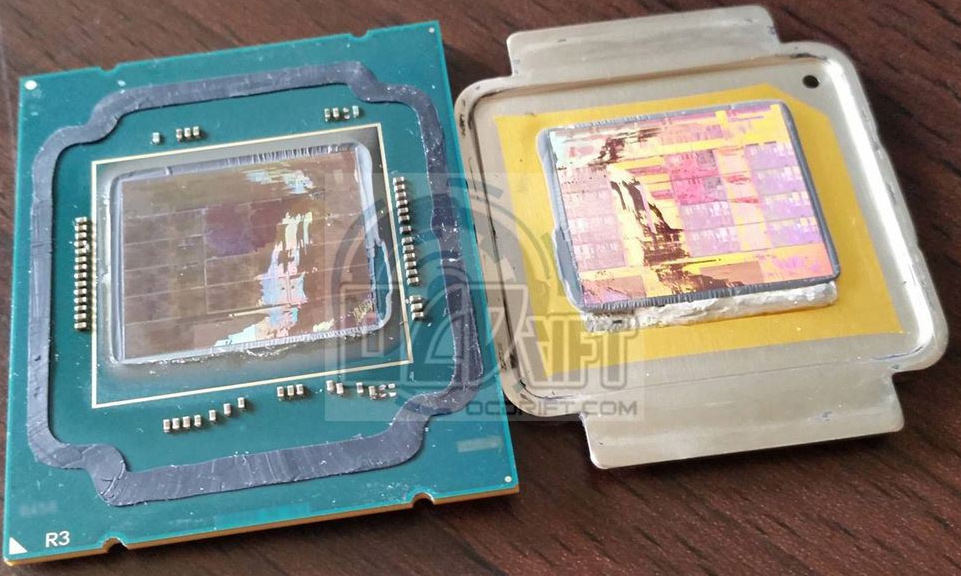 While most probably it will be impossible to activate additional cores within the Haswell-E chips, it is noteworthy that they are there and therefore Intel can potentially release a desktop microprocessor with ten or even twelve cores. Such a processor will hardly make a lot of sense for desktop applications that benefit from single-thread performance.
Intel's Haswell-E chips will be the company's first processors to support DDR4 memory and will also be the company's first desktop chips with up to eight cores.
Intel did not comment on the news-story.
Discuss on our Facebook page, HERE.
KitGuru Says: Since the Haswell-E shares the silicon with the Haswell-EP designed for servers, it is not surprising that it has 12 cores instead of eight. What remains to be seen is what happens to its overclocking potential because of that…