At the Consumer Electronics Show the world's largest maker of microprocessors – Intel Corp. – demonstrated what looks to be the world's smallest personal computer based on an x86 microprocessor. Intel Edison is a new Quark-based computer with built-in wireless connectivity housed in a Secure Digital card form-factor.
Intel Edison is powered by Quark system-on-chip that is well-suited specifically for ultra-small and low power-sensitive, Internet of Things edge devices, smart consumer electronics products and wearable computing. The Edison sports an Intel processor and a microcontroller core that helps manage input/output and other baseline functions. The small compute package also features connectivity with Wi-Fi and Bluetooth LE, and has LPDDR2 and NAND flash storage as well as a wide array of flexible and expandable I/O capabilities.
Intel Edison supports Linux, other operating systems and can run relatively complex applications. The chip giant will provide tools to allow hardware and software designers to develop applications based on Edison and Quark. The Santa Clara, California-based company believes that Edison and Quark will enable a broad range of various gadgets, including wearable computing devices.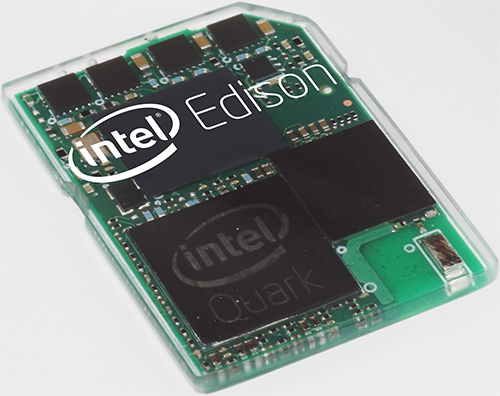 Several companies, namely Rest Devices and Autodesk, have already announced plans to support Edison. Rest Devices will utilize the computing platform for smart baby clothing as well as smart bottle warmers, whereas Autodesk will add support for Edison into its 123D software used by enthusiast inventors.
The company claims that Edison is a production-ready, general purpose compute platform that is designed to enable rapid innovation and product development by different inventors, entrepreneurs and consumer product designers when available this summer.
KitGuru Says: It is interesting to note that with Quark and Edison Intel pins a lot of hopes onto amateur inventors, not on big companies that have always been Intel's traditional and most important partners. At the same time, it is obvious that in order to sell hundreds of thousands of Quark chips, Intel needs to address big players. It is hard to imagine that the chip giant is not addressing its existing clients with the new technology, but maybe the latter just needs some additional tweaking?