I'm sure I don't have to tell you guys, that Kitguru has come a long way in the past few years, ultimately becoming one of the biggest independent review sites around and that's thanks to you guys as much as it is us, with our fine, fine content. In-fact if you visit our Facebook page today, you'll find over 155,000 of your fellow gamers, overclockers, enthusiasts and humble readers, all chatting away about the latest news stories and custom rigs, posted up by our social-networking wrangler, the ever handsome Carl.
But we're gamers right? At least a lot of us are. And most are PC gamers, even if we like to dabble in the odd console hit from time to time. Which is why it's a travesty, nay, a disgrace, that there are only a few thousand of you in our Steam group.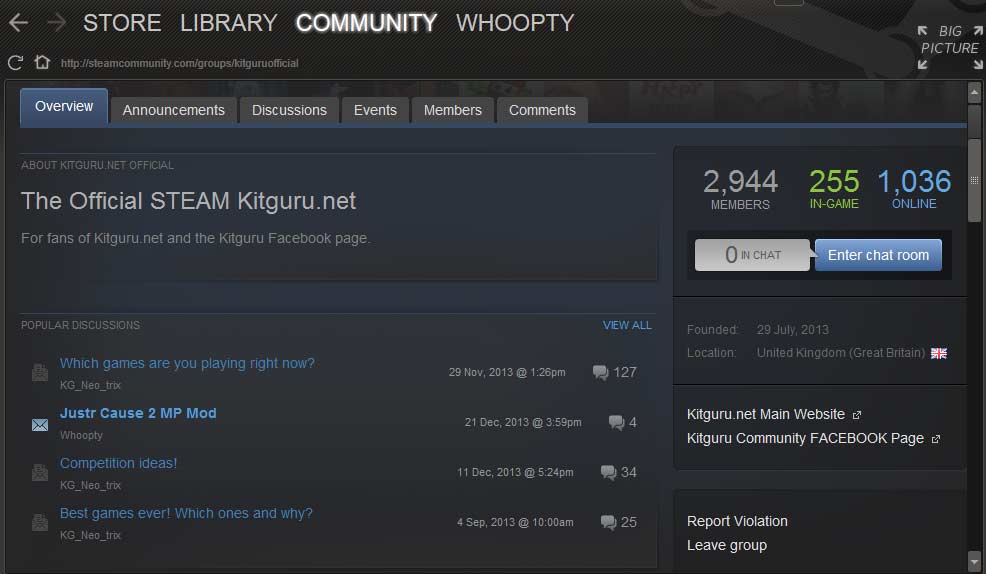 There's a thousand of you online. Why hasn't anyone challenged me to a fight to the (virtual) death?
There's a couple of benefits to joining of course, on top of having another avenue to talk with like minded people about the games you love. Firstly, there's the ability to enter our regular competitions to win brand new games, all for just posting up a screenshot or a funny caption.
The big benefit though and the one I'm keen to push this year, is the ability to play games with Kitguru readers and staffers alike. Most of us working here are gaming away until the early hours and we're always happy to join in with some manic multiplayer action, especially if we get a chance to kill the people that point out the spelling mistakes we make every few stories.
So today I want to not only invite you to join the group – which you can do by heading here – but I want to ask you guys what games you'd like to play?
Personally, I'm playing the Just Cause MP mod a lot at the moment, along with Talisman, Monaco, Skulls of the Shogan – these are all games we can fail at together, but I imagine you guys have a lot more. Maybe there's some you'd even like to walk us through and show off your gaming skills?
Whatever you're feeling, let us know. Hit up the comments below, Facebook us, but most importantly get yourself signed up to that Steam group and let's get some KG gaming crews on the move.