Qualcomm this week introduced its new performance-mainstream Snapdragon 600-series system-on-chips for smartphones and tablets. The new SoCs feature ARMv8 64-bit processing technology, 4G/LTE connectivity as well as new-generation Adreno graphics. The new chips will be used inside devices due late this year.
Qualcomm Snapdragon 610, 615 application processors integrate four (up to 1.80GHz) and eight (four 1.0GHz + four 1.80GHz) ARM Cortex-A53 cores, respectively. Both system-on-chips feature new-generation Adreno 405 graphics processing unit (which supports mobile graphics APIs like DirectX 11.2 and Open GL ES3.0, full profile OpenCL 1.1 as well as hardware accelerated geometry shading and hardware tessellation), LPDDR3 memory controller, new display controller (with up to 2560*2048 resolution support), improved multimedia processors (with H.265 codec support), Wi-Fi 802.11ac controller, Bluetooth 4.1 controller, GPS/GLONASS, Gobi 4G/LTE cat 4 modem for speeds up to 150Mb/s (supports LTE FDD, LTE TDD, WCDMA, CDMA1x, EV-DO, TD-SCDMA and GSM) and so on.
"Qualcomm Technologies is redefining the user experience for high-end mobile devices by amassing the unparalleled trilogy of an industry-leading LTE modem, 64-bit multicore processing, and superior multimedia," said Murthy Renduchintala, executive vice president of Qualcomm Technologies.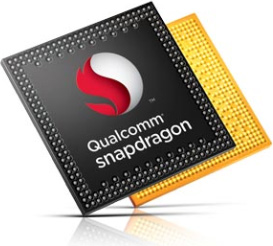 It is noteworthy that so far Qualcomm has only introduced 64-bit application processors for mobile devices with ARM Cortex-A53 cores, but not higher-end ARM Cortex-A57 cores. Moreover, the company still has not introduced its own implementation of ARMv8 architecture. Keeping in mind that the performance-mainstream SoCs utilize ARM Cortex-A53 cores, we can expect the next-gen Snapdragon 810/815 to feature up to eight Cortex-A57, which will deliver much higher performance per core and enable capabilities never-before-seen on mobile devices.
The Snapdragon 610 and 615 processors are anticipated to begin sampling in the third quarter of 2014 and the first commercial devices are expected in the fourth quarter of 2014.
KitGuru Says: The new Snapdragon 600-series application processors are rather impressive thanks to 64-bit technology, new-generation graphics engine as well as other capabilities. It is a little bit sad that the first products based on the Snapdragon 610 and 615 will only emerge late this year. Keeping such launch schedule in mind, the new high-end Snapdragon 810/815 application processors from Qualcomm will be available even later…