Although Samsung Electronics was expected to unveil its first 64-bit ARMv8-compatible application processors at the Mobile World Congress 2014, so far the firm has only introduced two new Exynos 5-series system-on-chips. The processors offer increased performance amid optimized power consumption and up-to-date feature-set.
The new high-end Exynos Octa 5422 is equipped with eight cores that work in Big.Little HMP [heterogeneous multi-processing] configuration: four big ARM Cortex- A15 (up to 2.1GHz) cores and four small ARM Cortex-A7 (up to 1.50GHz) cores for heavy loads and lighter jobs, respectively. The new SoC also features advanced multi format codec (MFC) block that is capable of encoding/decoding video in 4K (3840*2160) UHD resolution and supports high-resolution displays, such as WQHD (2560*1440) and WQXGA (2560*1600). Since the chip is essentially an improved version of the Exynos 5420, it features the same ARM Mali-T628 graphics engine.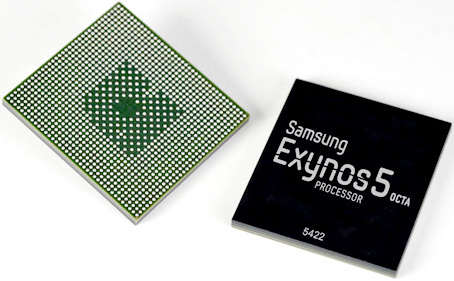 To support high-resolution displays requiring a higher rate of data processing and bandwidth, Samsung has adopted proprietary mobile image compression (MIC) and adaptive hibernation (detects non-moving parts of dynamic images and freezes the data transfer) technologies. With MIC, display data is compressed into half to minimize memory bandwidth requirement and uses only four MIPI lanes. Both technologies are implemented in conjunction with Samsung's mobile display driver IC (S6E3HA0 for WQHD and S6E3FA2 for FHD respectively), and save power consumption by up to 10 per cent compared with conventional technologies.
The Exynos Octa 5422 delivers up to 34% higher performance compared to previous-generation Exynos Octa solutions and consumes 10% less power since it is made using thinner 28nm process technology.
Samples of the processor are available now and scheduled for mass production in the first quarter of 2014.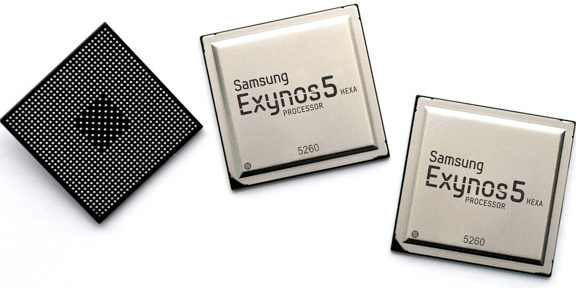 Another interesting addition to the Exynos family is Exynos 5 Hexa (Exynos 5260), which offers a balance between performance, power consumption and cost. The Exynos 5260 sports six general-purpose cores that also work in HMP mode: two ARM Cortex-A15 (up to 1.70GHz) and four ARM Cortex-A7 (up to 1.30GHz). The chip continues to rely on ARM Mali-T628 graphics engine, but sports up to 12.8GB/s memory bandwidth and up to WQXGA (2560*1600) display resolution. While the chip sports a video codec that enables Full HD (1080p) playback at up to 60 frames-per-second (fps) with encoding and decoding of various standards, such as H.264, MPEG4 and VP8, it does not support 4K playback or H.265 codec.
The Exynos Hexa 5260 is currently in mass production.
High-end and mid-range devices based on the new Exynos 5 Octa and Exynos 5 Hexa are expected to emerge later this year.
KitGuru Says: While both Exynos 5 Octa and Exynos 5 Hexa seem to be enough for today's high-end smartphones and tablets, what is truly interesting to see is what Samsung plans for tomorrow. In particular, we are eager to see specifications of Samsun's next-gen high-end SoC with 64-bit cores and next-gen graphics.