Intel Corp.'s "Devil's Canyon" processors have demonstrated that it is possible to significantly improve overclocking potential of a central processing unit without re-spinning it by revamping its power supply circuitry. As it appears, Intel's new "Skylake-S" microprocessors with unlocked multiplier will also feature a very advanced power supply circuitry, which will improve their overclocking potential.
Stable and clean power supply is a key to overclocking, which is why high-end mainboards and graphics cards have sophisticated multi-phase voltage regulator modules (VRM). Nonetheless, the final stage of power delivery to a microprocessor silicon is located on the CPU itself. High-quality power supply circuitry found on the bottom of microprocessors gives cleaner and higher volume power delivery to the die, which greatly improves stability and overclockability.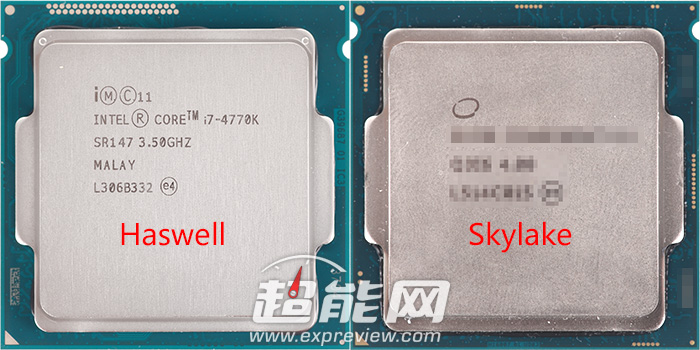 Adding capacitors to the power supply circuit of the Core i7-4790K "Devil's Canyon" improved its average overclocking potential compared to the Core i7-4770K "Haswell", thus one would expect the chip giant to use something similar on other microprocessors. Based on pictures of Intel Core i7-6700K published by Expreview and PCOnline.com.cn, the unlocked "Skylake" comes with power circuit that looks to be even more sophisticated than the one found on the "Devil's Canyon".
The amount of capacitors on the bottom of the Core i7-6700K "Skylake" is extremely high. Moreover, there are different types of capacitors with different capacitance, which means that power supply of Intel's "Skylake" LGA1151 processors is completely different than power supply of Intel's "Haswell" and "Devil's Canyon" CPUs (which is logical, given the fact that the new chip lacks integrated voltage regulator). Moreover, the amount of elements in the circuit indicates that Intel wanted to ensure maximum overclocking potential of its new central processing unit. Still, keeping in mind that internal thermal interface of "Skylake" is similar to that of "Devil's Canyon", there will be limitations in overclockability of the new chips.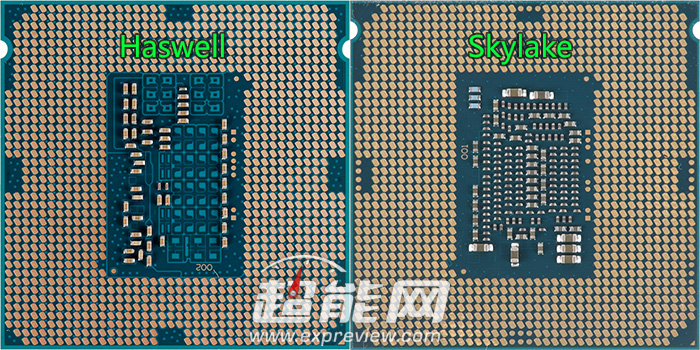 Intel did not comment on the news-story.
Discuss on our Facebook page, HERE.
KitGuru Says: Intel launches Core i7-6700K and Core i5-6600K "Skylake" processors next week. Very soon, overclocking potential of the new CPUs will be revealed by various reviewers.