Via Technologies controls about 1 per cent of the world's x86 microprocessor market and does not have a lot of chances to significantly boost sales of its central processing units. Despite of not very bright perspectives and financial losses, the company does not plan to leave the CPU market.
Timothy Chen, a special assistant to the president of Via Technologies, said that the company's x86 licenses is valid until 2018. Although Via's CPU market share is negligible, the company is seeing stable orders for embedded applications such as digital signage, reports DigiTimes.
At present Via Technologies is developing a new processor in China at the company's joint venture with the Shanghai government. The new CPU is expected to hit the market in the second half of 2015. The joint venture has around 600 employees, which is considerably less than the amount of chip designers at AMD, Intel or even Apple.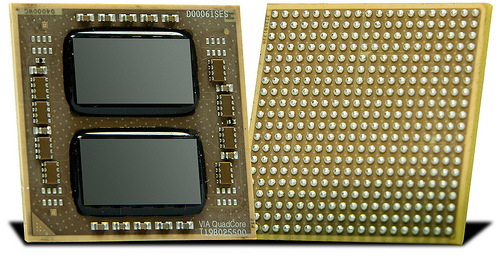 In addition to x86 processors Via's Wondermedia subsidiary develops ARM-based system-on-chips for tablets and set-to-boxes.
While the market of processors is growing, Via barely has chances to increase its sales or share because its products are not really competitive. It would be logical for Via to combine its resources and develop ARM-based SoCs, not x86 processors, but for some reason Via wants to continue its x86 business until 2018.
Discuss on our Facebook page, HERE.
KitGuru Says: Keeping in mind that Intel recently teamed up with China-based developers of system-on-chips for low-cost x86 mobile processors, it will not prolong Via Technologies' x86 license in 2018. It is unclear why the company continues development of x86 central processing units now.