Apple is promising that the 2020 MacBook Air is faster than "98 percent of PC laptops sold in the last year", and based on new benchmark scores, there's a good chance that it will be.
The Apple M1 APU is the company's first laptop processor. Powered by TSMC's 5nm process node, this passively-cooled CPU will feature 8 cores, from which 4 are big and the other 4 are small, and a base frequency of 3.2GHz. The iGPU inside the M1, which Apple claims to be the "world's fastest integrated graphics in a personal computer", will also have 8 cores offering up to 2x the graphics performance of currently available solutions.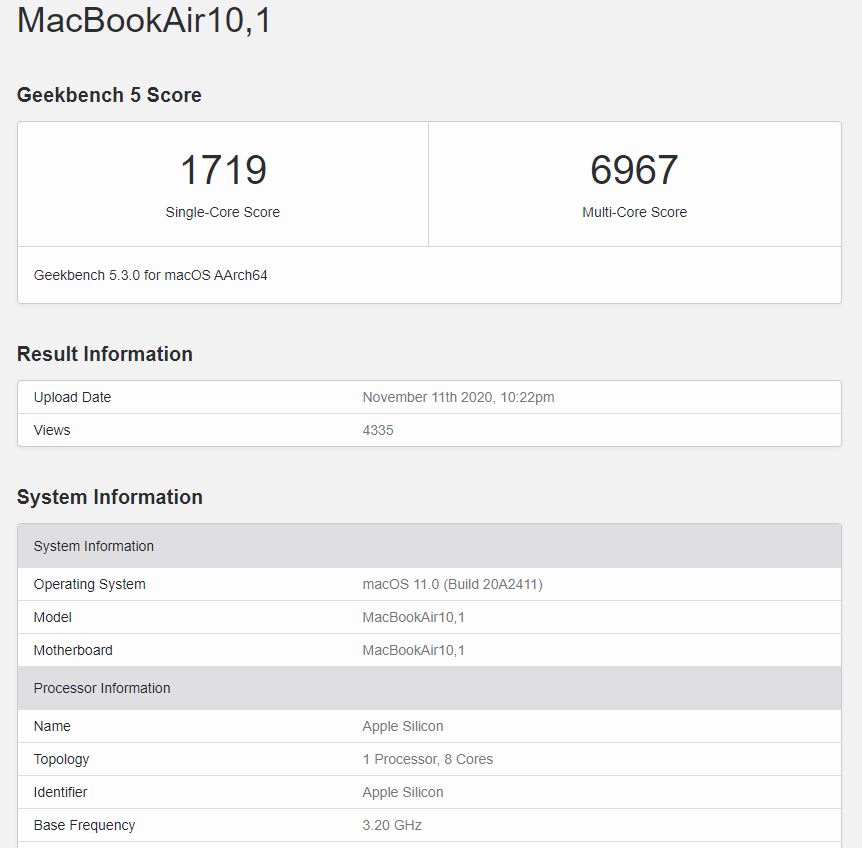 The Apple M1 Geekbench 5 benchmark, spotted on the Geekbench database, shows an incredible 1719 single-core score and a 6967 multi-core score. Comparing this to what is currently available, the single-core score is on par with a stock Ryzen 9 5950X, while the multi-core score is just above what is expected from a Ryzen 5 3600X.
Putting these scores side-by-side with AMD and Intel flagship mobile solutions of today, Apple's multi-threaded performance is just below the Ryzen 9 4900HS (7074) and the Core i9-10875H (7024). On the other hand, the single-core performance just blows away the competition by 21% against Intel's top performing mobile CPU (Core i7-1165G7 with 1423) and by 57% against AMD's best score on mobile platforms (Ryzen 9 4800H with 1094).
KitGuru says: Were you expecting this kind of performance from the Apple M1? Are you considering picking one of the new M1-powered Macs up?