Intel Alder Lake-P/M mobile CPUs have been further detailed thanks to an update to the Coreboot kernel for Google Brya. The update details the power limits of four CPU core configurations, including Alder Lake-P 2+8+2 (big + small + GPU), 4+8+2 and 6+8+2 configurations and Alder Lake-M's 2+8+2 configuration.
Google Brya is the company's reference platform for all Chromebooks, featuring important information about the hardware featured in these laptops. Some of that information includes the power limits set for CPUs, such as the PL4, the maximum wattage supported at package level for no longer than 10ms.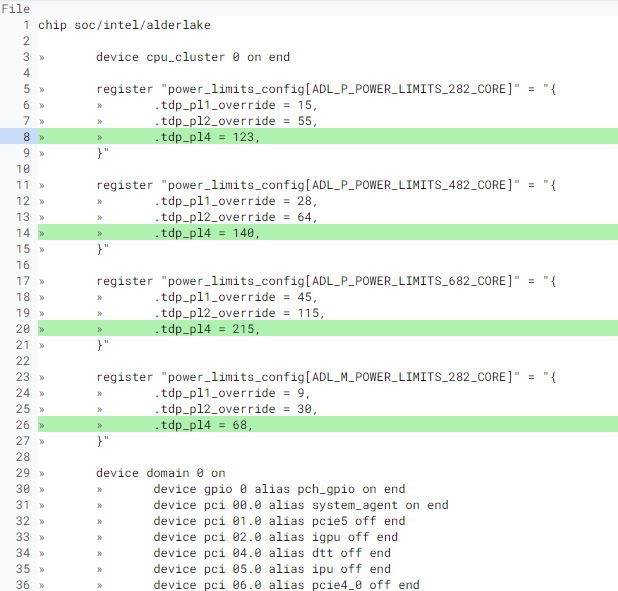 As found by Coelacanth's Dream, the Intel Alder Lake-P/M entries in the Coreboot kernel was updated, adding the PL4 for three Alder Lake-P core configurations and one Alder Lake-M core configuration. Alder Lake-P PL4 values are higher than those of the M platform, where the 2+8+2 core configuration has a PL4 of 123W, the 4+8+2 has a PL4 of 140W, and 6+8+2 has 215W. Due to its low-power nature, Alder Lake-M will come with a much lower PL4, set at 68W.
Compared to its Intel Tiger Lake counterparts, these Alder Lake mobile processors look to be fairly matched in power consumption, but their PL4 values are slightly higher across the whole stack. However, it's important to note that higher PL4 values do not mean they will consume more power. That will mostly depend on the manufacturer and the cooling system, board, battery and power adapter included with the laptop.
Discuss on our Facebook page, HERE.
KitGuru says: The high PL4 won't mean much for most consumers when using these CPUs in real-world scenarios, but it is interesting information nonetheless.