Intel is continuing to expand its lines of processors for various market sectors. This time around its the Xeon D range, which as well as having web hosting and object caching offerings, is now equipped with eight new Xeon chips which cover the gamut from various storage applications like NAS drives, as well as wireless access, base stations and firewalls. They come in various power-draw configurations and cover a lot of bases when it comes to pricing.
At the relatively low end of the new CPUs is the D-1518, which comes with four cores (eight with hyperthreading), a base clock of 2.2 GHz and no turbo boosting, 6MB of shared cache and a TDP of 35w. ServeTheHome has it priced at $242 (£160). At the top end, the D-1548 has a full eight cores (16 with hyperthreading) running at a clock speed of 2GHz and boosting up to 2.6GHz when needed, with 12MB of cache and a TDP of 45w. Its recommended price is listed at $675 (£447).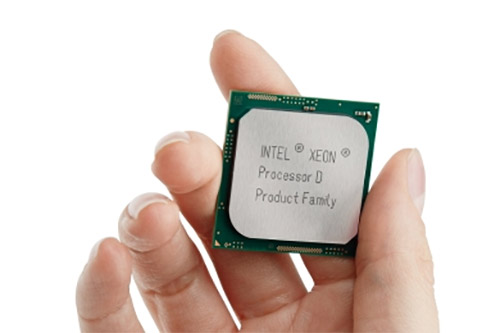 Intel claims (as per Anandtech) that some of these SKUs can provide as much as six times the performance of its previous high-end Avoton based chips. This is particularly noticeable we're told in scenarios like cryptographic hashing and encryption, which will be of interest to a number of companies looking to improve enterprise security through new solutions.
Don't plan on cramming one of these into your latest gaming rig build though, as they are mostly intended for server storage platforms. They are also absolutely tiny too, which will make them fantastic for embedded scenarios, with a number of partners ranging from ASROCK, to IBM to Nokia all announcing their interest in the lines.
Alongside the Intel Xeon D series announcement the chip maker also opened up about a new FM10000 Ethernet controller line, which will allow for up to 36 Ethernet lanes,  running at speeds ranging from a gigabit per second, to as much as 25 Gbps on individual lanes. Group them together, and speeds up to 100Gbps should be possible, potentially hailing a new era of high speed networking for LAN settings.
Discuss on our Facebook page, HERE.
KitGuru Says: Not likely to be of much interest to the gamers among you, but we'd imagine there's more than a few IT managers rubbing their hands together now that they have something for next year's budget to go on.