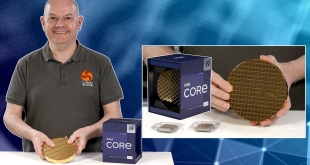 KitGuru has given you the news about the Intel Core i9-12900KS CPU with its maximum Boost Speed of 5.5GHz and we have performed an unboxing (for the first time in ages), so now the time has come for a review. We shall be diving straight into the KS so you might want to do some background reading on the Core i9-12900K HERE.
Timestamps
00:00 Start
00:44 12900KS 'explained'
03:35 Test hardware and retesting 12900k
05:24 12900KS plugged in – early results
06:29 Moving to MSI Meg Z690 Unify
07:23 Some more results
08:00 A look at cooling, temps
10:06 Reducing voltage – the findings
11:46 P-core ratio increased to 5.3GHz
12:45 Leo's thoughts
13:15 5.5ghz behaviour
13:40 Benchmark results
16:35 Gaming results
18:49 Blender 3.1 temps
20:13 Power Consumption
21:13 Closing Thoughts
Key features
Up to 5.5 GHz max turbo frequency with Intel Thermal Velocity Boost.
Intel Adaptive Boost Technology for improved gaming performance by opportunistically allowing higher multi-core turbo frequencies.
16 cores (eight P-cores and eight E-cores), 24 threads, 150W processor base power, 30MB Intel Smart Cache, and PCIe Gen 5.0 and 4.0 support.
Up to DDR5 4800 MT/s and DDR4 3200 MT/s support.
Chipset compatible with existing Z690 motherboards with latest BIOS recommended for the best gaming experience.
Be sure to check out our sponsors store EKWB here