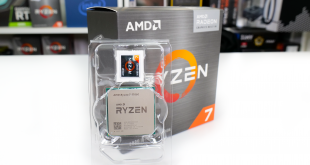 Today we are looking at a much-anticipated product from AMD; the Ryzen 5000G desktop – Cezanne – APUs are finally available for DIY PC builders to purchase. We have the Ryzen 7 5700G in for testing which is AMD's new flagship APU product that boasts 8 CPU cores with 16 threads, integrated Vega8 graphics, and a $359 USD or £310 price tag.
In a world where the discrete GPU market is still completely broken, perhaps an APU with reasonable built-in graphics capability makes more sense than ever?
00:00 Start
00:15 Introduction / pricing
01:19 5700G details (and cooler)
03:33 PCIe Gen 3 ?
03:55 Motherboard support
04:32 Test system / Methodology
06:11 Comparison Thoughts
07:41 Clock speed / OC
10:23 Performance results
12:58 Summary of CPU focused performance
13:20 iGPU gaming – AAA titles
16:01 Summary of iGPU gaming performance
16:43 Gaming Performance with RTX 3080
17:38 Power Consumption
18:00 Temperatures
18:17 Summary
19:52 Luke's Closing Thoughts
Focusing on the CPU side to start with, the Ryzen 7 5700G features eight cores and 16 threads of Zen 3 architecture. The chip clocks at 3.8GHz base and 4.6GHz max rated boost. You get 0.5MB of L2 cache per core, as with all Zen 3 – so 4MB total L2.
But L3 cache capacity is only 16MB, which is a halving compared to single-CCX Zen 3 desktop CPUs such as the Ryzen 5 5600X and Ryzen 7 5800X. That is likely to have a notable negative impact as it – in essence – reverts us back to Zen 2 levels of compute performance in some respects.
On the GPU side, AMD equips the 5700G with 8 Compute Units clocked up to 2GHz. This sounds pretty promising, until you realise that the same old – somewhat ancient – Vega architecture is being used.
No RDNA/RDNA2 here – old Vega that really isn't too dissimilar to the 11 CU, albeit slower clocked, Vega iGPU of the Ryzen 5 3400G from 2019! This is disappointing, irrelevant of what AMD has done to improve the core Vega architecture.
Why no RDNA2 like consoles?
The GPU does however support useful tech such as FreeSync and FSR.
And then on the SoC side of things, the 5700G has a 65W TDP and is bundled with the Wraith Stealth which is cheap and disappointing when Wraith Spire is entirely justifiable for $359. The old Ryzen 5 3400G got the bigger Wraith Spire back in the day.
The roughly 180mm2 SoC design features 10.7 Billion transistors fabbed on the 7nm TSMC process node. The use of a single monolithic die for this APU, unlike the Core Chiplet Die and IO Die chiplet approach for Ryzen 5000 desktop processors, is potentially advantageous for latencies when reaching out for IO operations.
This is essentially the same silicon as the Ryzen 5000 mobile APUs, albeit with subtle desktop versus laptop differences and typically higher power budgets.
AMD equips the 5700G with 24 PCIe lanes but they are only Gen 3! Ryzen 5000 desktop and even Intel's competing solutions have Gen 4 now – how can AMD justify the application of older PCIe tech on a still expensive processor?
As expected, the new Ryzen 7 APU drops into the AM4 platform with a BIOS update. B550 motherboards will undoubtedly be the sensible go-to option for buyers. Though do pay attention to video outputs on the rear IO when picking a motherboard.
We get the usual Zen 3/AM4 memory support, and that's important given the tie-in for GPU memory speeds to the system RAM clock. So 3600MHz should work fine out of the box, 3800MHz with 1900MHz Fabric Clock should be fine, and 4000MHz with 2000MHz Fabric Clock is worth trying but without guarantee that a chip will do 2GHz FCLK.
In the motherboard BIOS we can carve off how much RAM we would like to allocate to the GPU. Take that into consideration when deciding what capacity kit to opt for. We chose 4GB as a sensible option.
In terms of competition for the $359 Ryzen 7 5700G, it is an interesting one.
We have the Ryzen 7 5800X from AMD's own stable, but that does not have an iGPU and is more expensive.
We have the Core i7-11700K which is around £30-40 more expensive, so that's a valid competitor as it has the Intel UHD 750 32EU iGPU. Plus, this chip acts as a good proxy for the direct competitor – the Core i7-11700 non-K.
We have the Ryzen 5 5600X for around £60 less currently, so that leaves budget to buy a *GULP* GT 730 graphics card brand new (ignoring 2nd hand for now).
And of course you could go with a cheaper Core i5 and a dGPU, but that's getting a bit away from real APU comparisons for people actually interested in APU benefits.
We would encourage you to watch our video review for visual indications of how the clock dynamics function on the Ryzen 7 5700G in its differing operating modes. We will briefly analyse the behaviour here though.
Stock-Clocked Operating Frequencies:
In terms of CPU-only load clock speeds, the Ryzen 7 5700G typically ran at around 4.375GHz for 88W package power under a CPU-only load. Maximum boost was generally 4650MHz single-threaded.
The GPU would stick to 2GHz flat when not having its power diverted to CPU cores – i.e. in a GPU-only loading scenario.
Running Cinebench plus 3DMark stress test simultaneously saw the GPU and CPU cores share the 88W power budget. This often resulted in around 1.5GHz on the GPU cores and around 4.2GHz on the CPU cores.
Precision Boost Overdrive (PBO) Clocks:
Clearly power-limited at stock, we applied PBO to remove the shackles.
The CPU now run at around 4.43GHz under heavy load. This was only a modest boost versus stock.
However, a package power usage of just under 120W proved beneficial from PBO when both the CPU and iGPU were loaded simultaneously. The GPU now maintained 2GHz flat whilst the CPU ran at the same 4.43GHz all-core.
This is a good upgrade provided you can cool 120W of package power.
Manual Overclocking and Further PBO Tuning:
We did a little playing about with manual overclocking and pushed the GPU cores to 2.3GHz through the UEFI. This delivered a roughly 7% gain in the 3DMark Time Spy graphics score.
We also messed with manual PBO adjustments. This allowed us to push the GPU cores to 2.2GHz using the maximum allowable offset of +200MHz. And the CPU cores delivered from 100MHz slower up to similar speeds to what we saw from standard PBO.
Clock Speeds Conclusion:
Put simply, there are a few different – enjoyable – ways to tinker with the Ryzen 7 5700G APU and the headroom looks to be reasonable. We particularly like the flexibility that added package power budget from applying PBO provides, whilst also maintaining worry-free levels of stability.
We will be outlining the AMD Ryzen 7 5700G APU's performance while using an ASUS ROG STRIX B550-E Gaming motherboard with the AGESA – 1.2.0.3b – BIOS version (BIOS 2404). A 32GB (2x16GB) kit of 3600MHz CL16 DDR4 memory serves our test system. A 4GB serving of VRAM was allocated for each AMD APU in the ASUS motherboard UEFI.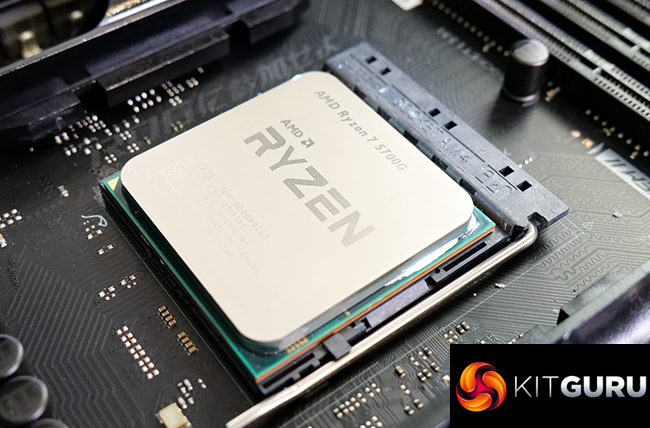 Today's comparison processors come in the form of:
Picasso 'Zen+' Ryzen 5 3400G (4C8T, Vega 11 up to 1.4GHz GPU cores).
Rocket Lake Core i7-11700K (8C16T, UHD 750 32EU up to 1.3GHz iGPU)
Comet Lake Core i9-10850K (10C20T).
Matisse 'Zen 2' Ryzen 7 3700X (8C16T).
Vermeer 'Zen 3' Ryzen 9 5950X (16C32T), Ryzen 7 5800X (8C16T), and Ryzen 5 5600X (6C12T).
It will be interesting to see how these CPU solutions compare to the Ryzen 7 5700G APU
The Core i7-11700K (as a proxy for the 11700 non-K) is perhaps the most logical competitor thanks to its UHD 750 32EU iGPU and around £30-40 higher price.
But we also want to see how much slower the 8-core Zen 3 APU is versus the proper 8-core Zen 3 desktop 5800X with its 32MB cache and 105W TDP. And we want to see the performance differences versus the six-core – but higher cache endowed – 5600X for somebody thinking of going that route with a cheap discrete graphics card.
Also, we want to see the improvements versus the Ryzen 5 3400G that the 5700G realistically replaces. We couldn't source a 4000G APU, but they never truly existed to DIY builders either, so 3400G upgraders may be interested here.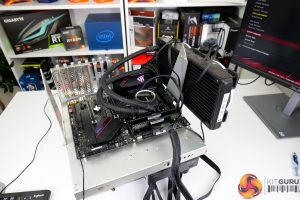 Each processor is tested at its default out-of-the-box settings. For the Intel CPUs, unlimited turbo duration as set by the motherboard with XMP enabled is the operating mode. All-core load frequencies for the tested chips are as follows:
Ryzen 7 5700G = around 4.375GHz.
Core i7-11700K = 4.6GHz.
Core i9-10850K = 4.8GHz.
Ryzen 5 3400G = around 3.975GHz.
Ryzen 7 3700X = around 4.05GHz.
Ryzen 5 5600X = around 4.45-4.55GHz.

Ryzen 7 5800X = around 4.55GHz.
Ryzen 9 5950X = around 3.85-4.0GHz.
CPU Test System Components:
Integrated GPU Testing: As dictated by APU/CPU onboard GPU hardware.
Dedicated Graphics Card Testing: Gigabyte RTX 3080 Eagle OC.
Memory: 32GB (2x16GB) Corsair Vengeance LPX 3600MHz 16-18-18-36 DDR4 @ 1.35V (ran at 3200MHz for Ryzen 5 3400G).
CPU Cooler: Fractal Celsius+ S28 Prisma 280mm AIO at full pump and fan speed
OS SSD: WD_Black SN750 NVMe SSD.
Games SSD: WD_Black SN850 1TB PCIe Gen 4 M.2 SSD.
Power Supply: Seasonic Prime TX-1000.
Chassis: Lian Li T60 Open Air Test Bench.
Operating System: Windows 10 Pro 64-bit.
AM4 Motherboards: ASUS ROG STRIX B550-E Gaming (for APU testing), ASUS ROG Crosshair VIII Hero & Gigabyte X570 Aorus Xtreme (for previous test data).
Z590 Motherboard: ASUS Maximus XIII Hero.
Z490 Motherboard: MSI MEG Z490 ACE.
Tests:

Productivity-related:
Cinebench R20 – All-core & single-core CPU benchmark (CPU)
Cinebench R23 – All-core & single-core CPU benchmark (CPU)
Blender 2.90 – All-core rendering of the Classroom benchmark (CPU)
HandBrake H264 – Convert 1440p60 H264 video to 1080p60 H264 using the YouTube HQ 1080p60 preset (CPU)
HandBrake H265 – Convert 4K30 100Mbps H264 video to 1080p30 40Mbps H265 using the H.265 MKV 1080p30 preset (CPU & Memory)
7-Zip – Built-in 7-Zip benchmark test (CPU & Memory)
SiSoft Sandra – Memory bandwidth and Cache & Memory Latency Test (Memory)
AIDA64 – Memory bandwidth & memory latency (Memory)
Gaming-related (iGPU):
F1 2020 – 1920 x 1080, Medium quality preset with TAA, DX12
Godfall – 1920 x 1080, Low quality preset, Ultra Quality for FSR testing
Grand Theft Auto V – 1920 x 1080, High quality settings, 16x AF, no AA, no Advanced Graphics Settings, DX11
Shadow of the Tomb Raider – 1920 x 1080, Lowest quality preset, no AA, DX12
World of Tanks Encore – 1920 x 1080, Medium quality preset
Gaming-related (dGPU):
F1 2020 – 1920 x 1080, Ultra High quality preset with TAA, DX12
Godfall – 1920 x 1080, Epic quality preset
Grand Theft Auto V – 1920 x 1080, Maximum quality settings, no AA, DX11
Shadow of the Tomb Raider – 1920 x 1080, Highest quality preset, no AA, DX12
Cinebench R20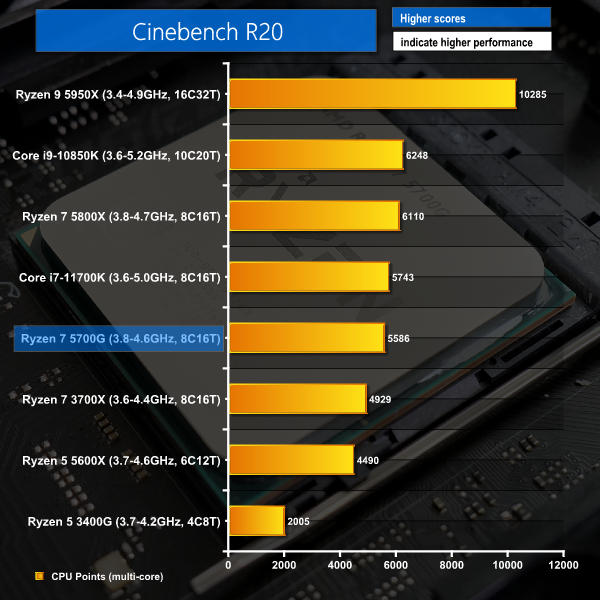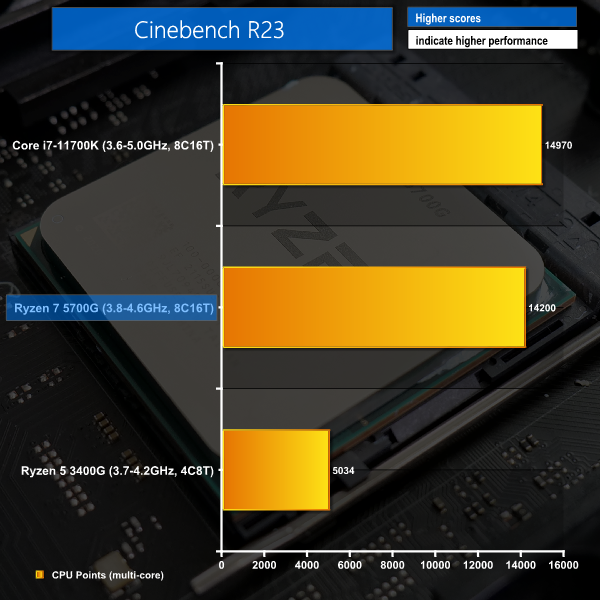 Starting out with Cinebench R20 nT, the 5700G comes in very slightly behind the Core i7-11700K, and around 8.5% below the Ryzen 7 5800X. This is an indication of the clock speed limitations with a 65W TDP and 88W allowable package power for the 5700G's sixteen compute threads. AMD's APU does offer a 24% performance jump versus the cheaper, non-APU 5600X.
The newer R23 performance hierarchy is basically the same as with the shorter R20 run. And the performance loss for the 5700G after 10 mins of Cinebench R23 nT loading is non-existent. That's positive for clock speed stability.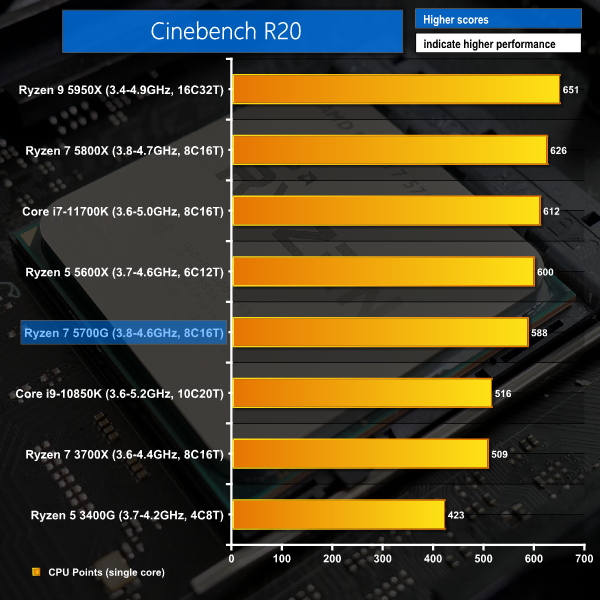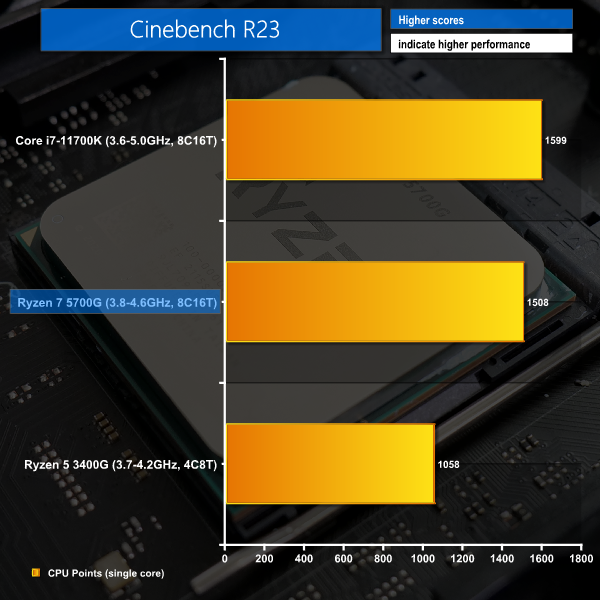 1T scoring of 588 again puts the 5700G behind the higher clocked 11700K and 5800X. This time, however, the Ryzen 5 5600X also overtakes AMD's Zen 3 APU thanks to that six-core CPU's better boost clock proficiency and greater cache capacity.
Once again, we see a drastic improvement for the 5700G versus the old 3400G APU.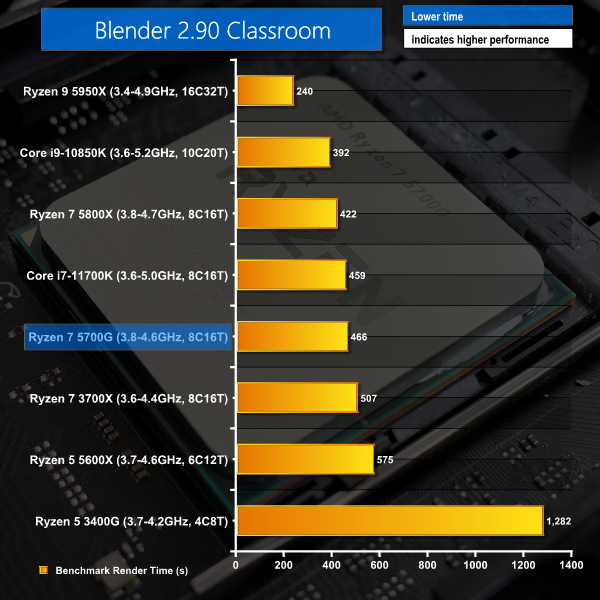 Blender's long Classroom test shows much of the same as we saw from Cinebench nT. The 5700G is very slightly behind the Core i7-11700K, while the Ryzen 7 5800X with its higher power budget is notably quicker. AMD's eight-core APU does keep the 5600X at bay though, and the performance improvement versus the 3400G is once again gargantuan.
7-Zip Compressing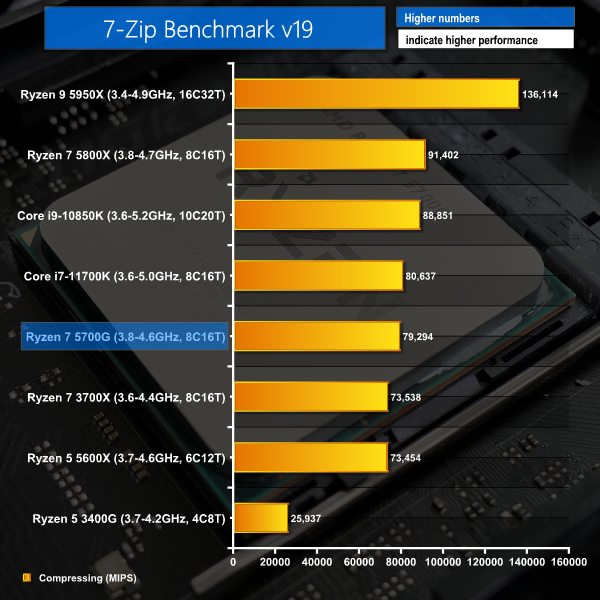 In the 7-Zip compression workload, though, normal order is resumed with the 11700K very slightly ahead of the 5700G, and the Ryzen 7 5800X even further ahead.
7-Zip Decompressing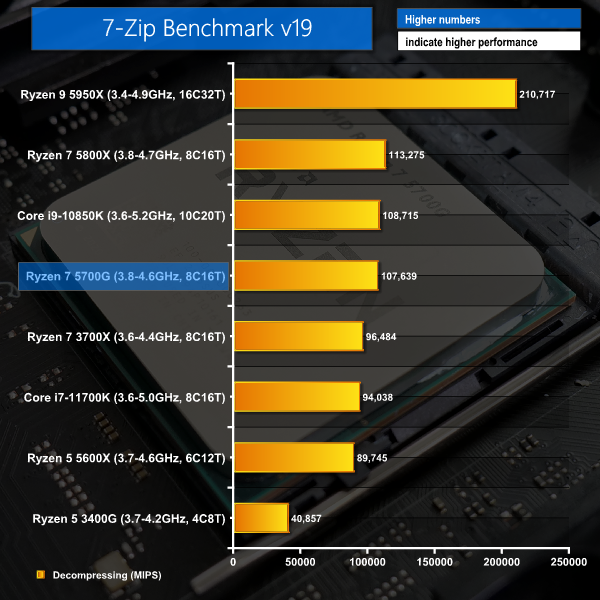 7-Zip decompression loves Zen 3 and this allows the 5700G to take its first victory versus the Core i7-11700K in our testing. A solid 20% performance boost is seen for AMD's Ryzen 7 5700G versus the 5600X CPU.
Handbrake H264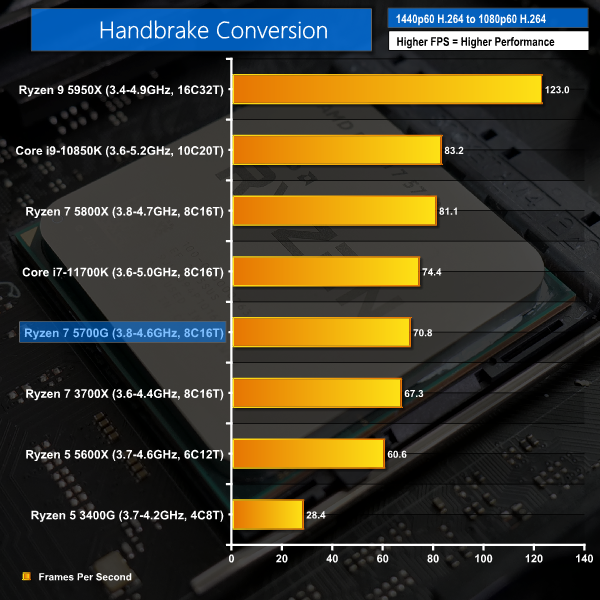 The Core i7-11700K enjoys a slightly widened lead versus the Ryzen 7 5700G in our Handbrake H264 test. AMD's own Ryzen 7 5800X is 14.5% faster than the 5700G, thanks in large to its 32MB L3 cache slab. The 5700G is notably quicker than both Ryzen 5 chips though.
Handbrake H265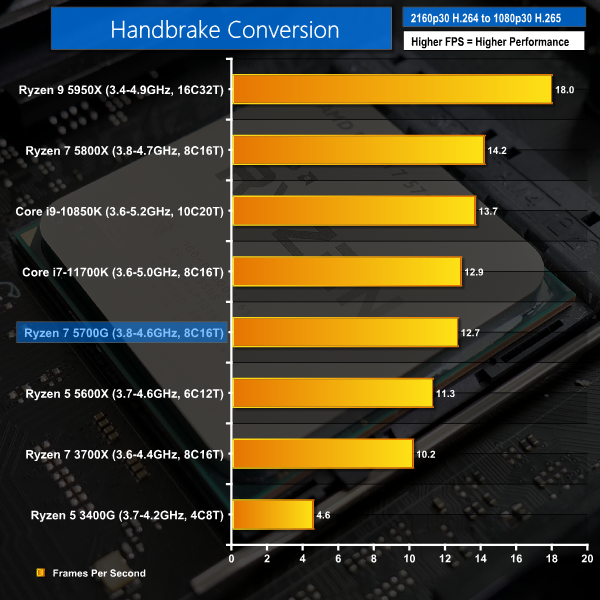 We see more of the same in the H265 Handbrake test, but this time the 5800X lead over the 5700G shrinks to 12%.
Sandra Memory Bandwidth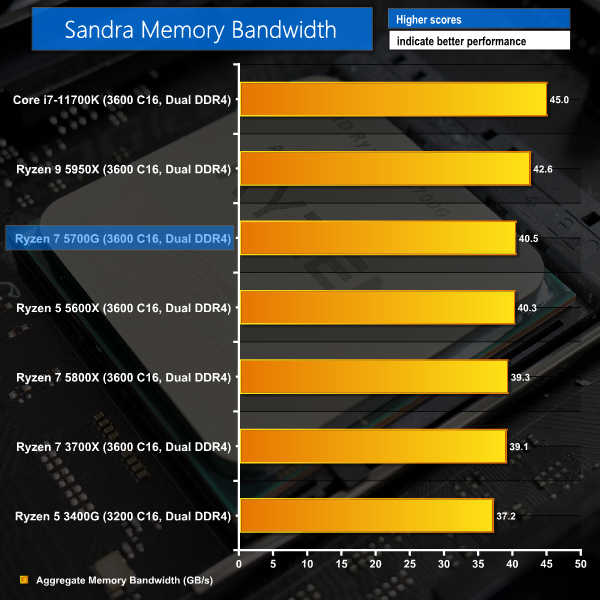 AIDA64 Memory Performance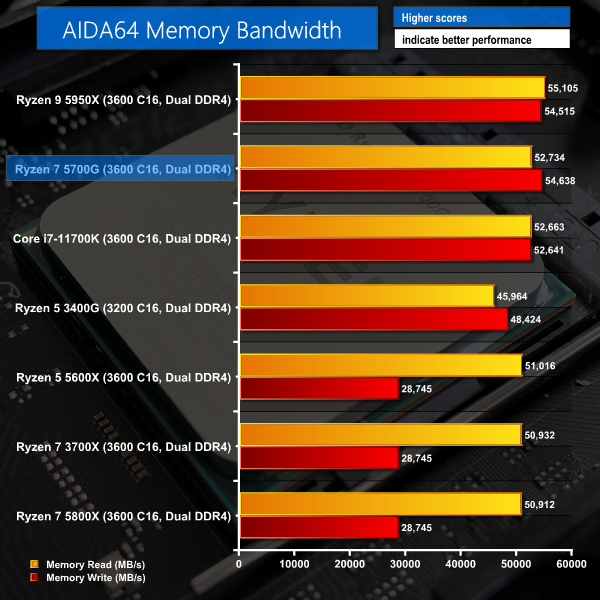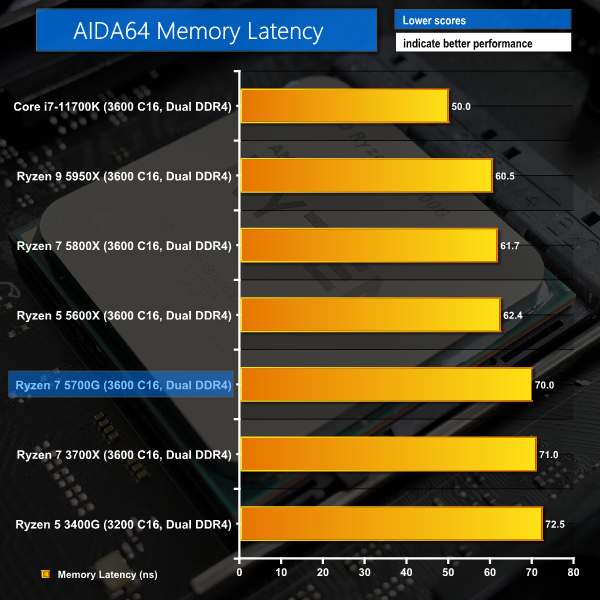 The monolithic die Ryzen 7 5700G does not suffer with the half-speed write penalty of single-CCX Zen 2 and 3 desktop chips. This allows the Ryzen 7 5700G to report greater memory write bandwidth versus the likes of the Ryzen 7 5800X and Ryzen 5 5600X. AMD's APU's numbers are comparable to that of the Intel Core i7-11700K in AIDA, though the Sandra memory bandwidth test did prefer the Intel architecture by quite a healthy margin.
And in terms of memory latency, the 5700G was not up to the Zen 3 desktop CPU standard, which is a little surprising. We expect that this is perhaps tied to the reduction in L3 cache and/or the monolithic SoC layout versus the X parts' IO die.
Oddly enough, the Sandra Cache and memory latency test also showed around 15% poorer latency for the 5700G versus Zen 3 desktop chips. One of the key benefits of the monolithic SoC design was meant to be reduced latencies thanks to all components being on a single slab of silicon. That's not the case according to our brief testing.
3DMark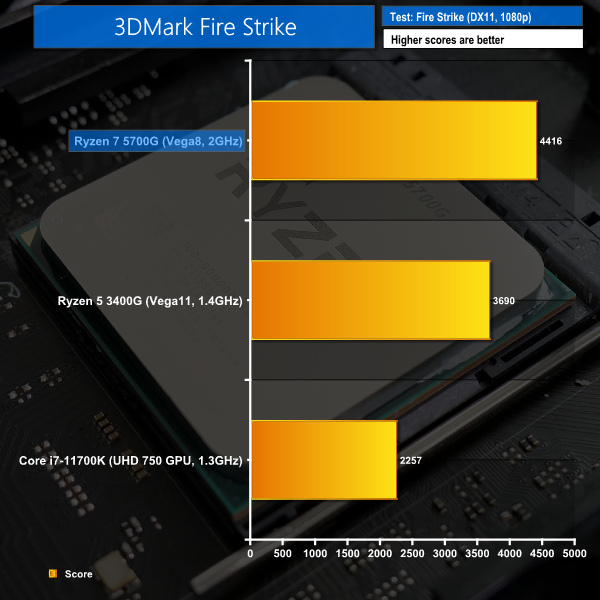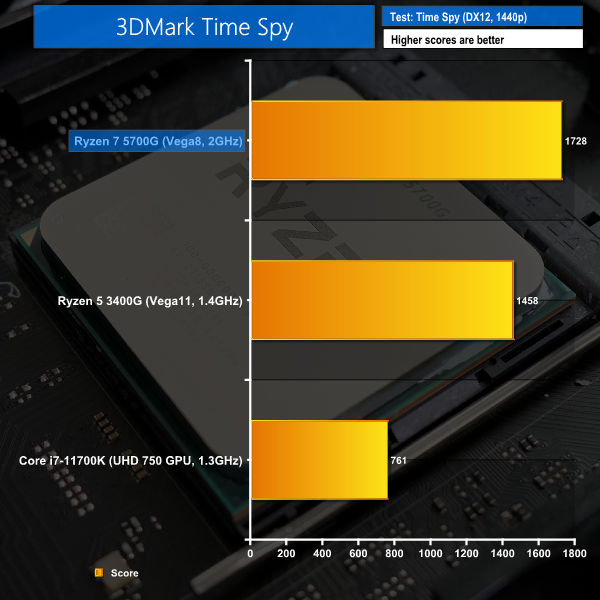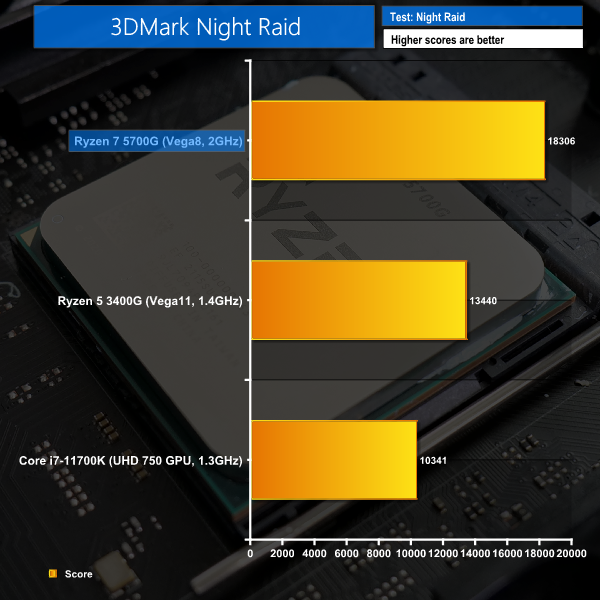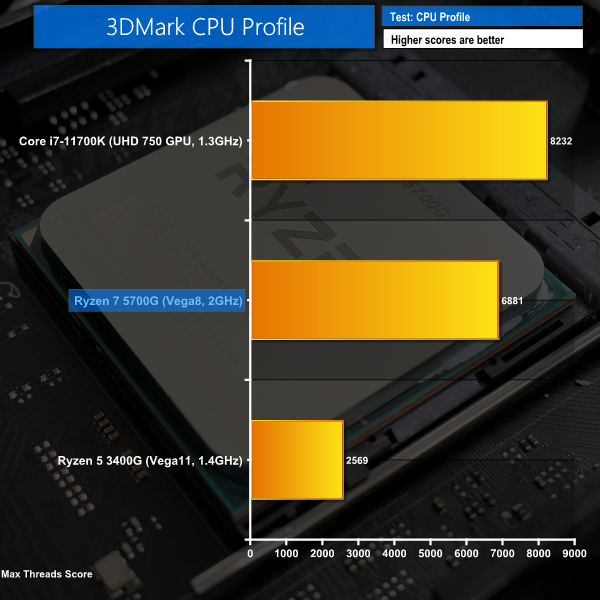 The Ryzen 7 5700G puts in some reasonable scores in the 3DMark suite of tests, generally beating out the competition when focussed on a balance between CPU and integrated GPU scoring.
The one exception is where the Core i7-11700K can show off its greater gaming might in the maximum threads CPU Profile test.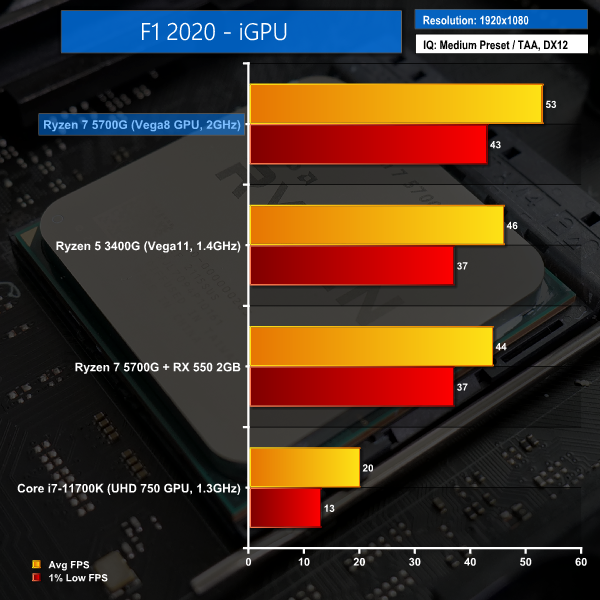 F1 2020 can be cranked up the Medium preset at 1080p and runs surprisingly well on the Ryzen 7 5700G. AMD's new chip is notably faster than the old Ryzen 5 3400G and the Core i7-11700K is nowhere to be seen. With a Freesync type display, this would make for a solid gaming experience. And if you needed 60 FPS average, the quality can be dropped a little to achieve that on the 5700G.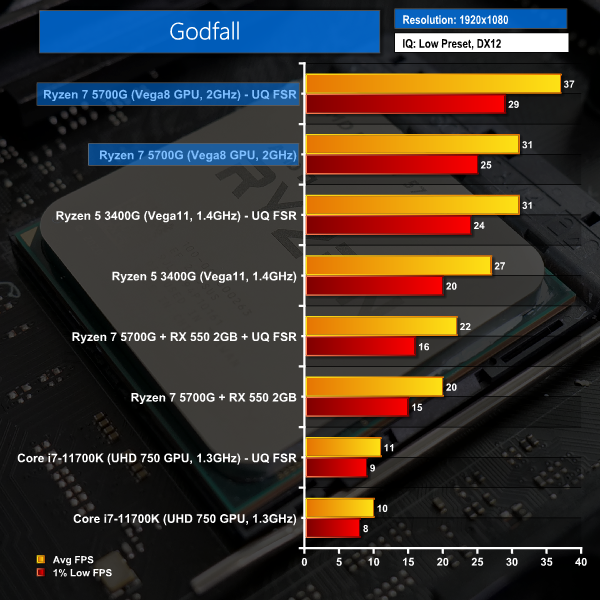 Godfall was not so successful at 1080p, even with its Low IQ preset. The 5700G is 15% faster than the 3400G – which is not great for a 2 years newer chip to be honest. But none of the solutions were enjoyable here.
We tried FSR to obtain higher FPS at 1080p. The only FSR setting that we were happy with was the most demanding Ultra Quality preset. All of the other presets delivered atrocious image quality results. This did deliver a noticeable boost to the 5700G and helped it comfortably pass the 30 FPS mark that may – at a push – be tolerable for some casual gamers.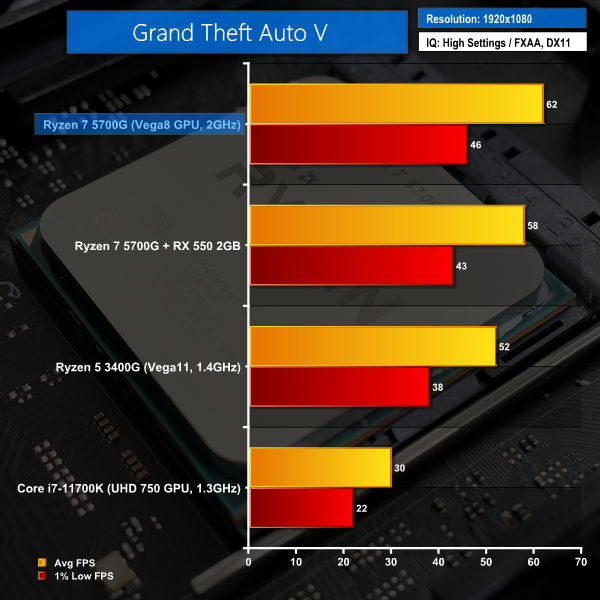 GTA V is old but still massively popular so makes perfect sense for inclusion here. The 5700G does a good job at delivering an enjoyable gaming experience at 1920×1080. The average FPS number is above 60 FPS even with High IQ settings. And the 1% lows of 46 FPS are more than tolerable, especially with an Adaptive Sync display.
Here, the 5700G's performance uplift versus the 3400G is 19%. And the new AMD APU is more than twice as fast as the Core i7-11700K with its UHD 750 iGPU.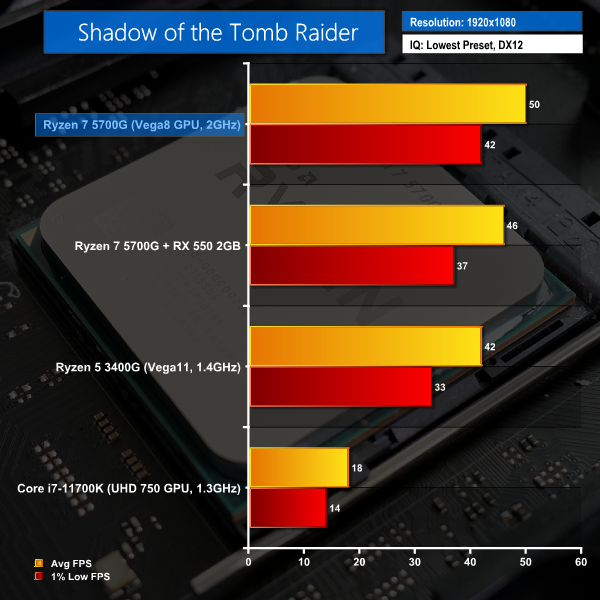 Shadow of the Tomb Raider at its lowest settings and 1920×1080 was playable and reasonably smooth on the 5700G. No, we couldn't hit the 60 FPS sweet spot. But for gamers who just casually play a title such as this with a 5700G, the 19% lift to performance versus the 3400G will be welcomed.
Once again, the Core i7-11700K iGPU is leagues below AMD's offerings.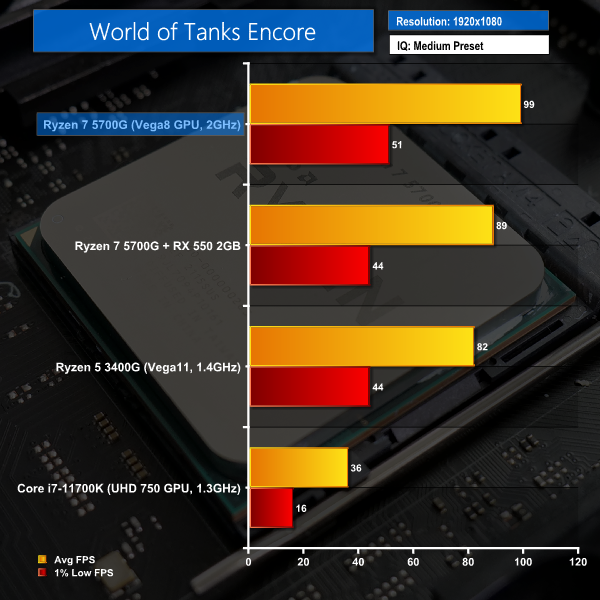 A less demanding game such as World of Tanks runs fine on the Ryzen 7 APU, with just under 100 FPS average at 1080p Medium. A 22% performance boost is seen for the 5700G versus the 3400G, which – once again – is solid but is hardly ground-breaking for a 2 years newer chip.
And Intel's Core i7-11700K once again was not playable in this title.
Summary:
The Ryzen 7 5700G delivers a notable gain in performance versus the Ryzen 5 3400G, often to the tune of around 15-20%. This is respectable, but is hardly awe-inspiring for a 2021 APU versus a 2019 APU. That highlights the limitation of using the same Vega GPU architecture, irrelevant of adjustments to the CU count and GPU clock speed.
And Intel's Core i7-11700K with its UHD 750 iGPU is no match for the new Ryzen 7 5700G. The AMD chip is leagues ahead in terms of gaming graphics performance.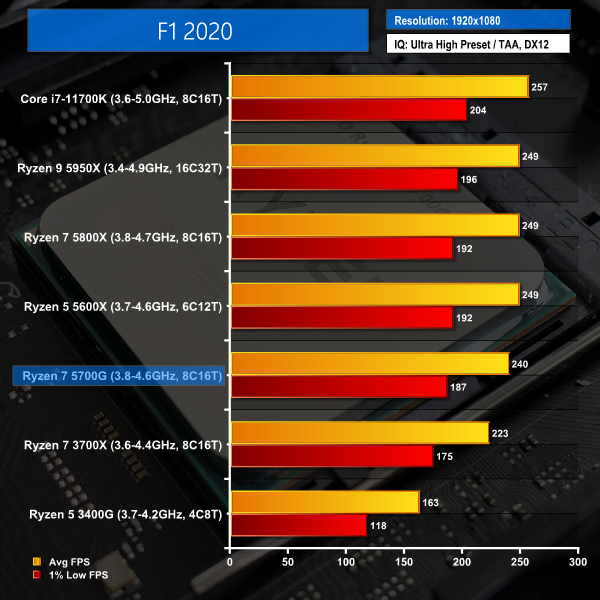 A smaller serving of L3 cache means that the 5700G cannot keep pace with the Ryzen 5 5600X in F1 2020. The Core i7-11700K is also faster than AMD's APU. Then again, at 240 FPS average, this is more than enough performance!
Godfall runs a little quicker on the Core i7-11700K, but the 5700G does beat out the old Ryzen 5 3400G convincingly. That will be appealing to high-refresh rate scenarios such as APU users who borrow their friend's GPU for their 120Hz TV one weekend.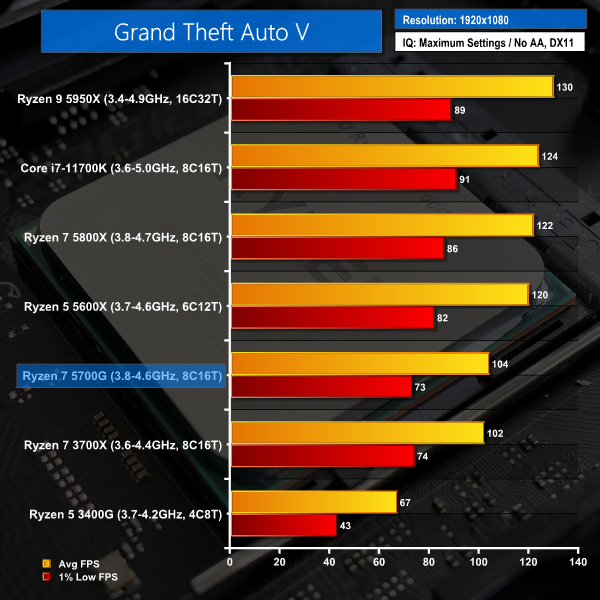 GTA V loves pools of L3 cache and fast CPU clocks. So the Ryzen 7 5700G gets demoted to Zen 2-level performance with an RTX 3080 in tow. Just over 100 FPS average isn't bad for the APU, but the cheaper Ryzen 5 5600X running at a clean 120 FPS average puts that result into perspective.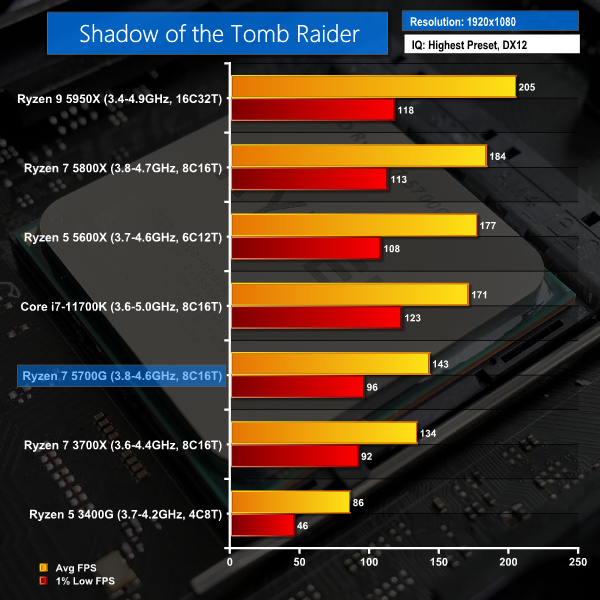 Shadow of the Tomb Raider widens the gap up to the desktop big guns in the 11700K and 5600X. Here, the Ryzen 7 5700G still puts in a respectable average of almost 144 FPS. But the price competitive Intel chip is notable faster, as is the cheaper Ryzen 5 5600X.
dGPU Gaming Summary:
There's nothing wrong with buying an APU and using it with a dGPU sporadically or if you can afford to upgrade in the future. With that said, our dGPU gaming tests with an RTX 3080 show that there are better gaming CPUs for the price than the Ryzen 7 5700G.
We struggle to see any justification whatsoever for buying the 5700G to use with a dedicated graphics card versus just getting something like a Ryzen 5 5600X. But that's kind of obvious, given the resources and cost allocation of the onboard graphics for the Ryzen 7 APU.
We leave the system to idle on the Windows 10 desktop before taking a power draw reading. For CPU load results, we read the power draw while producing five minutes' worth of loading in the Cinebench nT rendering test.
The reported package power consumption of each processor is shown in the chart. The same test parameters are used for temperature readings.
Power Consumption
Power draw readings are accurate to around +/-5W under heavy load due to instantaneous fluctuations in the value. We use a Titanium-rated Seasonic 1000W Prime PSU.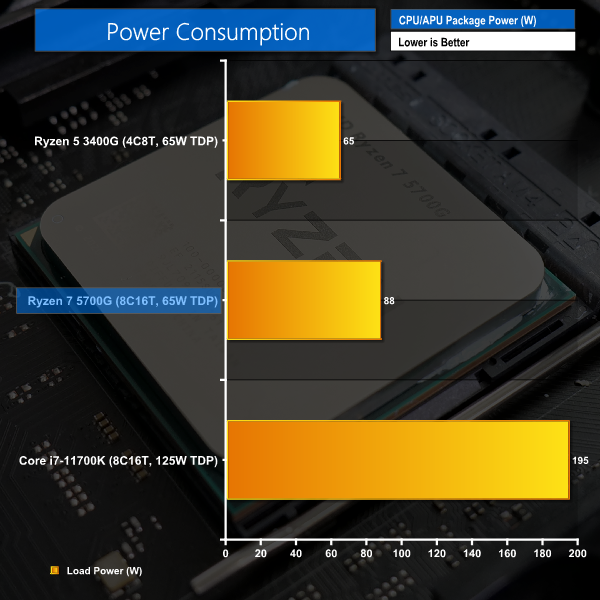 The Ryzen 7 5700G uses its full complement of 88W of package power, as dictated by the 65W TDP. This is easy to cool in a SFF installation – especially when compared to the Intel Core i7. But AMD's APU also leaves more performance and frequency headroom to extract via PBO.
Temperatures
Temperature recordings were taken using the Fractal Celsius+ S28 Prisma 280mm AIO CPU cooler at full fan and pump speed. Ambient temperatures were around 25°C.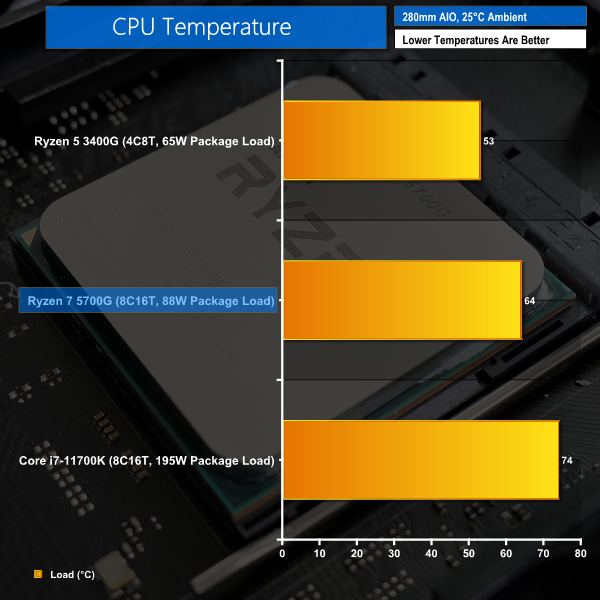 Using our 280mm liquid cooler, there were no cooling concerns with the Ryzen 7 5700G. The bundled Wraith Stealth cooler will be fine – as driven by the PB2 algorithm. But 64C for 88W package power under a 280mm AIO does justify some spend on even a £20-30 budget air cooler upgrade in my opinion.
To summarise, the Ryzen 7 5700G is a little slower than the Core i7-11700K in terms of compute workloads but that's OK given the price difference. It is notably slower than the eight-core Zen 3 Ryzen 7 5800X. So clearly, that 16MB reduction in L3 cache and slower clocks through a more restricted TDP have strong downsides for AMD's APU.
Versus the Ryzen 5 5600X, the Ryzen 7 5700G is typically faster in CPU workloads, aside from single-threaded scenarios. Here, the 5700G's two extra cores more than offset the 5600X's doubled L3 cache capacity.
GPU performance is where the Ryzen 7 5700G somewhat shines. Reasonable 1080p gaming is certainly a possibility, even with some AAA titles at sensible IQ settings.
The AMD chip is vastly superior to Intel's Core i7-11700K with iGPU. So much so, that there is no real comparison for Intel's much weaker UHD 750 graphics. The performance uplift for Ryzen 7 5700G versus the 2-year old Ryzen 5 3400G is often to the tune of 15-20%.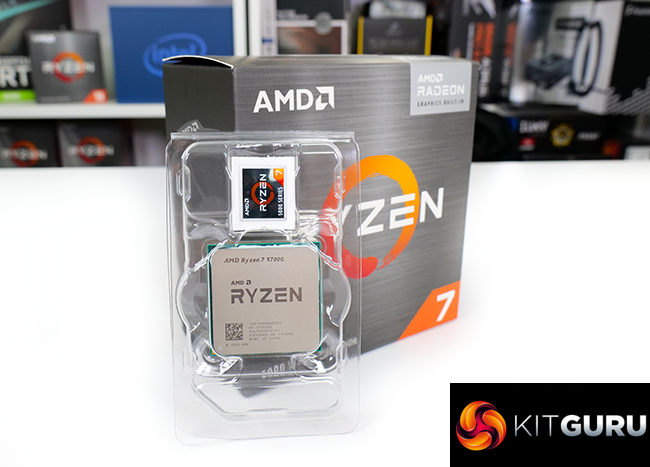 Enough of my complaints about application of old graphics technology though. On balance, the Ryzen 7 5700G is a very compelling option for those with specific use cases for an APU. You get the best mixture of CPU and GPU performance from a processor with graphics at this price point. And I guess you can be slightly at peace with the knowledge that you haven't paid ludicrous pricing for an entry-level discrete GPU.
Now I can hear you questioning the logic of an APU when a standalone processor and graphics card may be better options if you have a specific bias for CPU or GPU performance. There are, however, convincing applications where an APU makes sense; mini-ITX in truly SFF systems that can still actually game. Perhaps you have greater preference for CPU performance but want some casual gaming now and then – the 5700G is probably a better option than the 5600X+GPU alternative in that scenario.
Or perhaps – like myself – you want a reasonably powerful chip with plenty of threads for your server and VM host, but you don't want to use the only PCIe slot in a Mini-ITX motherboard on a seldom used graphics card. I can see that home server use case being quite appealing indeed, certainly from my own perspective at least.
Realistically though, if you are a gamer first and foremost, a combination of a budget CPU like the Core i5-11400F and a GTX 1050 Ti will be a far superior gaming option for £320.

The Ryzen 7 5700G MSRP is $359 USD and £309.99 in the UK at major e-tailers such as Overclockers UK.
It is good to see AMD finally offering the latest consumer APU to DIY builders once again. The whole OEM-only Ryzen 4000G strategy was just bizarre. I just wish we had been treated to the latest-and-greatest in graphics technology, though.
But in terms of CPU with iGPU performance, the Ryzen 7 5700G APU is far superior to what Intel currently offers. AMD's chip truly does excel in the realms of balance, and it is a now market-leading option for DIY builders with genuine APU use cases.
Discuss on our Facebook page HERE.
Pros:
Class-leading graphics performance
Truly a reasonable 1080p gaming option, even with some AAA titles
Good CPU side performance – sits between Ryzen 5 5600X and Ryzen 7 5800X
Easy to handle power requirements and thermals
Some tuning capacity through overclocking and PBO
Cons:
Older Vega graphics architecture is disappointing when consoles get RDNA 2
Only PCIe Gen 3
16MB L3 cache hurts performance
KitGuru says: A good option for those who have specific APU use cases. But individuals interested primarily in gaming will likely be better served by a lesser CPU and a discrete GPU combination.

Be sure to check out our sponsors store EKWB here