During AMD's recent quarterly earnings call, the company dropped several interesting pieces of information. Firstly, GPU production is going to be ramped up to meet demand, though memory shortages are slowing things down a bit. Secondly, in the wake of Spectre, AMD will be working to ensure that its upcoming Zen 2 architecture will be free of these exploits for good.
Intel has previously announced that it is already preparing new CPUs with changes that will address the Spectre security flaw. AMD will be doing the same with Zen 2. Later this year, AMD will be rolling out new Ryzen processors based on Zen+, which contains some changes to improve performance. After that, the company will be turning its attention to Zen 2, which will be AMD's first 7nm CPU product.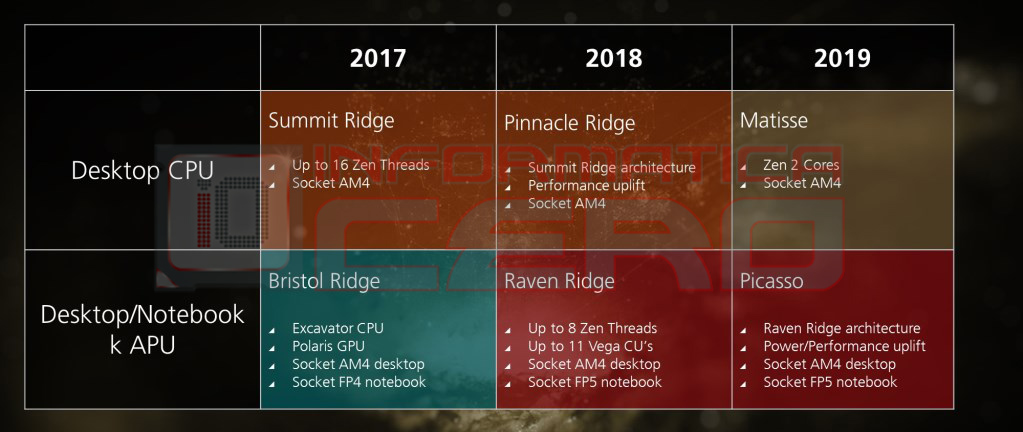 AMD's current processors aren't particularly vulnerable to Spectre or Meltdown. Due to the company's architecture differences compared to Intel or ARM, AMD's processors are not affected by Meltdown and are only susceptible to one variant of the Spectre bug, though it is particularly difficult to exploit. Patches are being put in place to protect current AMD processor users from this bug and in the future, changes will be made at the silicon and microcode levels to ensure it is never an issue again.
Here is how AMD CEO, Lisa Su, put it during the earnings call: "We continue to believe that Variant 2 of Spectre is difficult to exploit on AMD processors. However, we are deploying CPU microcode patches that in combination with OS updates provide additional mitigation steps. Longer term, we have included changes in our future processor cores, starting with our Zen 2 design, to further address potential Spectre like exploits."
A leaked roadmap from September 2017 points to a 2019 launch date for AMD's first 'Zen 2' chips. These will be based on the 7nm architecture, which is proving to be a challenge for engineers, so dates could change.
KitGuru Says: Given how big of a scare the Spectre bug has been over the last few weeks, it's not too surprising to hear that changes are already being put in place for future products. Still, it is always exciting to hear updates on future releases, like Zen 2, which will be AMD's first 7nm based processor architecture.