With the Ryzen launch now imminent, we are starting to see more and more leaks. We have had quite a bit of early information over the last few weeks, from pricing information to retail packaging and new stock coolers. However, today, something a bit more juicy appeared on the web- the first leaked benchmark for the Ryzen 7 1700x.
The Ryzen 7 1700x is set to be the mid-tier offering in AMD's new 8 Core CPUs, featuring a 95W TDP but lower clock speeds compared to the R7 1800x. The benchmarks were run by XFASTEST, showing Cinebench R15 results and CPU Mark results.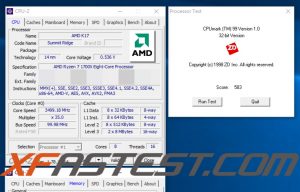 Click images to enlarge. 
In CPU Mark the Ryzen 7 1700x managed a score of 583, running at 3.5GHz. By comparison an Intel 5960x scores around 561 in this test. In Cinebench R15, the R7 1700x managed to score 1537 on the CPU score and according to Videocardz, their Intel Core i7 6800k sample scored 1259 in this test, meanwhile the Core i7 5960x managed 1318 points.
Judging from these leaks, the R7 1700x is going to put up a good fight against Intel's higher end i7 processors in some benchmarks. With that in mind, it will be interesting to see how much of a jump we get when testing the R7 1800x.
KitGuru Says: It is great to finally start seeing some performance numbers for AMD's upcoming CPUs. From the looks of it, AMD is going to provide some good competition, though we've only seen a limited number of test results so far. What do you guys think of these leaked R7 1700x results?