Cooler Master and AMD have been working together for a while in an effort to create official air coolers for various CPUs. The latest effort sees Cooler Master developing the new 'Wraith Ripper' cooler for AMD's newly launched 2nd Gen Threadripper processors.
The Wraith Ripper is designed with Threadripper in mind and offers a dual-tower heatsink, which covers more surface area, and seven heatpipes for swifter heat transfer. The whole cooler is covered in 'wraith armor', which helps with aesthetics but also serves as a way to guide airflow. The 120mm MasterFan Servo pulls cool air through one heatsink and then pushes it out through the second heatsink.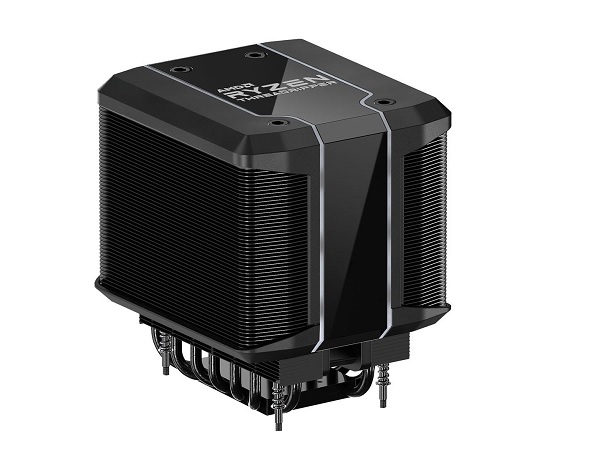 Since this is an 'official' Threadripper cooler, making the mounting system as simple as possible was an important step. Once you put the cooler in place, it is secured by four long screws that run from the bottom all the way to the top of the cooler. The Wraith Ripper has also been designed with RAM clearance in mind, so users shouldn't have any issues with it blocking memory slots.
Finally, it wouldn't be a modern cooler if it didn't come with some form of RGB lighting. The Wraith Ripper uses Addressable RGB, which gives you more control over each individual LED in the chain. There are two LED strips running through the cooler, illuminating the sides, top and Ryzen Threadripper logo. All of the lighting will be controlled using AMD's software, which was created in partnership with Cooler Master.
KitGuru Says: The Wraith Ripper sounds like a promising air cooler on paper and certainly ticks all of the boxes you would expect. It will be interesting to see temperatures though, especially on the 32C/64T 2990WX.