It looks like the final pieces of Ryzen are starting to leak. We have seen lineup and pricing leaks, performance leaks and now with the processors starting to go out to retailers, press and others, we are starting to see a bit more of what's in store for us at the end of the month. Firstly, the new Ryzen stock CPU coolers have been confirmed, but we also have a picture of the final chip.
From what we know so far based on leaks, the Ryzen 7 series CPUs will be launching first, featuring three different SKUs. The 1800x, 1700x and 1700 are all said to have 8 Cores/16 Threads but with varying TDPs and clock speeds, which you can find more about HERE.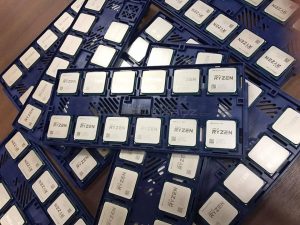 Click images to enlarge. 
The images here were obtained by Videocardz and show off Ryzen 7's retail packaging, alongside a few trays worth of Ryzen retail chips. So when Ryzen becomes available to buy, that's the package you can expect to receive.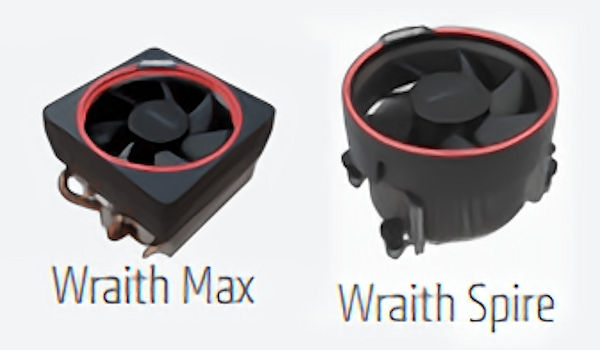 Finally, this report also confirmed two new stock CPU coolers for Ryzen. Each CPU has a slightly different cooler, the highest end R7 1800x and 1700x come with the Wraith Max cooler, which can take care of 140w of heat. It appears to have a beefier heatsink and additional heatpipes though it is still a top-down cooler.
On the other hand, the more power efficient R7 1700 will use the Wraith Spire cooler, which can deal with up to 95W of heat with a smaller heatsink and less heatpipes. This one is more akin to the stock Intel coolers with its circular shape.
KitGuru Says: We are in the final stretch for Ryzen at this point and judging from our recent poll, KitGuru readers are very excited about the launch. Will you be picking up a Ryzen CPU when they become available? I'm really looking forward to seeing how they perform myself.