At Computex this year, both AMD and Intel laid all of their cards out on the table with the announcements of Threadripper and Skylake-X. Last night, Intel announced that its 4 to 10 core CPUs would begin shipping from June 19th onwards, with 12 to 18 core SKUs expected to start shipping in August. So when is AMD's Threadripper stepping into the HEDT arena to compete? Well, we hear that the launch will take place in August.
From what we have heard from sources close to KitGuru, AMD should launch Threadripper around the 10th of August, after moving the date from a late July launch. This is what we have heard through industry contacts and if true, would mean we will be seeing AMD and Intel square up once again, this time in the HEDT market.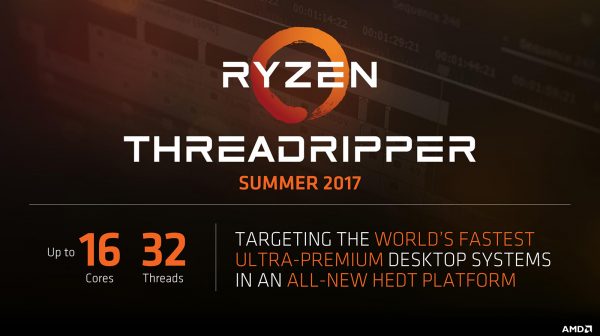 AMD's flagship Threadripper part will feature 16 cores and 32 threads and while Intel's Core i9-7980XE might beat it with a higher core/thread count, pricing is going to be a huge factor. Intel's top-end Extreme Edition is going to be $1999.99 and leaving the door open for AMD to swoop in and undercut the price by quite a bit.
We'll be keeping an eye out and look forward to comparing Threadripper and Skylake-X once both hit the market.
KitGuru Says: A good chunk of our readership are very much looking forward to Threadripper. I'm quite excited to see how this shakes up the HEDT market going forward, after all Ryzen has proven to be very competitive already.