Last night, AMD held its Financial Analyst Day meeting, all with the purpose of clearly outlining its product roadmaps and unveiling the rest of its 2017 release plans. Not only did we hear about AMD's future GPU plans, but the company also unveiled its upcoming 'Threadripper' and 'EPYC' CPUs. Threadripper will be part of AMD's HEDT platform, offering 16 cores and 32 threads, meanwhile 'EPYC' is a 32-core SoC aimed to take on the data centre world.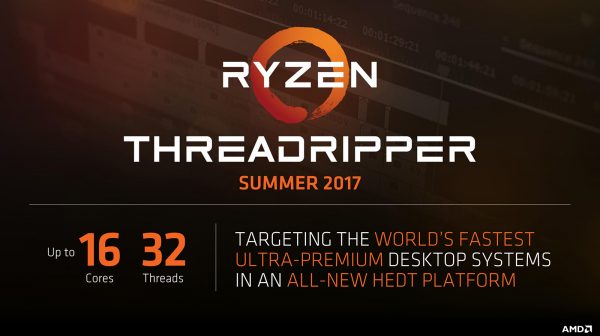 Let's start of with Threadripper. This 16C/32T CPU is going to be the flagship of AMD's Zen HEDT platform. This new platform will include expanded memory and I/O bandwidth and will go head to head against Intel's upcoming Skylake-X offerings, which we caught wind of a few days ago. Not many technical details were given for Threadripper but given that the Ryzen 7 1800x aimed to tackle the Core i7 6900K, I would assume that these HEDT CPUs will tackle Intel's highest end 'Extreme Edition' chips, like the 6950x.
For more information on AMD's upcoming HEDT platform, we did receive some leaked information back in March, going over the X390 chipset.
Now let's talk about EPYC. This is AMD's big Xeon competitor, which we previously knew as 'Naples'. AMD first began previewing this new CPU back in March, with the goal of re-asserting itself in the datacentre and high-performance server markets. The first EPYC-based servers will be launching in June with support from OEMs and channel partners.
According to AMD, EPYC succeeds over its 'closest competing platform' by offering 45% more cores, 60% more input/output capacity (I/O), and 122% more memory bandwidth. Here are the key features AMD has listed for EPYC:
A highly scalable, 32-core System-on-a-chip (SoC) design, with support for two high-performance threads per core.
Industry-leading memory bandwidth, with 8 channels of memory per EPYC device3. In a dual-socket server, support for up to 32 DIMMS of DDR4 on 16 memory channels, delivering up to 4 terabytes of total memory capacity.
Complete SoC with fully integrated, high-speed I/O supporting 128 lanes of PCIe® 3, negating the need for a separate chip-set.
Highly-optimized cache structure for high-performance, energy-efficient computing.
Infinity Fabric coherent interconnect for two EPYC CPUs in a dual-socket system.
Dedicated security hardware.
Aside from that, we can expect AMD's Ryzen PRO offerings in the second half of 2017, with 'mobile' versions of these CPUs landing in the first half of 2018. Ryzen 3 processors will be arriving in Q3 and finally, Ryzen mobile APUs with Zen CPU cores and Vega graphics are on the way. These are the 'Raven Ridge' APUs we have seen in recent leaks.
KitGuru Says: The Ryzen 7 launch was really just the beginning for AMD, there is still plenty more to come in the high-end desktop and datacentre markets, as we have seen today. What do you guys think of AMD's next wave of Zen-based chips?