Nowadays the Holy Grail for core gamers are 4K (3840/4096*2160 resolutions) monitors as well as graphics cards capable of providing decent performance in such high resolutions. However, it is well known that makers of displays have already started to work on 8K (7680*4320 resolution) screens, which are not going to show up on the market earlier than in several years' time. What is interesting is that designers of graphics processors have also started to think about 8K resolutions.
According to researchers from NHK (Nippon Hōsō Kyōkai, Japan Broadcasting Corp.) 8K ultra-high-definition television format is the final 2D format as the 7680*4320 resolution (and similar resolution) is the highest 2D resolution that the human eye can process. It is believed that after 8K all the future video formats should be stereoscopic. Therefore, 8K is something that will stay for a long time, which is why many companies are already thinking about how to build displays, graphics processors and software that take advantage of such ultra-high-definition video standard.
"If we get to a display resolution of about 8K horizontally and about 6K vertically then, for a player with 20/20 vision, they will have something that is close to perfect for their visual system," said Richard Huddy, AMD's chief gaming scientist, in an interview with PCGamesN.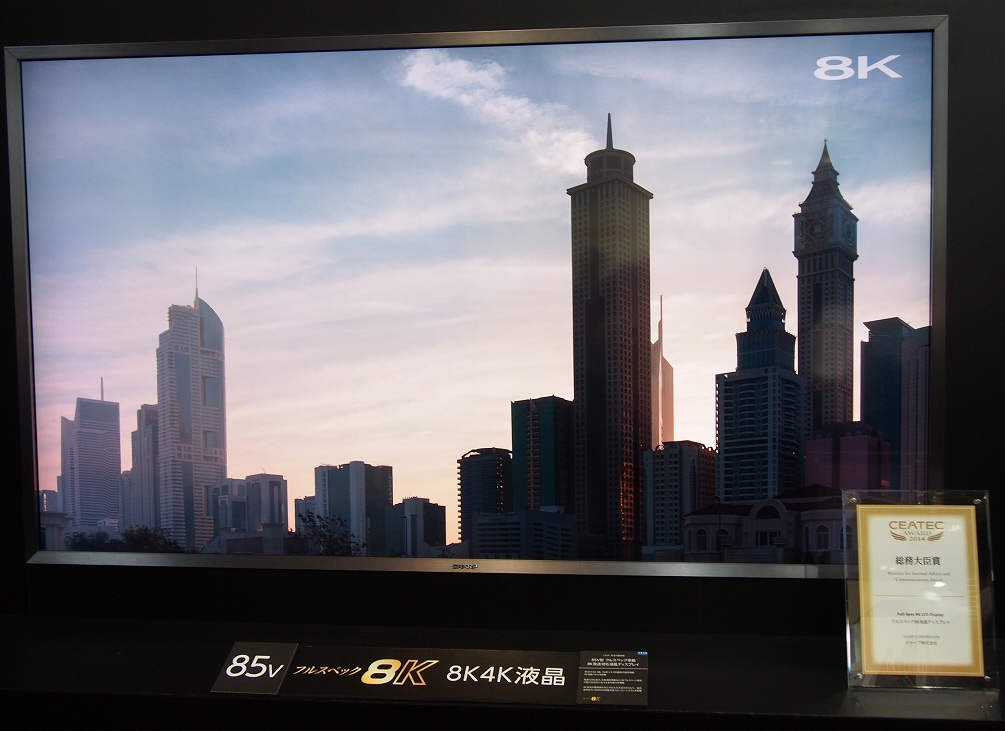 A Sharp 8K UHD TV-set. Image by Hermitage Akihabara.
Nowadays there are virtually no single-chip graphics solutions that can render all games at 60fps in 3840*2160 or 4096*2160 resolutions. Those, who want to play in 4K UHD nowadays have to use multi-GPU graphics sub-systems. 4K UHD monitors display 8MP images (depending on actual resolutions), but 8K UHD displays will have to show whopping 33MP – 48MP pictures, which will require tremendous amount of graphics processing horsepower.
"That's about 48 million pixels to fill the field of view," said Mr. Huddy. "So it would take a card six times more powerful than a card capable of producing 4K graphics."
Moreover, since video games and rendering techniques are getting more complex, graphics cards may need to be even more powerful in the future so to produce high-quality 8K UHD graphics. The chief gaming scientist at AMD believes that it may easily happen that GPUs will have to render essentially 16K images for 8K monitors, which means that twelve times higher graphics processing performance will be needed for 8K gaming (compared to performance of GPUs required today for 4K gaming).
"If you had 16K you'd offer a perfect experience, no one would see artifacts if they had 20/20 vision," explained Mr. Huddy. "An eagle might be frustrated that it was low resolution for them but for the human eye that resolution is close to perfection."
While performance of GPUs is increasing fast, it may not be increasing really fast for 8K and other graphical advancements. The first consumer 8K displays could emerge three to four years from now, which means that numerous graphics cards will be needed for 8K UHD gaming.
"8K, or anything above 4K is going to require multiple GPUs," said Scott Herkelman, Nvidia's head of GeForce GTX. "4K for most GPUs is pretty tough, the GeForce GTX 980 handles it well, but it's still one of those things that the more GPUs you have the better it looks."
It will be a hard task for GPU designers to create graphics processors that can render graphics in 8K-class UHD resolutions, moreover, it will require the industry to create new types of memory, cooling and other necessary devices. But will we ever have graphics cards that will enable 8K UHD games? Without any doubts!
Discuss on our Facebook page, HERE.
KitGuru Says: Last year a scientist from NHK said that integral photographic 3D that is currently researched by the company creates actual spatial images in front of the screen, which requires extreme amounts of pixels. In fact, 10 to 100 times more than the 8K UHD has, or at least 330MP. Imagine what kind of graphics processing power will be required after the 8K UHD era…