Due to multiple reasons the majority of developers of various system-on-chip devices will skip 20nm process technology of Taiwan Semiconductor Manufacturing Co. and will use 14nm and 16nm FinFET fabrication processors of TSMC, GlobalFoundries and Samsung Electronics.
Traditionally TSMC and other foundries develop multiple different process technologies for different kinds of applications (e.g., for low-power chips, for high-performance chips, etc.). However, in a bid to cut down costs and simplify development process, TSMC decided to design only one version of 20nm process technology for all types of integrated circuits. As a result, the process technology has a limited amount of benefits compared to 28nm and other previous-gen fabrication processes.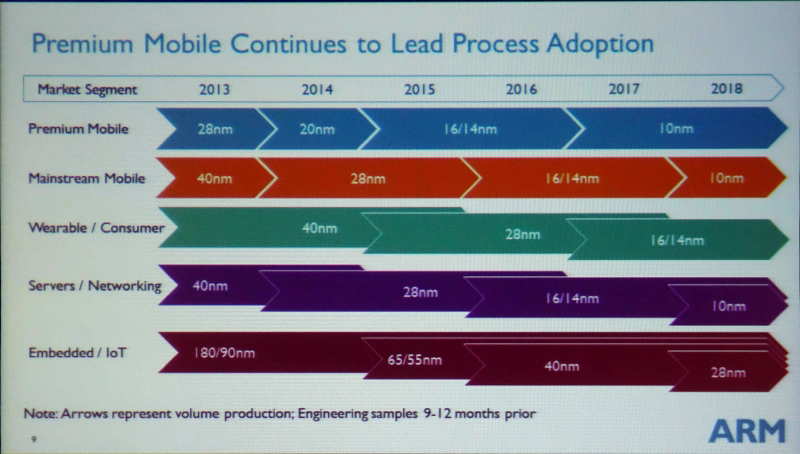 At its TechCon conference this month ARM Holdings revealed that design complexity of 20nm chips is considerably higher compared to design complexity of 28nm chips. Given the limited amount of advantages that the 20nm provides for many types of devices, only select developers of mobile system-on-chips will use TSMC's 20nm for their products, reports PC Watch.
The majority of chip designers will jump straight to 14nm/16nm manufacturing technologies from 28nm because the number of advantages these fabrication processes provide is significant thanks to FinFET transistors and small feature sizes, whereas the costs are not considerably higher compared to 20nm. Given that there are a lot of similarities between TSMC's 20nm and the company's 16nm FinFET (all the equipment that is used to make 20nm chips will be used for production using 16nm), it makes even less sense to design 20nm products.
While 20nm will not be used by many developers of chips, there are companies like Apple or Advanced Micro Devices who either use or plan to use 20nm fabrication process to reduce costs or improve functionality of their products. However, there are rumours that Nvidia Corp. has no plans to use TSMC's 20nm technology for its mobile SoCs.
Discuss on our Facebook page, HERE.
KitGuru Says: Keeping in mind that volume production of chips using 16nm/14nm process technologies is basically just around the corner, it is completely unclear why companies like AMD plan to use 20nm fabrication process at all…