Two web-sites have published images of graphics cards they claim to be based on Nvidia Corp's upcoming GeForce GTX 970 graphics processor. The graphics boards feature custom designs and cooling systems.
The Galaxy GeForce GTX 970 4GB graphics adapter, which photo was published by VideoCardz on Thursday, is clearly designed for enthusiasts and overclockers. The graphics card features a long printed-circuit board (PCB) with two auxiliary PCI Express power connectors (6-pin + 8-pin) as well as an advanced cooling system sporting two fans and multiple heat-pipes.
It is possible that Galaxy used PCB from the GeForce GTX 980 graphics card for its enthusiast-oriented GeForce GTX 970. Since the graphics card itself has no markings except the word "Galax", its authenticity and even the name could not be verified.
Another image – which allegedly depicts Zotac's GeForce GTX 970 graphics board along with its package – has been leaked by someone from Overclock.net forums.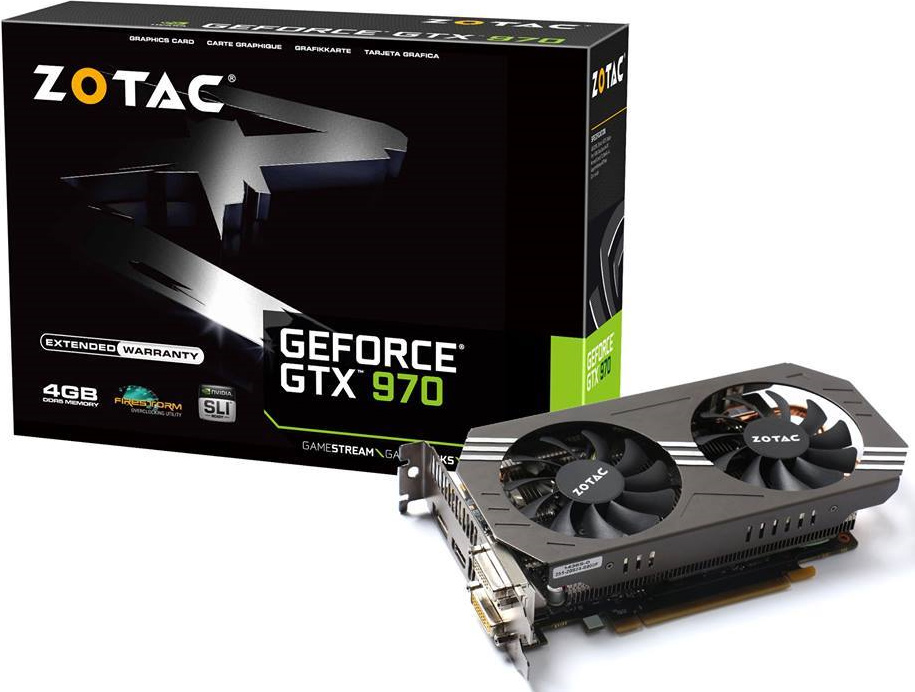 If the image is genuine, then Zotac decided to address small form-factor (SFF) systems with its GeForce GTX 970. The graphics adapter does feature a sophisticated cooler with two fans and heat-pipes, but the card itself is rather short and will thus fit into small PCs. Keeping in mind that SFF systems usually do not come with power supply units featuring 8-pin power connectors, it is more than likely that Zotac's GeForce GTX 970 requires two 6-pin auxiliary PCIe power connectors.
Nvidia's upcoming GeForce GTX 970 and GeForce GTX 980 graphics cards are based on the code-named GM204 graphics processing unit. The chip is powered by the second-generation Maxwell architecture. The novelties are expected to be formally introduced later this month.
Nvidia, Galaxy and Zotac did not comment on the news-story.
Discuss on our Facebook page, HERE.
KitGuru Says: Traditionally Nvidia used similar PCBs for its GeForce GTX *80 and *70 graphics cards since their configurations were rather similar. For some reason, this time Nvidia allows its partners to design PCBs for the GTX 970 themselves. Theoretically, this could mean that there will be very different GeForce GTX 970 graphics boards on the market, some of them will be extremely good overclockers, whereas the other will be very affordable.