The first photo of an Nvidia GeForce GTX 950 graphics card has hit the web. The new graphics adapter from PNY seems to be based on a custom design, which is compatible with compact personal computers, but not with mini-ITX small form-factor systems.
The PNY GeForce GTX 950 sports dual-slot design with one fan, which features curved blades to maximize efficiency and lower noise levels, according to the image published by VideoCardz web-site. The radiator seems to be made of aluminium, which indicates that the graphics processing unit does not emit too much heat.
The Nvidia GeForce GTX 950 will use the GM206-250 graphics processing unit with 768 stream processors clocked at 1150MHz – 1250MHz, according to a previous report. Graphics cards based on the GeForce GTX 950 will be equipped with 2GB of GDDR5 memory clocked at 6600MHz – 6750MHz, which will be connected to the chip using 128-bit memory interface.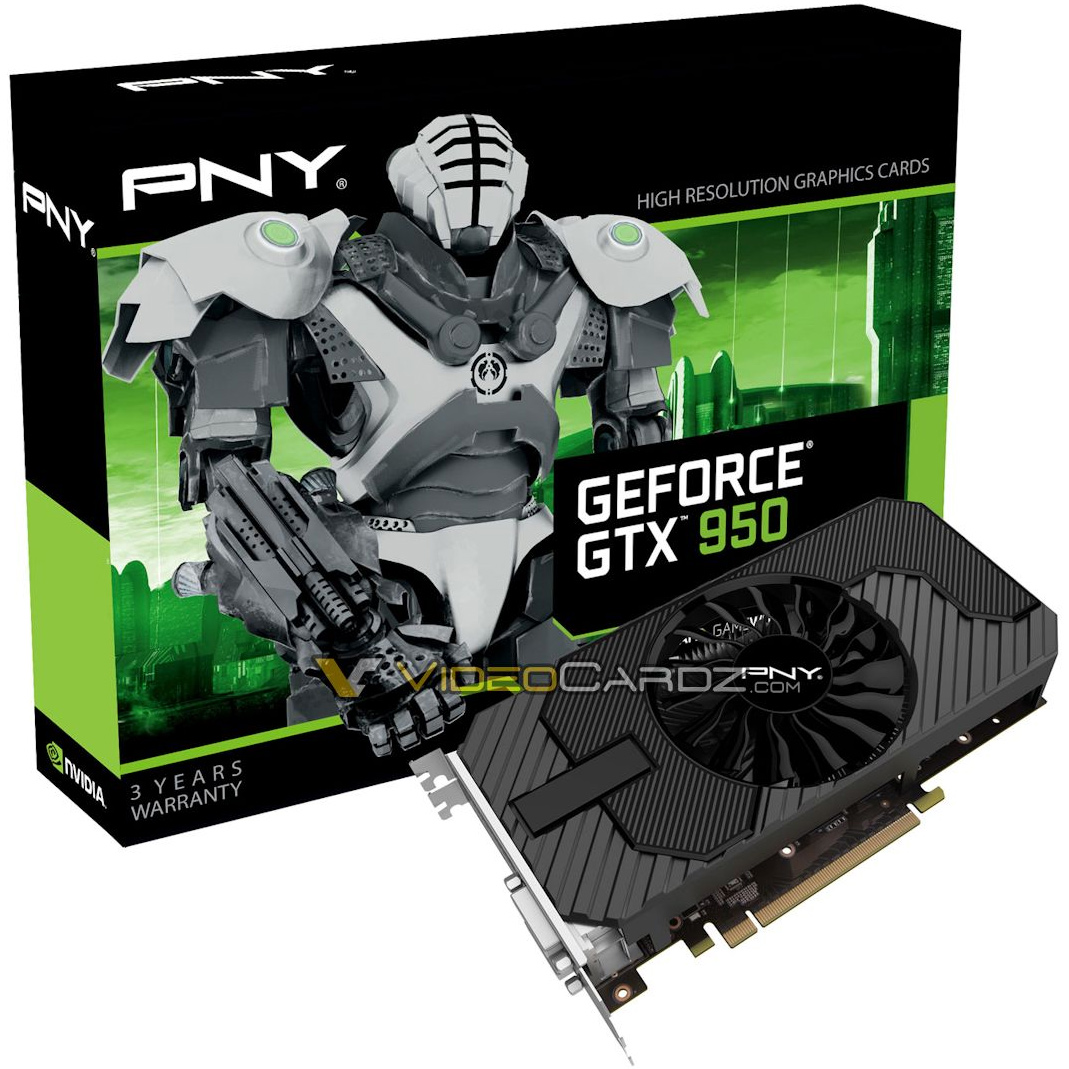 Maximum compute performance of Nvidia GeForce GTX 950 will be around 1.76TFLOPS, which is quite a lot. The graphics card should deliver higher performance than its predecessors – GeForce GTX 750 and GTX 750 Ti – but do not expect any breakthroughs from the GTX 950 unless it is heavily overclocked.
The GM206 GPU supports all modern graphics and GPU compute technologies, including DirectX 12, OpenGL 4.3, OpenCL 1.1 and others. For GeForce GTX 950, a key feature of the product could be support for hardware H.265 (HEVC) encoding and decoding as well as compatibility with HDCP 2.2 content protection over HDMI 2.0. Both technologies are required to smoothly playback movies in Ultra HD resolution and on Ultra HD Blu-ray discs.
According to media reports, Nvidia decided to postpone the release of the GeForce GTX 950 by several days. The new product will be officially unveiled on the 20th or the 21st of August, 2015.
The exact manufacturer suggested retail price of Nvidia's GeForce GTX 950 is unknown, but expect something like $150.
Discuss on our Facebook page, HERE.
KitGuru Says: The box of the PNY GeForce GTX 950 seems to be the least informative package ever. The only two things that can be learnt by looking at the box are the name of the GPU as well as information about PNY's warranty. There is no data about memory, outputs and other essential details.