Intel Corp. has asked its arch-rival Advanced Micro Devices to provide it access to the Mantle application programming interface (API), AMD said last week. While in its current form Mantle can hardly bring any tangible benefits to Intel, the latter could redesign the API in order to allow software developers a low-level access to its graphics hardware.
When it comes to graphics solutions used by gamers, AMD Radeon and Nvidia GeForce graphics cards are standard choices. Historically Intel's integrated graphics engines were too slow for video games. However, in the recent years Intel has been gradually improving its graphics cores and plans to accelerate these performance increases going forward.
While boosted performance will make Intel Iris-series graphics solutions more competitive, Intel will have to work with game developers to ensure compatibility of content and games. Moreover, in a bid to ensure maximum performance of its graphics cores, Intel needs to persuade game designers to optimize their titles for its hardware. One of the ways to boost performance is to allow game developers a low level access to the graphics core and reduce performance overhead caused by traditional DirectX and OpenGL APIs, something that Mantle and DirectX 12 promise to do.
"I know that Intel have approached us for access to the Mantle interfaces, et cetera," said Richard Huddy, AMD's gaming scientist, in an interview with PCWorld. "Right now, we've said, give us a month or two, this is a closed beta, and we'll go into the 1.0 [public release] phase sometime this year, which is less than five months if you count forward from June. They have asked for access, and we will give it to them when we open this up, and we'll give it to anyone who wants to participate in this."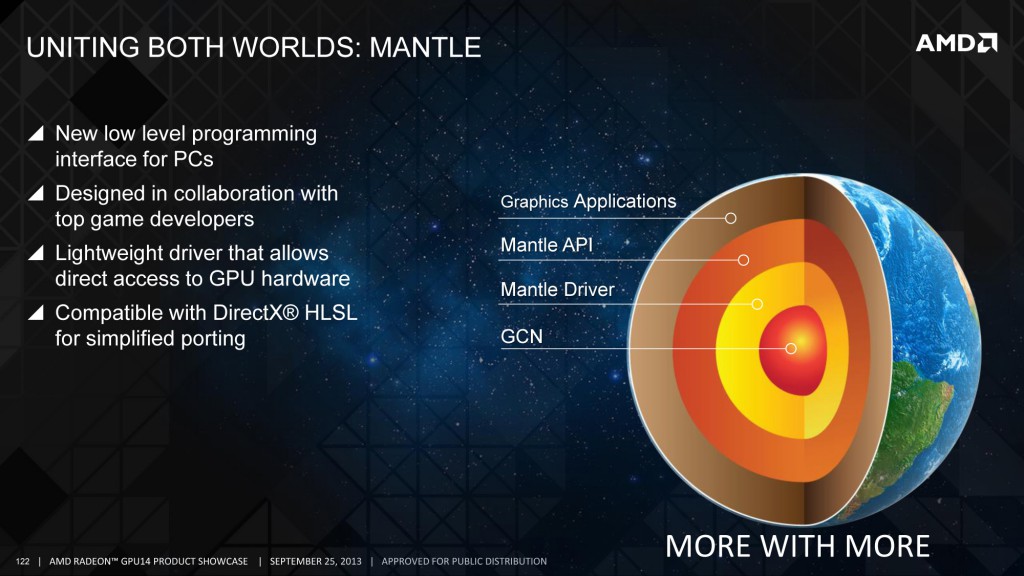 Intel reportedly confirmed that it had made the request to access the Mantle technology, but toned down any Intel-specific low-level API plans.
"At the time of the initial Mantle announcement, we were already investigating rendering overhead based on game developer feedback," an Intel spokesman said. "Our hope was to build consensus on potential approaches to reduce overhead with additional data. We have publicly asked them to share the spec with us several times as part of examination of potential ways to improve APIs and increase efficiencies. At this point though we believe that DirectX 12 and ongoing work with other industry bodies and OS vendors will address the issues that game developers have noted."
While Microsoft Corp.'s DirectX 12 will help all developers of graphics processing units (AMD, Intel, Nvidia, Imagination Technologies, ARM, etc.) to improve performance of their solutions, it is more than one and a half years away. Meanwhile, AMD's Mantle is here and it is supported by game developers. AMD may start to receive benefits from its Mantle already in 2014 when more games that use the technology emerge. Therefore, adding support of its hardware to Mantle should be beneficial for Intel.
While technically it should be possible to add support of Intel's graphics hardware to Mantle, it is unclear whether Intel wants to do that. The support of Mantle by Intel automatically makes this AMD-developed technology an industry-standard, what brings a lot of benefits to AMD.
Discuss on our Facebook page, HERE.
KitGuru Says: It will be interesting to see whether Microsoft's DirectX 12 will have similarities with AMD's Mantle. The Sunnyvale, California-based company clearly has a lot of experience in creation of low-level APIs now and they may help the software giant to design the DX12, which Microsoft needs for the Xbox One console as well as for its PC and mobile platforms.