In a bid to strengthen its positions on the market of mainboards and graphics cards, MicroStar International initiated a new cashback promo campaign. Those, who purchase a combination of MSI mainboards with graphics cards will be eligible to get part of their money back from the manufacturer.
From now on and until the 13th of March, 2015, MSI proposes cashback to end-users who buy a selected MSI mainboard combined with a MSI graphics card at official MSI resellers. Some of the eligible products are MSI's mainboards based on the Intel X99 core-logic, the MSI Z97 Gaming family, the Z97S SLI Krait Edition and selected H97 models. Combined with a purchase of one of MSI's GeForce GTX 960 or GTX 970 graphics cards, or MSI's high performance Radeon R9 290 or R9 270X cards, end users can receive cashback adding up to more than €40.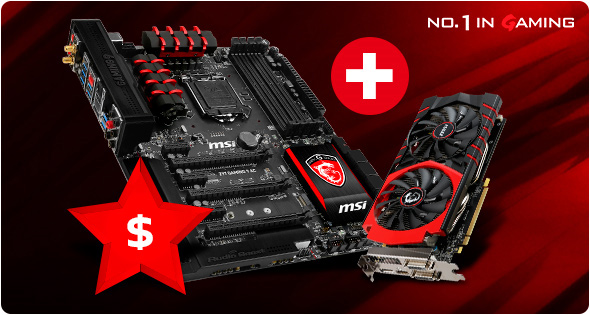 The promotion is effective in 20 countries in Europe, including France, Belgium, Luxemburg, Netherlands, Sweden, Finland, Norway, Denmark, UK, Germany, Poland, Slovakia, Switzerland, Czech Republic, Spain, Italy, Austria, Russia, Ukraine, Turkey.
Numerous resellers in the U.K. are promoting MSI's offer, including Box, CCL, Dabs, eBuyer, Novatech, OCUK, Scan & YOYOTech.
More details about the program are available at a special web-site.
Discuss on our Facebook page, HERE.
KitGuru Says: It makes a great sense for MSI to sell bundles consisting of mainboards and graphics cards. Many people upgrade mainboards, CPUs and graphics cards at once, therefore, selling a bundle maximizes MSI's revenue per customer, an important metric these days.