While it is still unclear whether virtual reality technology will be adopted by the mass market, it will certainly be adopted by core gamers and video game developers. As a result, Game Developers Conference this year is flooded with various VR demos and hardware. Nvidia Corp. is naturally following the trend. The company will not only position its new top-of-the range Titan X as an ultimate VR solution, but will also introduce multi-GPU technology for VR gaming.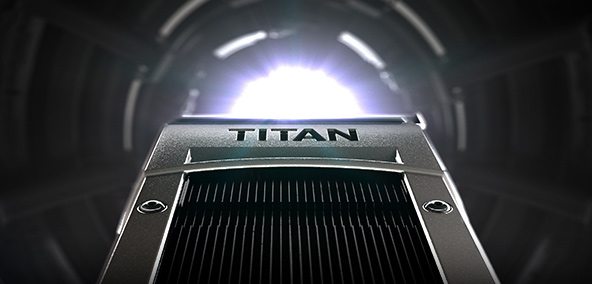 While the Nvidia GeForce GTX Titan X is definitely not designed for the mass market, but rather for hardcore gamers, who demand the highest performance without compromises, the graphics card is used across the GDC trade-show to drive various virtual reality demos. Apparently, Nvidia wants to position its highest-performing graphics adapter as an ultimate solution for VR gaming. In particular, the GeForce GTX Titan X is used to drive the following demos at various venues at GDC:
Back to Dinosaur Island by Crytek
Thief in the Shadows by Epic Games and WETA Digital
Showdown by Epic Games
Return to Dinosaur Island, Thief in the Shadows, Showdown by Oculus
Unity 5 by Unity
Portal, Job Simulator, TheBluVR and the Gallery demos by Valve
Without any doubts, the Nvidia GeForce GTX Titan X will be an extremely powerful graphics solution. However, when it comes to no-compromise gaming, only sky is the limit. At GDC Nvidia announced enhancements to its VR Direct software with new support for VR SLI 2-way multi-GPU technology and asynchronous time warp (ATW).

Crytek's VR demo let viewers get up close and personal with a tyrannosaurus rex.
The VR SLI will work differently than contemporary multi-GPU technology. Traditionally, multi-GPU configurations either use AFR [alternate frame rendering] or SFR [split frame rendering] technologies to either render subsequent frames on multiple GPUs or split one frame into two parts and render them simultaneously. Nvidia's VR SLI enables developers to assign a specific GPU to each eye to scale performance and reduce latency. When VR SLI is combined with GeForce GTX Titan X, it unlocks an incredible level of graphics performance and quality.
Yet another important component of essential VR set of technologies is support for asynchronous time warp (ATW), a low-latency rendering technique that requires to schedule and execute compute and display operations independently of the graphics queue. ATW allows to reduce perceived latency by adjusting a rendered image (essentially, by generating intermediate frames) based on head-tracking input (or based on other things). Nvidia claims that its drivers now provide application programming interfaces for GPU scheduling controls (which most probably means that ATW could be used only in case of DirectX 12 or Vulcan APIs). The ATW technology is also supported by AMD.
An alpha developer driver with VR SLI and ATW support is now in the hands of various software developers, according to Nvidia.
Previously it was reported that AMD used its upcoming flagship Radeon R9 graphics card to demonstrate Showdown VR demo by Epic Games at its press event at GDC. Besides, AMD claims that Epic has another system featuring the GPU in its own booth running the same demo.
Discuss on our Facebook page, HERE.
KitGuru Says: Nvidia uses VR hype in a bid to promote its new GeForce GTX Titan X graphics card, which is not surprising at all. It is great to see that Nvidia now supports VR SLI as well as asynchronous time warp rendering, it will eventually pay off in better VR titles and experience. However, those, who plan to get a GeForce GTX Titan X should clearly understand that even this graphics card will get outdated by the time when the first virtual reality titles developed from scratch get published.