Nvidia Corp. on Tuesday said it has partnered with Ubisoft and will provide a video game of choice for free to those, who buy new GeForce GTX 780- and 900-series graphics cards from eligible suppliers and retailers. The new "Pick Your Path" promotion will attract even more attention to Nvidia's latest graphics adapters among gamers.
Nvidia's "Pick Your Path" bundle entitles anyone who buys a GeForce GTX 980, a GeForce GTX 970, a GeForce GTX 780 or a GeForce GTX 780 Ti graphics card (as well as certain notebooks featuring GeForce GTX 970M/980M graphics adapters) to pick up a bundled game from a choice of The Crew, Far Cry 4 or Assassin's Creed Unity.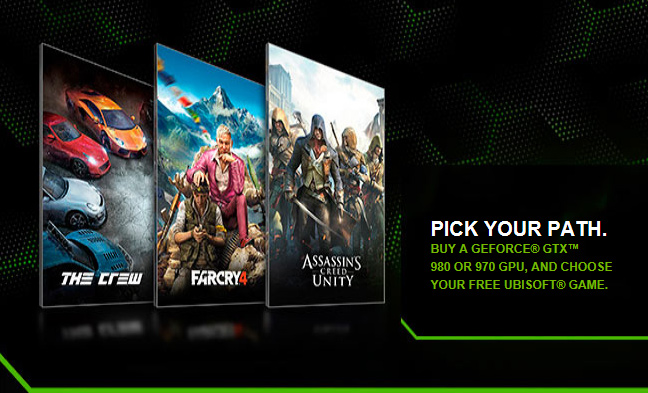 The three video games from Ubisoft are not only highly-anticipated titles that are going to become best-sellers in the coming months, but are also among the first games that use a selection of Nvidia-exclusive graphics processing technologies, such as Nvidia Godrays, Nvidia HairWorks, Nvidia TXAA [temporal antialiasing], Nvidia PCSS [percentage-closer soft shadows] and so on.
"Nvidia has worked hard, hand-in-hand with our development teams, to help provide the best experience for our PC players," said Jean-Francois St.Amour, lead graphics programmer at Ubisoft Montreal. "Their support and insight is even more important now, as we make a big technological leap into the next-generation of Assassin's Creed games."
It is interesting to note that Nvidia provides free games not only with the latest-generation GeForce GTX 970 and GeForce GTX 980 graphics cards based on the GM204 graphics processing units featuring second-generation "Maxwell" architecture, but also with previous-generation graphics boards. The GeForce GTX 780 and GTX 780 Ti graphics adapters are based on the code-named GK110 GPUs featuring "Kepler" architecture. The fact that Nvidia continues to promote its previous-gen solutions indicates that the company has no immediate plans to retire the GeForce GTX 780-series graphics boards. At the same time, it is noteworthy that Nvidia will not provide any benefits to those, who buy GeForce GTX Titan or GeForce GTX Titan Z top-of-the-range offerings.
Please note that terms and conditions of the "Pick Your Path" promotion may vary depending on country and region.
You can get Nvidia GeForce GTX 970/980 graphics cards with "Pick Your Path" bundle at Overclockers UK.
Discuss on our Facebook page, HERE.
KitGuru Says: Free video games is something that is always good for gamers. Keeping in mind that the three titles from Ubisoft are among the highest-anticipated games of this fall, offering them for free will bring a lot of new customers to Nvidia. While the true fans of Far Cry or Assassin's Creed will probably buy limited edition/gold edition flavours of the titles, there are a lot of gamers who will be quite satisfied with default versions of the games that are expected to bring computer graphics to the next level. Moreover, even if you plan to buy advanced versions of the FC4 or the ACU, The Crew looks to be a game worth checking out!