Last updated on February 27th, 2015 at 02:56 am
A top overclocker has managed to set a new frequency record for graphics processing units after he pushed GPU frequency of EVGA GeForce GTX 980 Classified all the way to 2250MHz. The incredibly high clock-rate also allowed him to set a new 3DMark FireStrike Extreme record for single-GPU setups.
Steponz, a leading overclocker from the U.S., has managed to overclock his EVGA GeForce GTX 980 Classified ACX 2.0 4GB graphics card to 2250MHz for the GPU and 8712MHz for GDDR5 memory. The graphics board was cooled down using liquid nitrogen (LN2).
At present 2.25GHz is the world's record clock-rate for any graphics processing unit, which is 49MHz higher than the previous record set by Vince "K|NGP|N" Lucido several months ago. Unfortunately, the frequency of GDDR5 memory did not make it to 9GHz, another record set by Mr. Lucido last November using the same graphics card.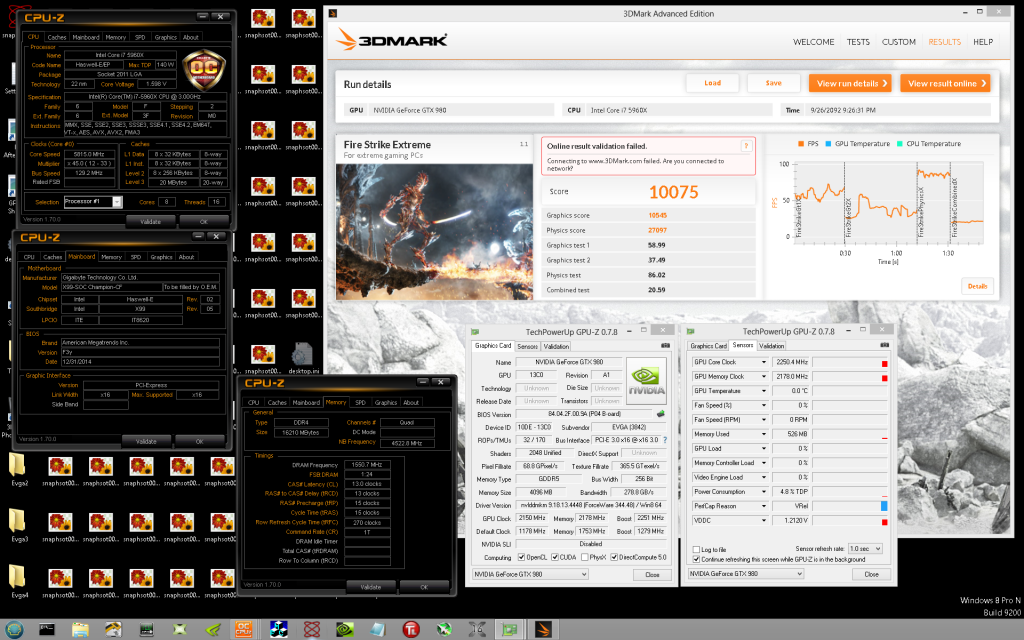 Using a test-rig powered by an Intel Core i7-5960X processor clocked at 5.815GHz (also cooled-down using liquid nitrogen), a Gigabyte X99 SOC Champion mainboard and 16GB of 3.10GHz DDR4 memory, Steponz scored 10075 points in 3DMark FireStrike Extreme benchmark, the highest result for a single-GPU setup ever achieved.
The EVGA GeForce GTX 980 Classified ACX 2.0 4GB graphics card is among the highest-performing GM204-based graphics adapters that money can buy. Thanks to major improvements of PCB design, the EVGA GeForce GTX 980 Classified has been the graphics card of choice of extreme overclockers for months since it has enabled great GPU and memory overclocking results.
Recently EVGA launched its new GeForce GTX 980 K|NGP|N Edition graphics card with ACX 2.0+ cooler and additional enhancements in design. It is expected that the new printed-circuit board and other tweaks will enable overclockers to further push the limits of Nvidia's GM204 graphics processing unit.
Discuss on our Facebook page, HERE.
KitGuru Says: Looks like the EVGA GeForce GTX 980 Classified still has some overclocking potential left since nearly 50MHz frequency increase seems rather significant at such extreme clock-rates. It will be tremendously interesting to see what the EVGA GeForce GTX 980 Kingpin Edition is capable of. Vince "K|NGP|N" Lucido achieved 2.20GHz GPU clock-rate on the card relatively easy, but so far he has not publicly tried to boost the frequency further. Will it hit 2.30GHz?