Last week it transpired that Advanced Micro Devices is already working on a 20nm version of system-on-chip for Microsoft Corp.'s Xbox One game console, which will enable the software giant to introduce a smaller and cheaper version of its system sometimes in 2015. Keeping in mind that Sony Corp.'s PlayStation 4 relies on a similar chip as Xbox One, it is possible that next year Sony will also get a 20nm version of its SoC.
Under the terms of the agreement between AMD and its partners – Microsoft and Sony – the chip designer sells them system-on-chips for their Xbox One and PlayStation 4 game consoles at pre-determined price-ranges in volumes they demand. Since prices are believed to have minimal flexibility, it is in AMD's interestы to reduce its manufacturing costs in a bid to maximize its gross margins. Making chips using thinner manufacturing technology decreases their costs.
Since AMD has already started to work on a 20nm flavour of the Xbox One SoC, it is logical to assume that the company has also started to develop a shrunk version of the PlayStation 4 system-on-chip as well. While everything about a 20nm PS4 SoC is a pure speculation at this point, it is in AMD's best interests to start making cheaper versions of both SoCs as soon as possible.
As TSMC's 16nm FinFET (CLN16FF) and 16nm FinFET+ process technologies rely on the back-end-of-line (BEOL) interconnect flow of the company's 20nm SOC (CLN20SOC) fabrication process, but use FinFET transistors instead of planar transistors, from production cost standpoint the chips made using these three manufacturing technologies should be pretty similar. Therefore, there is no need for AMD to rush with 16nm FinFET versions of the SoCs, but to focus on 20nm flavours of the processors that power the latest consoles from Sony and Microsoft.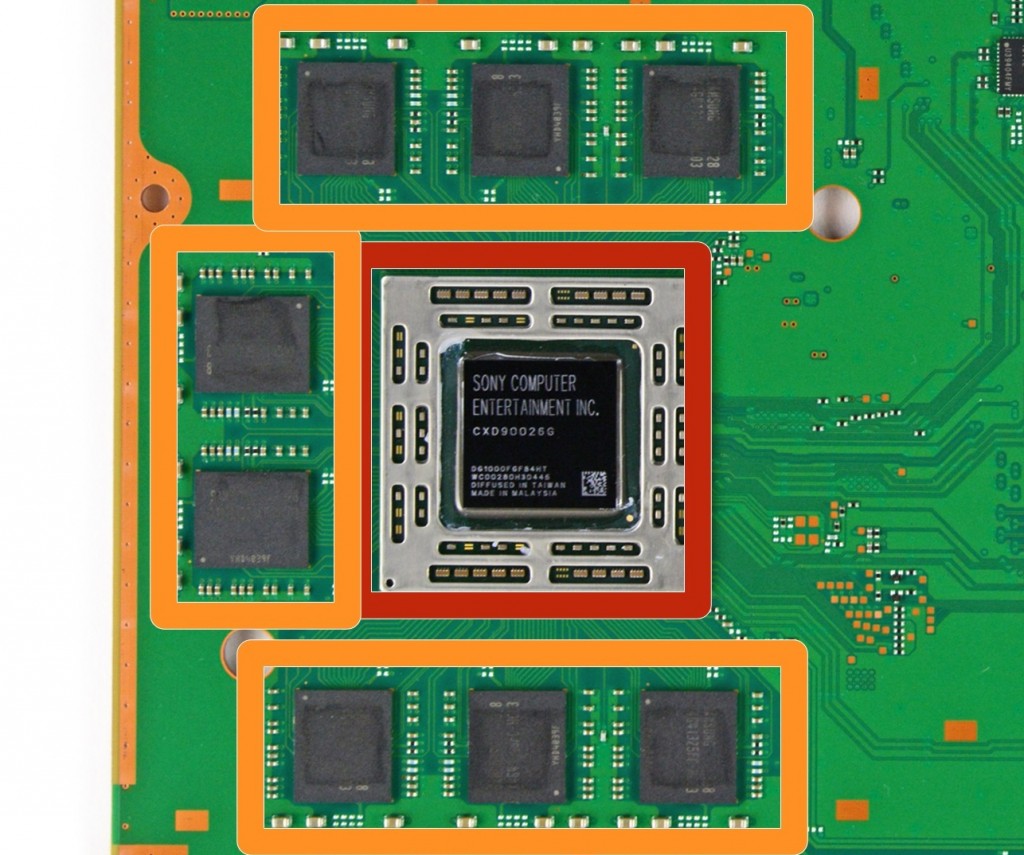 First-generation PlayStation 4 SoC. Image by iFixIt.
20nm chips for new-generation consoles will consume lower amount of energy than SoCs made using 28nm fabrication process. As a result, it will be possible for Microsoft and Sony to simplify designs of the consoles' mainboards, use cheaper cooling system and to cut down their manufacturing costs. The latter should let the companies to reduce their prices and/or introduce slimmer versions of PS4 and XB1.
Platform holders usually cut prices of their systems two years after their introduction. Therefore, it is important for Sony and Microsoft to get new chips for their consoles next year.
Both Microsoft Xbox One and Sony PlayStation 4 are based on similar system-on-chips designed by AMD. The SoCs feature eight x86 "Jaguar" cores, Radeon graphics engines based on the GCN [graphics core next] architecture, multi-channel DDR3/GDDR5 memory controllers as well as various custom logic.
Sony, Microsoft and AMD did not comment on the news-story.
Discuss on our Facebook page, HERE.
KitGuru Says: Please note that at present we only assume that AMD has started development of a 20nm SoC for Sony's PlayStation 4. Still, since the consumer electronics conglomerate needs the chip inside its systems next year and keeping in mind typical chip development schedules, it is highly likely that the new SoC will be taped out in the coming months.