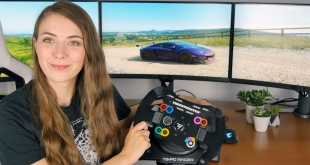 It just so happens we have been sent the perfect combination of products for review to create the ultimate racing simulator setup! The three 1080p 27 inch Aorus CV27F monitors that Gigabyte sent us are curved and feature a 165 hz refresh rate, 1ms response time, freesync and HDR certification. With a price tag of £359 they don't come cheap so what are they like to use? 
TS-PC Racer is Thrustmaster's top wheel for PC racers. It has been designed to reproduce the car's response to track conditions using a range of technologies to enhance gaming performance and offer a racing experience closer to reality. This should provide the ultimate level of immersion for gamers but it does come with a very hefty price tag of £499. I put it through it's paces alongside the T3PA-PRO pedals to see if it's worth it! 
Gallery:
Specifications: 
Panel Size:  27"
Panel Backlight Type: ELED
Color Saturation 90% of DCI-P3
True Resolution: 1920 x 1080 (Full HD)
Brightness: 400 cd/m2 (HDR.)
Contrast Ratio: (Max.) 3000:1 (TYP)
Dynamic Contrast Ratio: 12M:1
Viewing Angle: 178°(H)/178°(V)
Display Colors: 16.7M Colors
Response Time: 1ms (MPRT)
Refresh Rate (Max.) 165Hz
Flicker-free YES
Signal Input HDMI 2.0 x2,
Display port 1.2 x1
Earphone Jack
USB port(s): USB 3.0 x2
Power Consumption: 75W(Max)
Power Saving Mode 0.5W
Power Off Mode 0.3W
Voltage AC 100V~240V
Tilt(angle) -5°~+21°
Swivel(angle) -20°~+20°
Height Adjustment (mm) 130mm
VESA Wall Mounting(mm) 100*100mm
Kensington lock
Net Weight:  7.0kg
Gross Weight:  9.5kg
Accessories Power cable/HDMI cable/DP cable/USB cable/CD/QSG/Warranty Card
Pros: 
High 165Hz refresh rate
Great colours
Solid stand with good adjustability
Good connectivity
Huge amount of gaming features
RGB lighting
Cons: 
1080p resolution at 27″
Software can be temperamental
Included cables are quite short

You can find the CV27F at Overclockers UK Here 
Specifications TS-PC Racer: 
Thrustmaster TS-PC Servo Base:
Metal top cover
270°–1080° rotation angle
Industrial-class brushless 2nd generation motor
The TS-PC Racer's motor provides 40-watt brushless FFB
Motor cooling embedded system
Field Oriented Control
External Turbo Power supply 400Watts
Open Wheel:
Suede grips
2 metal paddle shifters polished-brushed cast aluminum
6 buttons for access to navigation menus
1 rotary selector – 3 positions with push function
Thrustmaster ecosystem:
Compatible on PC with detachable Thrustmaster wheels**, with 3-pedal pedal set Thrustmaster T3PA and T3PA-PRO**, with the TH8A shifter**, with the Thrustmaster DB9 PEDALS T.RJ12 ADAPTER** that enables the non-Thrustmaster pedal sets equipped with a DB9 connector to connect to the connector for pedal set, with all the USB pedal sets on the market (in games supporting MULTI-USB and USB pedal sets).
Specifications T3PA-Pro Pedal set: 
Design allows for two different positions:
Floor-mounted position (F1-style)
Suspended position (GT-style)
100% Metal:
3 metal pedals
Includes large metal footrest with non-slip grating
Internal and external metal structure
Weighs more than 7 kg
100% Adjustable:
Adjustable spacing for each of the 3 pedals (3 possible positions per pedal)
Adjustable inclination for each of the 3 pedals (2 possible positions per pedal)
Adjustable height for each of the 3 pedals (4 possible positions for the gas pedal / 3 possible positions for the brake and clutch pedals)
Pros:
Easy to set up
Great build quality
Interchangeable wheel
Powerful feedback
Pedals have loads of customisation
Cons: 
F1 style wheel colours don't suit the premium style
Expensive ecosystem
Plastic clamp
Alcantara grips can get a little uncomfortable

The Thrustmaster TS PC racing wheel can be found at Overclockers UK HERE
The Thrustmaster T3PA-Pro Pedals can be found at Overclockers UK HERE
KitGuru says: Let us know what you think of the Gigabyte triple monitor setup powered by their RTX 2080 ti, and if the Thrustmaster racing kit had enticed you to take your racing games to the next level!
Be sure to check out our sponsors store EKWB here